Disclosure: Thanks to Warner Bros. Home Entertainment for providing this product for review.
We are definitely a LEGO family. These boys wake up and go to bed with LEGO on the brain. We were very excited to receive Season 1 of the LEGO Nexo Knights and boy did we LOVE it!!! LEGO fans pick up season 1 of LEGO Nexo Knights now available!
If you are  a LEGO lover you must get this series! One of my favorite thing about the LEGO videos is the hilarious humor in the shows. A great watch for young and old. I get a kick out of these series and I will say that they are great for imagination. Ezra has built a couple items that he has said were from the Nexo Knights. These boys find inspiration all over and that's what we want as parents right? LEGO Nexo Knights the book of monsters is unleashed and it's AWESOME!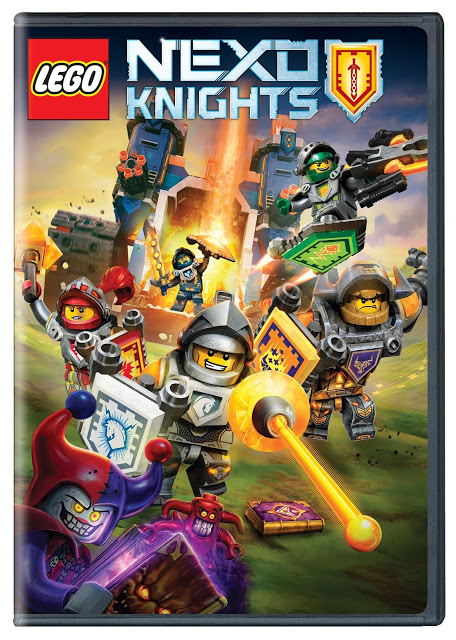 Here's more about the series from Warner Bros. Home Entertainment: 
"The Nexo Knights have technology on their side in their fight against Jestro and the evil powers he has summoned. When the army of dangerous Lava Monsters attack, the Nexo Knights call upon Merlock the Magician, a holographic Wizard in order to defend the Kingdom of Knighton. With their incredible rolling castle and Merlock's powerful digitized magic, the Nexo Knights are confident as they take on the destruction that Jestro has created in the Kingdom. Will the Nexo Knights be able to defeat Jestro and the Lava Monsters even with their sinister plot to destroy Knighton? Discover the fate of Knighton as the hilarious Nexo Knights band together to fight evil."
 Warner Bros. Home Entertainment and The LEGO Group release LEGO Nexo Knights – Season 1 on DVD is now in stores for $19.97 SRP. The DVD includes all 10 hilarious episodes from the first season that premiered on Cartoon Network in January to an overwhelmingly positive reception.
Question:
Who's more excited to see LEGO Nexo Knights? You or your kids?!
Cheers!
Candy