There's nothing like being at "The Great American Race" in Daytona, FL!  A few years ago when we lived in Florida, my sister got us tickets to sit in the stands at the Daytona 500 and each year I watch it as a tradition. Aramis was only 3 or 4 at the time and all I can remember is telling him was to "watch out for Lighting McQueen!" He absolutely LOVED watching and feeling the roar of the cars as they sped by each time. This past Sunday we actually got to see Lightning McQueen! Well sort of from the comfort of our home that is, Lighting McQueen was at the Daytona 500 with Owen Wilson!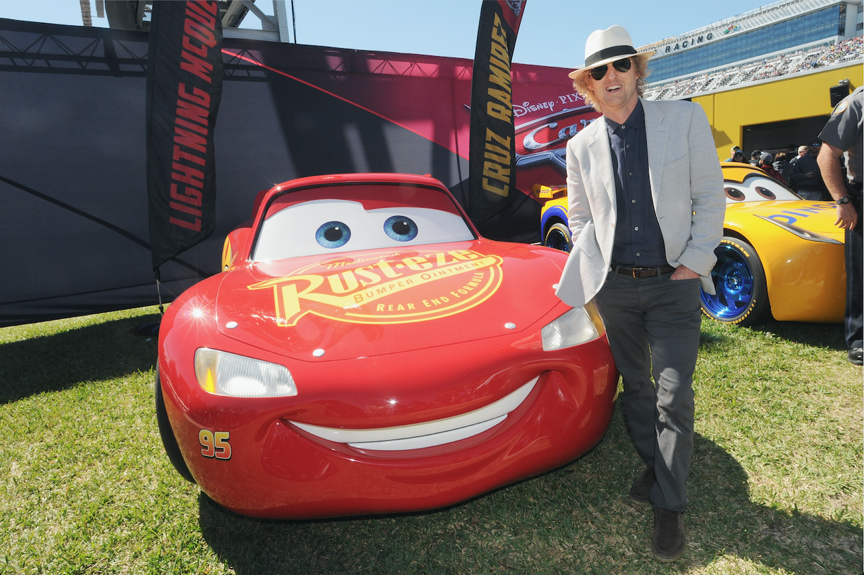 I would have loved to have seen them both in person at such a fun event! I've never experienced another NASCAR race in person but I have to think Daytona is like no other. This years' race was out of control, not sure if you caught it but it seemed like there was wreck after wreck! Luckily no one was hurt badly, just had to end their race day sooner than expected. It made me think of the first sneak peek trailer from Cars 3. That wreck scene!!
Turns out the whole gang was there! One of my favorite female and Latina comedian and actor Cristela Alonzo aka Cruz Ramirez was at the race as well as the rest of the Cars 3 gang! And they got to meet some of the racers!! The great Richard Petty and the great Jeff Gordon, I mean I would have been fan girling! Bet you didn't know I was a fan! That's something you didn't know about me! LOL
Watch the Cars 3 "Next Generation" Extended look trailer now! Can't wait to share more Cars 3 news with you in the coming months! It's gonna be a good one! Ka-chow!
What'd ya think?!! 
Like CARS on Facebook: https://www.facebook.com/PixarCars/
Follow Disney/Pixar on Twitter: https://twitter.com/DisneyPixar
Follow Disney/Pixar on Instagram: https://www.instagram.com/pixar/
Visit the official CARS 3 website here: http://movies.disney.com/cars-3
CARS 3 opens in theatres everywhere on June 16th!
Cheers!
Candy