There's nothing more magical than the scene from Beauty and the Beast dinner. Wouldn't you love to recreate that scene in your own home with your very own Beauty and the Beast soup pot by Le Creuset from a magical collaboration between Disney and Williams Sonoma! I know I would!! I'm excited to share this exciting news with you!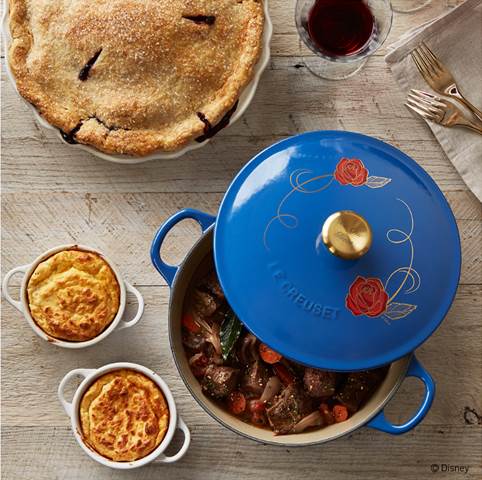 Just look at that beauty! I've wanted a Le Creuset pot for a very long time. Being a Disney lover I think this pot is calling me! But friends if you too are interested in this pot we must act fast as there are only 500 available! YES!! I've got to make up my mind quick!
The limited edition blue-enameled cast iron soup pot is decorated with the signature BEAUTY AND THE BEAST rose with an oversized gold knob bearing the inscription, "Be Our Guest." Starting TODAY the limited quantity of five hundred pots is available for purchase at williams-sonoma.com, lecreuset.com and Le Creuset Signature Stores.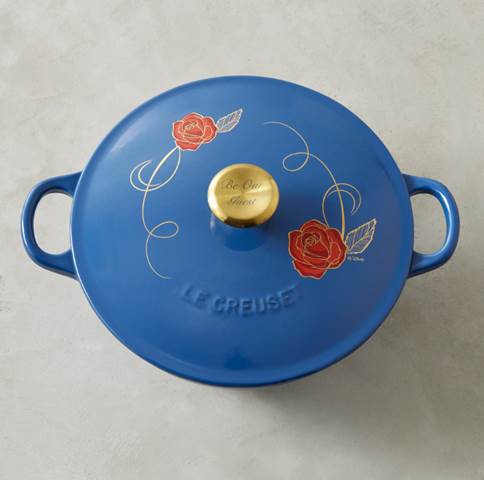 Saturday, March 4th, Williams Sonoma stores across the country will host the BEAUTY AND THE BEAST Junior Chef Cooking Class with movie-inspired kid friendly recipes created in collaboration with Le Creuset. To find out more details contact your local Williams Sonoma store or visit: Beauty and the Beast soup pot by Le Creuset in colloboration with Williams Sonoma The junior chefs will be making a beastily bread pudding and delicious oatmeal cookies! Yum!
I'm so ready for Beauty and the Beast!
Here's a look at the final trailer!

Like BEAUTY AND THE BEAST on Facebook: https://www.facebook.com/DisneyBeautyAndTheBeast
Follow BEAUTY AND THE BEAST on Twitter: https://twitter.com/beourguest
Follow BEAUTY AND THE BEAST on Instagram: https://www.instagram.com/beautyandthebeast/
Visit the official BEAUTY AND THE BEAST website here: http://movies.disney.com/beauty-and-the-beast-2017
BEAUTY AND THE BEAST opens in theatres everywhere on March 17th!
 
Question:
What do you think of the Le Creuset pot?
Cheers,
Candy