I was invited by Disney to cover this press event. All expenses were paid, however all opinions are my own.
The lights were intoxicating, the glitz and glamour of it all was breath taking; I got to attend the live taping of the semi-finals of Dancing With The Stars last week! It was amazing! Very excited to share my time at Dancing With The Stars with you! I cannot believe it was only a week ago. I still get chills just thinking about it!!
Being on the lot and seeing what happens prior to the show going live was so awesome. We were all super excited! It was a selfie-palooza! Here's a few!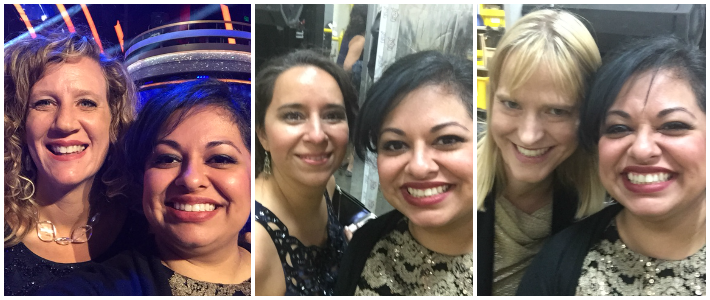 Amazing bloggers and friends for life, Rebecca from RWeThereYetMom, Taty from CoolMomCoolTips & Louise from MomStart!
So back to the pre-show activities!! You can imagine that at the Semi-Finals it was super pressure on the stars and their dance partners. Any chance they got, they were practicing their moves. The crowd engagement person gave us our cues and just told us to clap, smile and have fun!!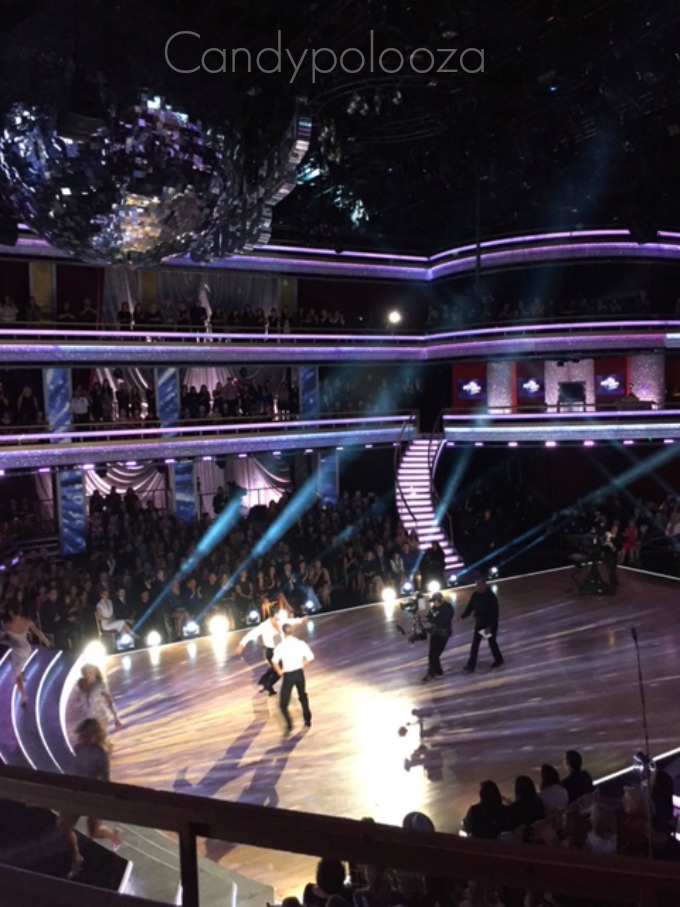 See the camera persons on the dance floor and all? I'd be afraid to "dance" into them! LOL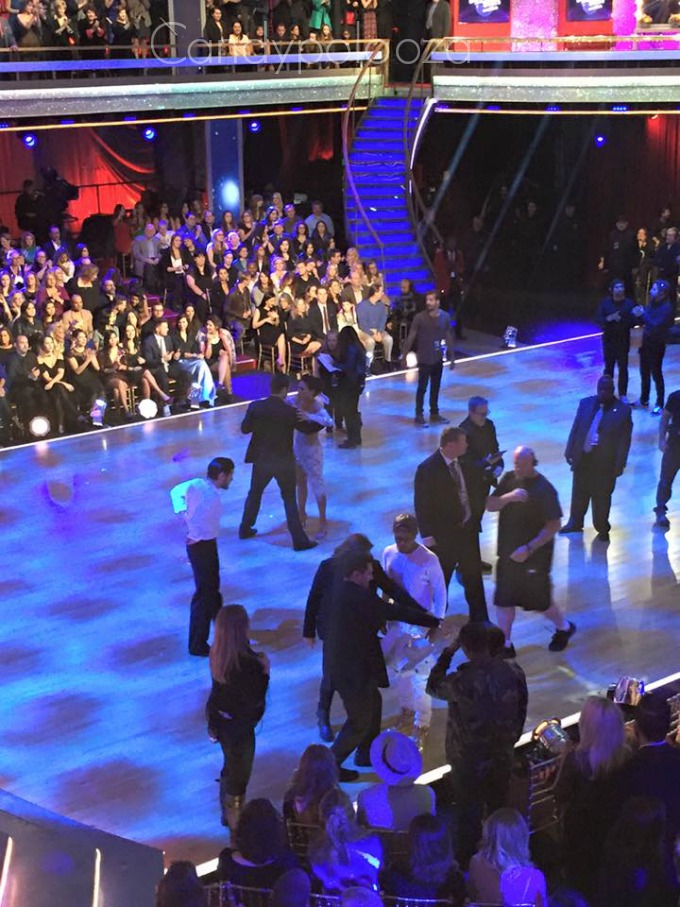 About 30 minutes prior to show starting they even invited the guests in the stands to come down and dance!! How cool is that?! I didn't go down because my shoes were already killing me.. (I know, get it together Candy) but it was fun to see everyone having a blast dancing. Here's an awesome video I took!
As I mentioned earlier we attended the semi-finals so this week there will be a two part final of Dancing With the Stars! As amazing as last week was I wish I was going to be in attendance for this week's shows!! Here's what you can expect to see tonight and tomorrow! Musical Performers Include Ariana Grande, Meghan Trainor, Nick Carter, Andy Grammer and more will be performing as part of the live event and the Season 21 Champion Will Be Declared on Tuesday, November 24!
If you haven't been watching there are four couples left
Who will win the coveted mirror ball trophy?!
Tonight Monday, November 23 (8:00-10:01 p.m., ET), the finalists will compete in two rounds of dance. In the first round, one judge will help each couple choose the creative elements of each dance, which is a re-do to a new song. There will be special performances from Meghan Trainor, singing "Like I'm Gonna Lose You," and Who Is Fancy, Ariana Grande and Meghan Trainor performing "Boys Like You." At the end of the night, the couple with the lowest combined viewer and judge votes from the previous two weeks will be eliminated.
The very next night is the FINALE!!  A two-hour season finale on Tuesday, November 24 (9:00-11:00 p.m., ET), the three finalists advance to the final stage of the competition. The finale will be filled with performances from Alexander Jean, Andy Grammer, Chaka Khan, Elle King and Nick Carter. The three finalists will each dance a repeat dance from this season. In the last element of competition, the couples will perform a new routine as part of a "24-Hour Fusion Challenge." The remaining couples will fuse two contrasting dance styles that they've performed this season and they'll have less than 24 hours to prepare that dance for judges' points. At the end of the night, the winner of the coveted Mirrorball trophy will be announced!
I'm also excited that Kim Zolciak returns to the ballroom to dance a Samba with Tony Dovolani.
Don't forget friends! We have a chance to help our favorite dancing celebrity win by casting your vote via phone on Monday night during and up to 60 minutes after the end of the "Dancing with the Stars" broadcast in each time zone. Online voting at www.abc.com and on Facebook at https://apps.facebook.com/votedwts/ is open for 15 hours, beginning from the start of the episode Monday, November 23 on the East Coast at 8:00 p.m., ET/5:00 p.m., PT and closing at 11:00 a.m., ET/8:00 a.m., PT the next day. Your votes and the judges combined help determine the winner!!
After the show we were escorted down to the ballroom stage to get a picture with the judges!! Oh yes!! Might be another reason I didn't go down in the beginning. 😉
This was so cool of Tom Bergeron to post on his Instagram! But how is my picture of Tom! Showing off his fun side, he totally knew I was getting a picture of him! Thanks Tom!!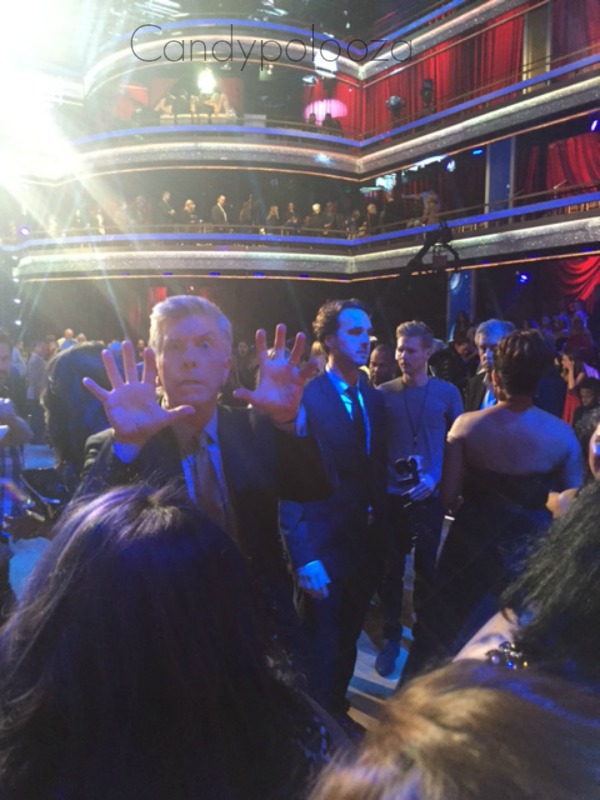 Make sure to watch tonight and live tweet with me!! Like on Facebook, Follow on Twitter @DancingABC, Instagram @DancingABC & Vine
Follow the #DWTS hashtag across all of social media!
I'm still in awe of this event. Dream come true!!
Cheers!
Candy