Disclosure: This is a sponsored post. Item was received to facilitate review, however all opinions are my very own.
This is a house divided, but I have to say that most of the times that line is blurred to when it comes to great cartoons. We absolutely loved the latest Warner Bros release Looney Tunes Musical Masterpieces and so will you!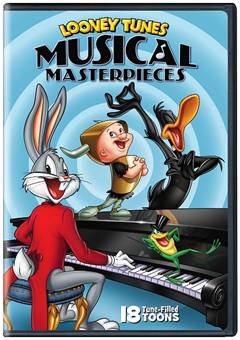 What you can you expect when you watch Looney Tunes Musical Masterpieces?
The very best of Looney Tunes cartoons! The Looney Tunes Musical Masterpieces includes the most iconic musicals from Looney Tunes history. If you ever wanted your children to see the wonderful cartoons of your youth this is the DVD to purchase. The hubs and I sat with the boys for the first time and they loved it so much. They would laugh with us and they really enjoyed the music. Big A would ask the hubs if he remembered that episode and of course the hubs being the ultimate Warner Bros fan, he would say yes! It was fabulous! And the Musical Masterpieces DVD is on auto play in the playroom it's awesome. Hearing the laughter come out of the room is so much fun.
Wondering what musical medleys you'll get in the Looney Tunes Musical Masterpieces DVD? Here's the full list!
Featured Shorts
| | |
| --- | --- |
| Corny Concerto | Page Miss Glory |
| Rabbit of Seville | Katnip Kollege |
| One Froggy Evening | High Note |
| Rhapsody Rabbit | Pigs in a Polka |
| What's Opera, Doc? | Three Little Bops |
| Hillbilly Hare | Rhapsody in Rivets |
| Pizzicato Pussycat | Back Alley Oproar |
| Nelly's Folly | Holiday Shoestrings |
| I Love to Sing | Lights Fantastic |
Looney Tunes Musical Masterpieces is NOW AVAILABLE! Look for it when you purchase your favorite DVDs! 
About Warner Bros. Animation
Warner Bros. Animation (WBA) is one of the leading producers of animation in the entertainment industry, producing and developing both CG and traditionally animated projects for multiple platforms, both domestically and internationally. For TV, WBA produces series such as Teen Titans Go!, The Tom and Jerry Show and the upcoming Be Cool Scooby-Doo! and Wabbit – A Looney Tunes Production for Cartoon Network as well as Mike Tyson Mysteries for Cartoon Network's Adult Swim. As the home of the iconic animated characters from the DC Comics, Hanna-Barbera, MGM and Looney Tunes libraries, WBA also produces highly successful animated films — including the DC Universe Animated Original Movies — for DVD. One of the most-honored animation studios in history, WBA has won six Academy Awards®, 35 Emmy® Awards, the George Foster Peabody Award, an Environmental Media Award, a Parents' Choice Award, the HUMANITAS Prize, two Prism Awards and 20 Annie Awards (honoring excellence in animation).
About Warner Bros. Home Entertainment Inc.
Warner Bros. Home Entertainment (WBHE) brings together Warner Bros. Entertainment's home video, digital distribution and interactive entertainment businesses in order to maximize current and next-generation distribution scenarios. An industry leader since its inception, WBHE oversees the global distribution of content through packaged goods (Blu-ray Disc™ and DVD) and digital media in the form of electronic sell-through and video-on-demand via cable, satellite, online and mobile channels, and is a significant developer and publisher for console and online video game titles worldwide. WBHE distributes its product through third party retail partners and licensees.
Who's your favorite Looney Tunes character?
Happy Watching! 
Candy