Day of the Dead is celebrated in Mexico on on October 31s thru November 2. Each year Mexicans and Mexican-Americans that observe the holiday spend time thinking and celebrating their loved ones that have died. We never observed the holiday as a child, (this  is gonna sound stupid but there wasn't anyone to celebrate, everyone was alive.) all of our family was together in East Texas and it wasn't until 2009 when my grandfather died that I began thinking a lot about celebrating and honoring him on Day of the Dead. While we don't do an elaborate alter, (check out my friend Brenda's!) I always make the meal we shared countless times. Tacos with  sopa de fideo (soupy noodles) or Mexican rice and an ice cold Pepsi.
My grandparents lived with the hubs and I while their house was being built gosh I think it was 2003 or 2004, so we got to spend a lot of time with them. I also moved in with my grandfather while my grandmother was in therapy and the hubs was away for training. I would come home for lunch and we would either have left overs or I'd make something quick. Tacos is a super quick fix, so we had those a lot. There was never any complaining! We both enjoyed them.
I wanted to make something simple and fun the boys could help out with. I love flowers so I came up with Marigolds! Super easy and they can have multiple uses too!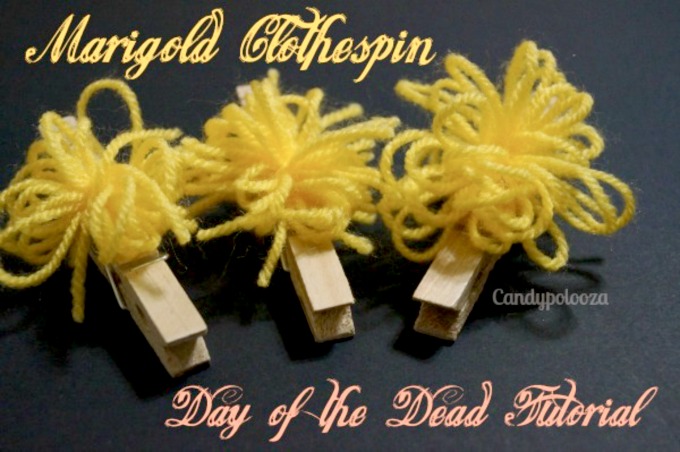 Here's what you'll need:
Yarn (you can make any color but marigolds are a golden yellow)
Scissors
Clothespins
Craft Glue
I wanted the flowers to be somewhat around the same size so I measured 2 inches per flower. Get Two inches of yarn and then wrap around your fingers til you get a good size bunch going.
Cut the yarn and then cut an additional piece to tie the flower.
It kind of looks like a pom pom. But for me they are marigolds.  I decided to glue with craft glue so the boys could help out. I do a lot of crafts with hot glue and they are afraid to get burned so this is also kid friendly. Beware though, if they get a hold of the yarn.. don't call me to come help clean up! I've had yarn up and down my halls before. Not  fun! But the kids had fun.. stinkers!
Add your marigolds to your Day of the Dead Banner: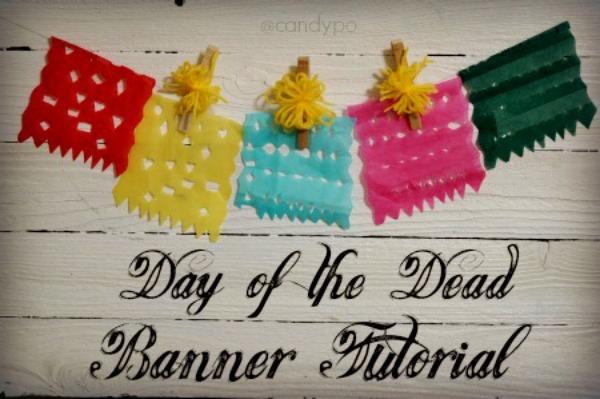 The boys and I are going to pick out some pictures my grandfather and we will hang them on the line on Sunday morning after church. I think about my papa often, especially when the boys do something funny. I used to love telling him the funny things Aramis would do because he would just laugh and laugh. Ezra has so many of those moments, I hate he's not here for me to call and share with. But when I could you know I did; those are the moments I'll treasure forever.
Hope you enjoyed this craft! I may start doing more crafts on the blog. It's so much fun!
Happy Halloween!! I hope you have a wonderful day and be safe tonight!
Question:
Do you celebrate Day of the Dead?
Candy  
SaveSave
SaveSave
SaveSave
SaveSave
SaveSave