Maty's All Natural Products Review and Giveaway
Winner of the Maty's All Natural Products Giveaway is:
 I was super excited when asked to review two products from Maty's the All Natural line. I know exactly what you are thinking. What is the difference. I was wondering the same.  Read on to learn the difference.
I am of Mexican origin, my grandmother swears up and down that a competitor petroleum based product cures anything and everything. So ofcourse anytime my children get a sniffle that product is applied liberally to their chest area and the soles of their feet. When I was corresponding back and forth with Maty's representative I mentioned my background and how I was very excited to try this product. She asked me if I put product on my children feet and I said "YES!" She said she had heard of the practice but never tried it herself. Too funny!
I received the following products:
Baby Chest Rub

Has immunity building properties. It's menthol and petroleum free and can be used on babies as young as 3 months. It smells amazing too. Chamomile (dried flower used frequently on children/babies as a tea to help soothe) and Lavendar. Smells divine  I've actually been applying this Ezra every night. He seems to sleep so much more soundly. It's the soothing Lavender and Chamomile- Love it! -yes I totally applied it to his bare feet then covered with socks. Difference: This product is safe for babies!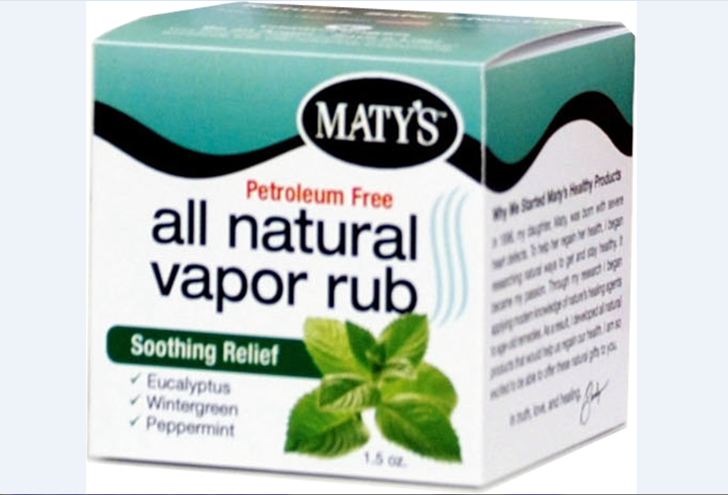 All Natural Vapor Rub

This product is also amazing. I love the smell of Eucalyptus and love that it's also Petroleum free. It's smells a minty wonderland. This product I have actually used on Aramis, as it is for children ages 2 and up. Aramis loved the smell and said it helped him breath better with his stuffy nose. Success! I am planning on purchasing this vapor rub for my grandmother to remove the other that she is using. Difference: this product is for ages 2+.
I am a new lover of Maty's products. I actually plan on purchasing the cough syrup soon before we get any hints of a cold. The idea that it is a natural product and I can read each of the ingredients makes me feel so comfortable. Also when you look at the website each product has a link to it's ingredients- you'll be so amazed!  To learn more about Maty's company click
here
 to read the amazing story on their beginning. Check out Maty's website for a full list of all of their natural products for children and adults.
Congratulations MMC67!
Now for the Giveaway! 
Maty's has been so kind to offer one of my readers a jar of All Natural Baby Chest Rub or All Natural Vapor Rub. Leave me a comment telling me which product you would like to win.
For an additional entry follow their Facebook page by clicking here; come back and leave another comment please.
Disclosure:
I was provided the products for review in this post. All statements and opinions expressed are my own.