Disclosure: This is a sponsored post. I received this product for review, however all opinions are my own. Giveaway to be fulfilled by sponsor.
One of the things I enjoy doing each holiday is buying the boys a book in conjunction with the holiday. Yes, we have many books. I've been doing this since A was a baby. I kind of slacked after E was born because we pretty much had all of the cute little holiday books. Poor kiddo! He absolutely loves it when I read to him too. So we read and re-read books often. I received the book Merry Stirring Mice, for a review and E was so excited for me to read it to him. I think he's going to be my little book worm!
Merry Stirring Mice by Cynthia Dreeman Meyer, was such a cute read! Truly a different perspective of Christmas from the smallest of holiday house guests. It shows how everyone works together to have Christmas go off without a hitch, I know you what I mean! (wink-wink) If your children believe in Santa they will now believe in the Merry Stirring Mice who make Christmas candy! Add Merry Stirring Mice to your holiday book line up. The cute little family of mice truly is "Santa's Secret Team!"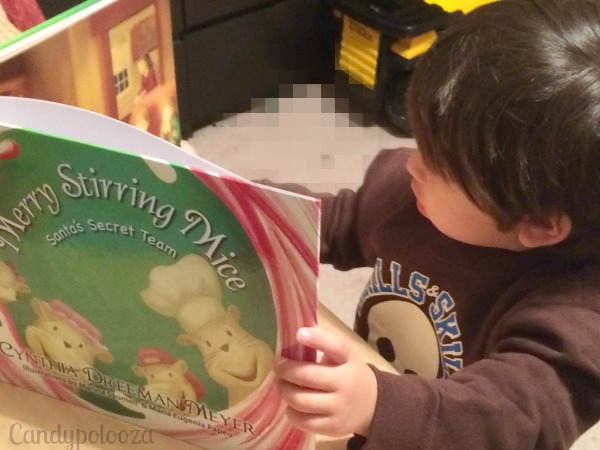 He couldn't put it down. I have to hide it from him or else we'd be sitting down together reading it. I think that's a good problem to have. My little sponge. He's learning so much and saying so many things now. I realize he's not my little baby anymore.
Here's your chance to have a special moment this holiday day season with your children and win your own copy of the
Merry Stirring Mice
Santa's Secret Team
Entry Details:
Leave me a comment telling me who you would read this book to!
One comment to win! Open to 18+ US only. Ends on Sunday, Dec 14th at 1pm ET! This is a quick giveaway to ensure Christmas delivery!
Good Luck & Happy Holidays!!
Candy