I know I keep mentioning the music but you have to know the amazing minds that brought it all together. If you are thinking, "it's just Mexican Mariachi music", be prepared to open your ears to the culture to the diverse regions of Mexican music my friends. Thanks to Disney for inviting me to attend the red carpet event and additional experiences at Disney XD and ABC, the following statements are my own. Now, let's talk about the music of Disney Pixar Coco.
But first, to get a look of what you can expect in the music – Watch this:

Pretty cool right?! Let's keep talking the music of Coco!
THE MUSIC
You can expect a beautiful musical medley sounds of Mexico in Coco. As Director Lee Unkrich mentioned, "the cream de la cream was brought in." Thanks to Mexican Institute of Sound's Camilo Lara as a music consultant and Germain Franco, songwriter and arranger, they did just that. You can expect to hear of course Mariachi music, as well as jarocho — performed by Grupo Mono Blanco — and banda music played by Oaxaca musicians.
By bringing in these musical masters, they truly brought the best to the soundtrack and score of Disney Pixar Coco.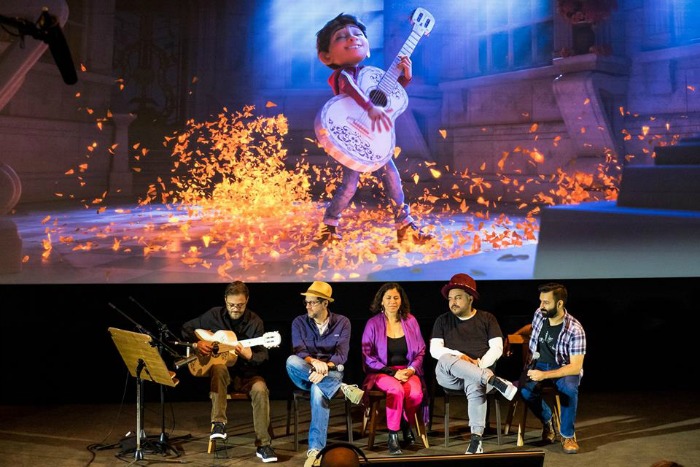 Insider information– a few popular Mexican groupos or bands were brought in, but due to the fact that they weren't able to read music they were not able to be a part of the soundtrack. While sad, that just shows how they wanted to do everything right. Because let's be real, high school bands will be playing these songs at some point! There needed to be documented sheet music.
THE SOUNDTRACK
The soundtrack is phenomenal. If you love music, this is one you will enjoy. I will say there area  few renditions of 'Remember Me' so you'll know all the words once you are done listening, but it's a great song- you should know all the words! You'll get to hear all of the music from the film played in the United States and BONUS- You get the music sang by all of the musicians in the Spanish version as well. For this first generation Mexican-American that meant hearing familiar voices of Marco Antonio Solis aka El Buki as Ernesto de La Cruz and Angelica Vale as Mama Imelda in 'La Llorona.' One great surprise was a corrido written by and sung by Bronco (a very well known Mexican group). I LOVED It!
THE SCORE
The Score was composed by Michael Giacchino. Giacchino is a master and has composed scores for a couple Disney films, UP (won an Oscar) Ratatouille (nominated for an Oscar) and Inside out as well as some very well known shows and movies. Cool tidbit from IMDB, he also composed the music heard at Space Mountain in Disneyland! Wow!  I truly hope to see Giacchino's name up there again when the Academy Awards lists the nominations for 2018 too.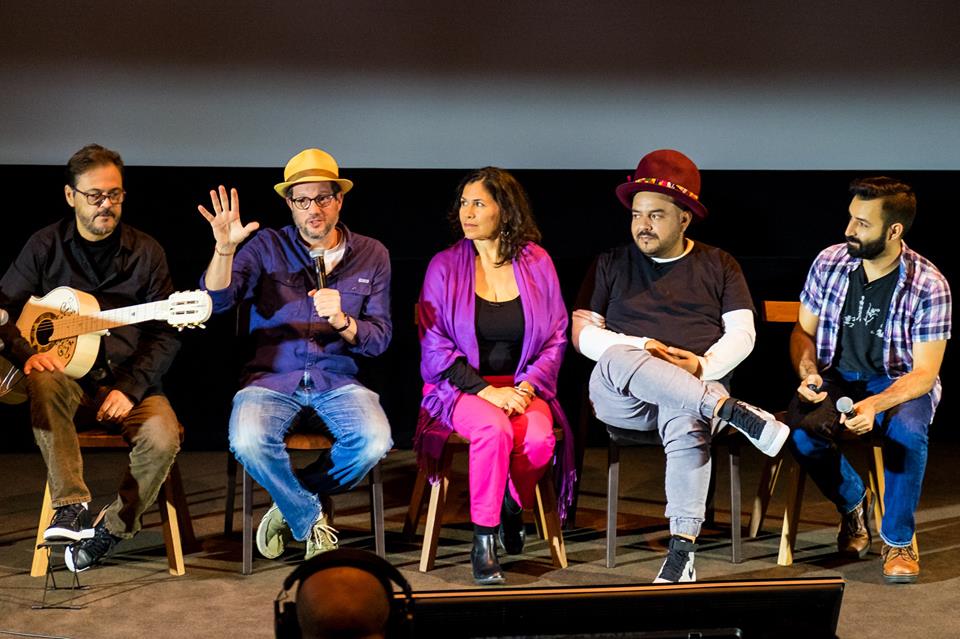 Like we saw Au'li Cravalo perform, I think it would be amazing to see Anthony Gonzalez perform on the magical stage as well. I'm really hoping for the best for the film all around.
THE GUITAR
Ok let's talk about the "elephant in the room" that beautiful one of a kind guitar that not only gets the story going but also makes a presence in our reality and I got to hold it at the premiere. I have to admit that since the long lead press day at Pixar, I was left with the want of just touching it! This really made my trip!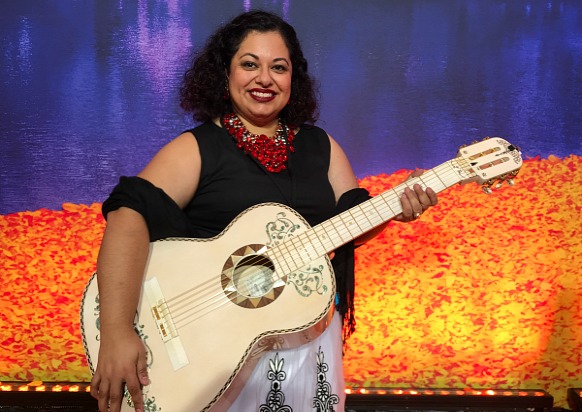 Insider Information: At the premiere guitarist Federico Ramos told us that he purchased 24kt gold strings for it to get the optimal sound from the custom guitar. If you look closely at the image you can see the first two strings are gold or yellow in color.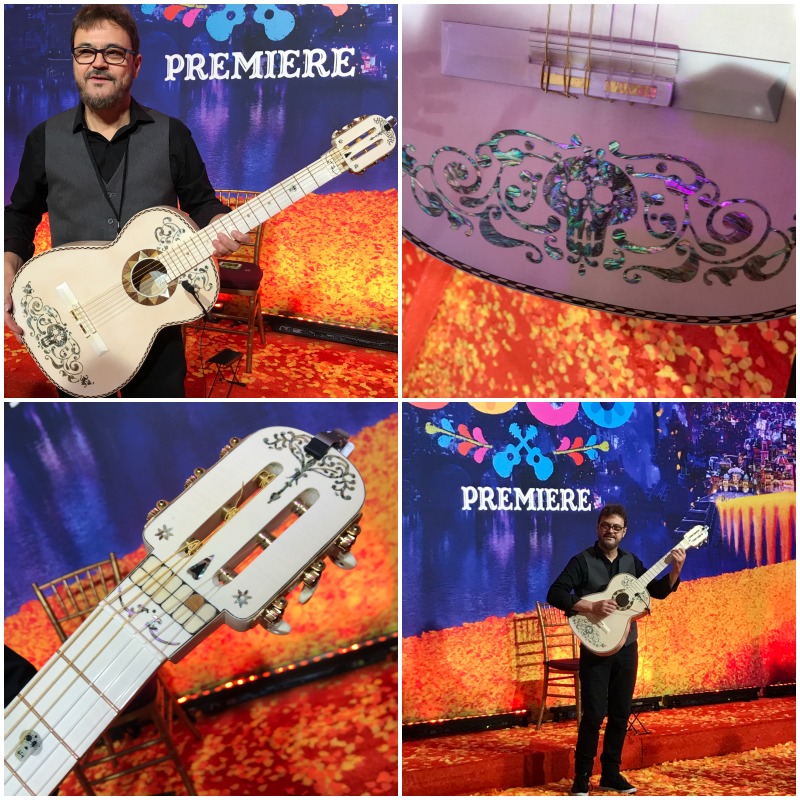 If you love music, this is a film that you have to go see and you'll want to buy the soundtrack as well. Easy listening and super catchy songs.
FOLLOW COCO EVERYWHERE: FACEBOOK, TWITTER & INSTAGRAM AND VISIT THE OFFICIAL COCO WEBSITE HERE!
Tell me if you've seen the movie yet and what you think about 'Remember Me' and the rest of the music in Disney Pixar Coco.
Cheers!
Candy