We had the pleasure of speaking with an actor I've watched for many years. The first of many movies that made an impact on me as a Mexican-American. Thanks to Disney for inviting me to attend the red carpet event and additional experiences at Disney XD and ABC, the following statements are my own. It was truly an honor and he gave us some great nuggets on life. Sharing words of wisdom from Edward James Olmos, who is the voice of Chicharron in Disney Pixar Coco. 
CHICHARRON
Olmos is the voice of Chicharron in Disney Pixar Coco. When asked how he was reached out to about the part, he told us how honored he felt to be asked and how impressed he was with Pixar Animation Studios in Emeryville. He was excited to be a part of a Pixar film. He also knew that even though the character lines were small for Chicharron, this character would be very special in telling the story of what happens when someone in forgotten. Truly a turning point in the film, I think you'll agree with me if you've seen it.
Asked about his preparation for the character of Chicharron, Olmos answered. "I didn't have to prepare, it was written and once I realized what happens to the character it was just reading the part.  There wasn't a book I had to read or anything. The character of Chicharron was simple yet very meaningful."
REMEMBER ME 
'Remember Me' is a theme in the film and we had to ask Olmos, how he wanted to be remembered. He gave such a great answer. "Amongst my family hopefully they've shared enough time with me and that I shared enough time with them and remember the times that we spent together. I mean, so many different stories, but just to remember in a way that empowers them would be nice."
DAY OF THE DEAD
"It always has been a part of my family. Day of the Dead has always has been an integral part of our family, but in essence, this is an ability to understand that this will live for the duration of humanity. This piece of art will be around as long as any piece of art can be around. It'll be passed on, so I'm very grateful. I play an integral part in the story because you really realize what it is that we're doing, and what this is about.
"I wake up in the morning, I go, thank you, and when I go to sleep, I'm grateful. Ahh. And those two moments in my life are consistent. When I wake up in the morning, the very first thing I do is make the bed. I don't know. I think that came from my great-grandmother. I'm sure of it. As soon as you get out of bed, make your bed. Okay. I can't even go into the room without the bed being made. There's something about that."
ON LIFE
He told us a story that he thinks about every time he's at a Stop sign while driving. You know how they say "there are signs everywhere." His grandfather truly meant that and wanted him to realize how quickly life passes you by. "Mijito when you see the Stop sign, stop- and listen to the birds. I couldn't hear him well from where I was sitting at the table, he spoke a little low when he answered this question- but when I listened to the audio file I was blown away. How right was his grandfather, we all need to take time and STOP when we get to that sign. There's so many distractions and he told us that he thinks of his grandfather every time he makes that stop.
COCO
He loved the film and loved the message. "My part is a cameo, but it's very intrinsic to the story. I mean, you really realize what happens when no one thinks of you anymore." We asked what he recommended to people that thought the film was too scary or dark, he said "It's pretty simple. I mean, the film itself is very direct in making you feel that the Day of the Dead is a very needed moment in everybody's life. Everybody has their own way of dealing with their past and where they come from, and each culture has their own way of doing it. And it's wonderful when you learn about it, but this is the first time that I've ever seen this explained so simply."
Have you made the time to watch the film yet? I'm telling you, you are going to love it.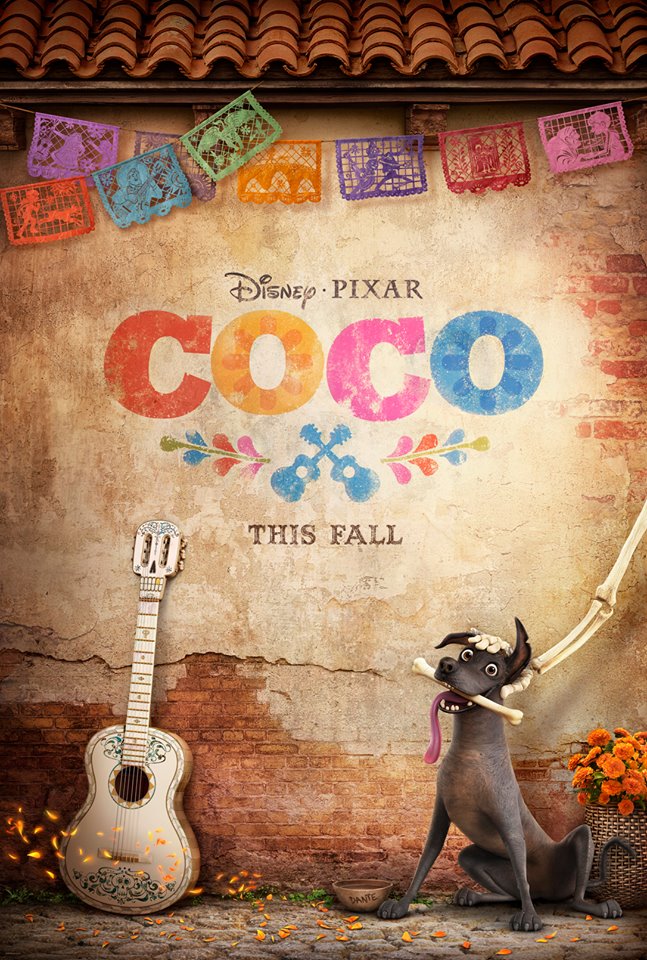 FOLLOW COCO EVERYWHERE: FACEBOOK, TWITTER & INSTAGRAM AND VISIT THE OFFICIAL COCO WEBSITE HERE!