Disclosure: This is a sponsored post. I was invited to conference by P&G, however all opinions expressed are my own.
My Trip to #AccessPG Part 5
Oh say it aint so.. It's my last post about the fun times had in Cincinnati from my trip to #AccessPG part 5. I might do a spin off post on downtown Cincinnati, but this is pretty much it for #AccessPG fun.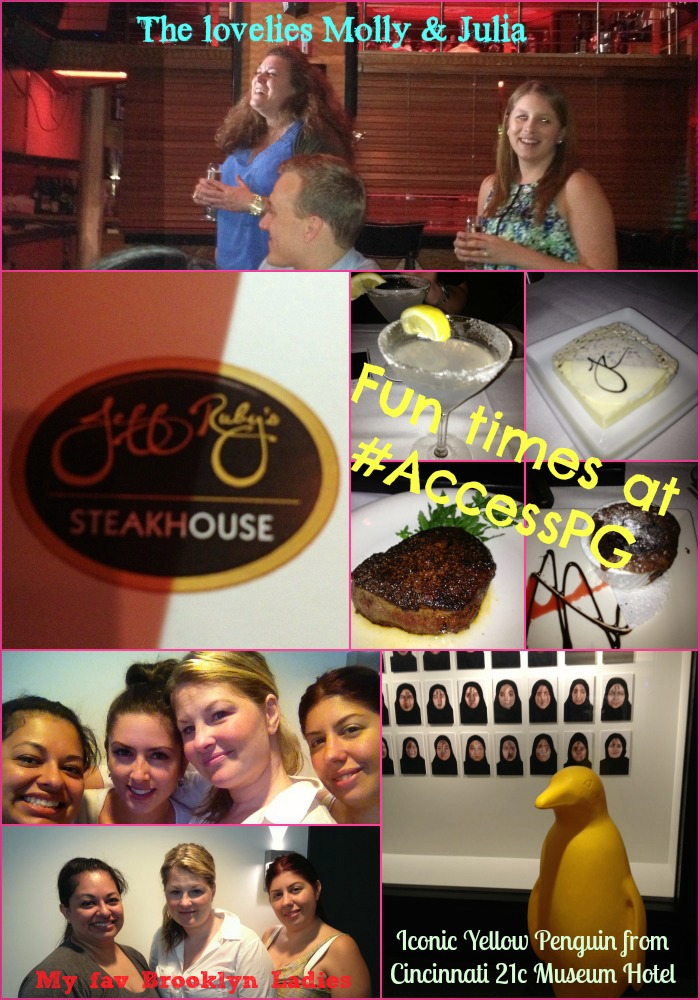 We enjoyed dinner at the amazing Jeff Ruby's Steakhouse in downtown Cincinnati. It was actually only maybe a block away from the 21c Museum Hotel we stayed at. Ordered the Filet Mignon and an amazing chocolate molten cake for dessert.  The drinks were super tasty too!
The last day of the conference we enjoyed a chat with speaker, author and host, Danielle Smith. We talked about how we kept the balance between being mommy and having a business. Because let's face it blogging is fun, but it is a business. An amazing conversation was had. It was an open forum so we each spoke or threw in questions and comments.
A group shot of the ladies of the 1st #AccessPG conference
My favorite moment from the weekend? Can I say the whole entire experience?! It truly was an honor to be among such amazing business women.
I called myself a country mouse in the first post, because this trip signified a lot of firsts for me. I hope that the firsts keep coming! Each of the ladies was so wonderful and so encouraging. I look to the future of this blog and hope for great things.
Special thanks to Always and Procter & Gamble for believing in me and invite me to this first ever #AccessPG conference.
Thanks for reading about my trip and hope you enjoyed the pics! 
-Candy