The Military has definitely changed our way of life in the past nine years. We were civilians five years before the hubs rejoined the Army. Our first child was born in 2006 on the cusp of moving to our first official duty station together at Fort Bragg, NC.  There is where I learned about the Army community, met other Army families (I didn't  happen to meet any families from other branches there at Bragg) and I learned about the month of April being Month of the Military Child. I love that our children are honored by the Military community. I truly believe that they serve too.
This post is about My Two Army Brats.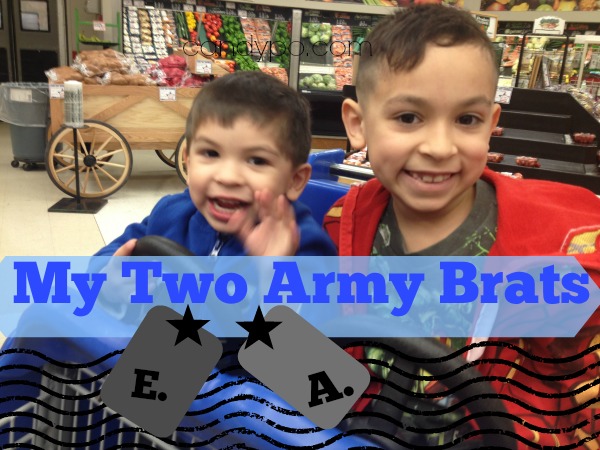 The resilience of a Military child is unlike anything I've ever seen. Granted they don't have a choice and they were born into this life, but they way each child handles it is truly amazing.
 We have two Army brats of our own, Aramis & Ezra.  At ages seven and two the Military life is all they know. Aramis is the oldest, has three moves under his belt. He was an infant the majority of our time at Ft. Bragg, so he had baby friends that he doesn't remember, but I still keep in touch with the moms. Our next pcs to MacDill AFB has definitely been his favorite. My sister and her family live in that area so we got a lot of family time in. He also started school there too. We all made wonderful friends there that we still keep in touch with. And he misses them very much. That move was the best and the worst in that sense. He still asks to speak to his friends from Tampa. It breaks my heart, but it's part of the life we live right now. How does he feel about moving around? He says, he likes it. It's an adventure for our whole family and he says we are "Travelers."  He loves getting to visit new places and learn new things about the places we visit. We are so lucky to have such a sweet, happy go lucky child that welcomes the family adventures that the Army sends us on.
Ezra is still little and this was his first move. He was a baby so he had no clue, now that he's 2 he's going to figure it out pretty quickly. Recently he pulled at my heart strings; when we arrived home he announced, "Our house!" His verbal skills are getting better daily and I just wanted to cry. Knowing that this home is only temporary for us ; he will wonder what happened to his room and his stuff etc. Our normal routine will be disrupted until a new home is found at our new duty station and he will wonder why and probably be a little fussier than normal. It's all to be expected and it breaks my heart. His adventure as a Military child has just begun. Our next move will be hard on him, but hopefully he will take after his big brother and get thru it like a boss.
The moving is temporary and we will eventually retire back home and we'll move into our "Forever Home," as Aramis calls it. As a family we do the best we can to make each move as easy a transition as possible for ourselves and mostly the boys. They didn't ask to be Army brats, but they are doing a damn good job at it. Crabbiness and all. 🙂
I love my boys so much!
Question:
How do you teach your kids about moving or change?
Check out my post at the Linky Party!