Yes, friends you read that correctly! I'm off to LA for A Wrinkle In Time Event and I'm completely besides myself! First off, muchos thank you's to Disney for taking this small town girl on yet another amazing adventure to LaLa land. A Wrinkle In Time is based on the book by Madeline L'Engle and the amazing Director Ava Duvernay has brought it to life thanks to Disney. We'll get to walk the red carpet with the film's stars, yes that means we'll see OPRAH!! Let me get into the details with you as this trip will also include some awesome new programming coming to ABC as well! You all know how much I love television so this is always such a treat for this tv fan! Overall this trip is going to be chockful of excitement and fun!  Just look at this button below!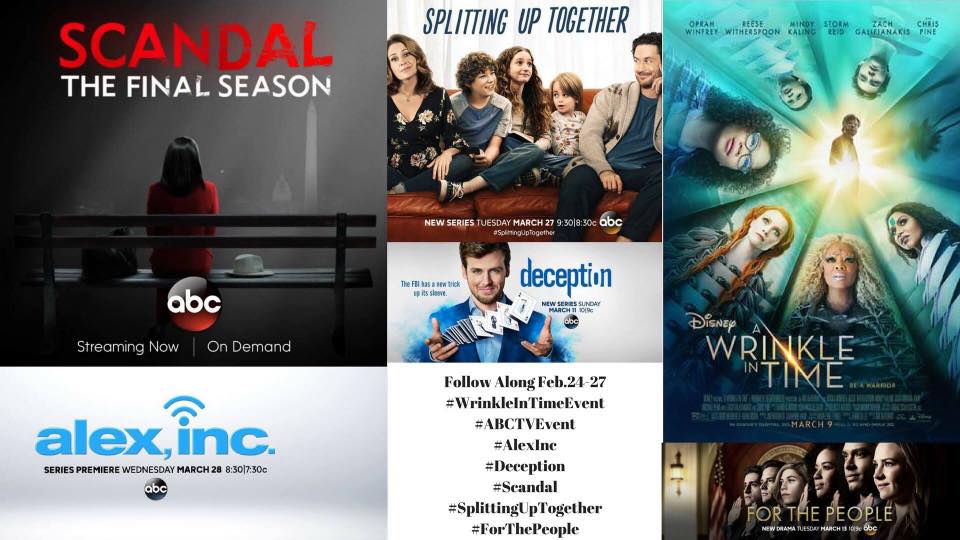 Myself along with 24 amazing influencers will be completely immersed in the magic that only Disney and ABC can make. I take off super early on Saturday morning. I'm sure the excitment will be what gets me to Alexandria for a 6am flight. Now for the packed event information you will see me sharing. The magic hashtags to follow will be #WrinkleInTimeEvent & #ABCTVEvent each of the individual shows we'll be screening will also have their own hashtags- I'll be adding them accordingly so you can keep track as well.
We'll be screening Disney A Wrinkle In Time to kick off the event, I won't be able to share much Saturday evening but you'll be reading a full review the day the movie premieres so make sure to stay tuned. Sunday will be the day of all days, A Wrinkle In Time interviews. Yes, we are going to interview Miss Oprah Winfrey. I am completely in awe, she's been someone I have admired for a very long time and I'm completely grateful for this opportunity. We'll be speaking with the three witches together,  Oprah Winfrey ("Mrs. Which"), Reese Witherspoon ("Mrs. Whatsit") & Mindy Kaling ("Mrs. Who"), Storm Reid ("Meg Murry"), Gugu Mbatha-Raw ("Dr. Kate Murry"), Rowan Blanchard ("Veronica"), Levi Miller ("Calvin"), Deric McCabe ("Charles Wallace Murry"), Director Ava DuVernay and Screenwriter Jennifer Lee!
After the amazing interviews with A Wrinkle in Time cast and director and Screenwriter. We'll continue the fun with our first #ABCTVEvent and speak with Bellamy Young, aka Mellie Grant, Madame President of the United States of Scandal on ABC. Bellamy has a part as a "Camazotz Mom" in A Wrinkle In Time. We'll also be talking all things the final season of Scandal. I'm a huge Scandal fan, so I'm all about this! If only Kerry Washington and Viola Davis could join us to have a mega chat about the cross-over episode too! I'll get as much as I can out of Bellamy.
Magic Hashtags: #WRINKLEINTIMEEVENT #SCANDAL #TGIT AND #ABCTVEVENT
And that's only Sunday folks! Talk about an amazing event. Let's jump to what's happening on Monday!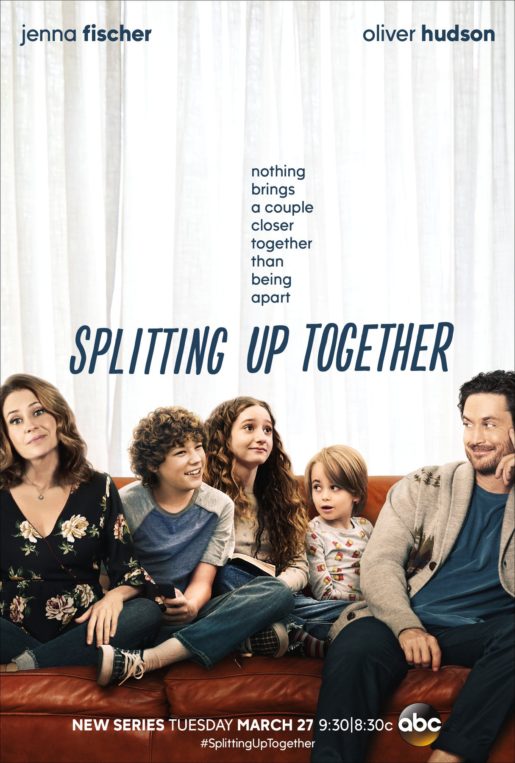 Have you heard of the newest comedy coming to ABC Splitting Up Together? We'll get to screen a few episodes of the new ABC comedy followed by a Q&A with Oliver Hudson ("Martin"), Lindsay Price ("Camille") and Executive Producer/Showrunner Emily Kapnek. Splitting Up Together premieres March 27 at 9:30|8:30c on ABC.  Check out the trailer below!
Magic Hashtags: #ABCTVEvent & #SplittingUpTogether

As if that wasn't enough, this is the trip of pre-screenings my friends! We'll screen the first episode of the new ABC drama Deception coming to ABC on March 11th at 10/9c.  Questions about Deception? We'll have a Q&A with Creator and Executive Producer Chris Fedak & Co-Producer David Kwong.
Magic Hashtags: #ABCTVEvent #Deception
After we learn more about Deception, we'll switch gears back to A Wrinkle In Time as we'll get to speak with the film's Costume Designer Paco Delgado.
If you've seen any of the trailers for the film, you know the costumes are out of this world. I can only hope that he'll have a couple samples for us to see and maybe touch! Monday is also the premiere night so we'll be walking the red carpet with the cast and viewing the film at El Capitan Theater on Hollywood Blvd. I can't wait to show you my dress and gaudy Texas jewels. Ok it's not to blingy this time but I'm so excited to get dressed up! #WrinkleInTime hashtag
Tuesday is the final day of this amazing adventure, but we won't be leaving without another fantastic day of new ABC shows!
I LOVE a good drama centered around the court and laws. Very excited to watch ABC's newest drama For The People premieres Tuesday, March 13th at 10|9c on ABC.

We'll get to screen an episode, followed by a Q&A with Jasmin Savoy Brown ("Allison Adams"), Susannah Flood ("Kate Littlejohn") and Wesam Keesh ("Jay Simmons").  Yes!! If you recall I got to meet Britt Robertson during my first ever press junket with Disney for Tomorrowland. She won't be available for our Q&A but I wish her much luck with this new show! Can't wait to tell you all about it!
Magic Hashtags: #ABCTVEvent & #ForThePeople
Last but certainly not least, the first TV doctor I ever loved, Zach Braff brings us Alex, Inc. A new comedy coming to ABC on March 28th at 8:30|7:30c. We'll get to speak the stars, Braff  ("Alex Schuman") and Tiya Sircar ("Rooni Shuman") and Executive Producer Matt Tarses about the show. To say we are shutting it down with an amazing last interview is an understatement. I recently listened to a podcast back from 2012 with Nerdist speaking with Zach Braff on this actual show. How cool right?! See Hollywood takes time and patience. Glad we get to speak with this crew!
Magic Hashtags: #ABCTVEvent &  #AlexInc
It's going to be a PHENOMENAL event and I am still pinching myself. I'd be honored if you follow along and comment on the pics and tweets I'll be sharing. Be warned, it's going to be an epic weekend and Monday and Tuesday of oversharing, Instagram stories and snaps. Now that I think about it, I need to find my ultimate battery pack and get all the pics off my phone. I need as much space as possible.
Now I'm off to pack! Wish me luck!
Cheers!
Candy
SaveSave
SaveSave
SaveSave
SaveSave