Disclosure: I was compensated for this post about the Omron TriAxis Pedometer through the Bookieboo Influencer Network and Mamavation, a disease prevention campaign for moms.
Omron TriAxis Pedometer a Review
What an amazing month it has been! I received the Omron Tri-Axis Pedometer HJ-323U for a 30 day challenge of taking 10 thousand steps each day for 30 days. I have heard great things of the products from Omron Fitness so I was excited to be selected. The Omron Tri-Axis Pedometer HJ-323U is a great fitness tool! I was actually shopping around for a fitness monitor that would monitor my steps, calories; yet still be able to convert distance and measure the aerobic calories burned. The Omron TriAxis Pedometer model HJ-323U is that tool for me! 
Here's the info you want to know! The use of the Omron TriAxis Pedometer HJ-323U is very easy to use. I am the queen of making things harder and it was really hard to with this product. The product itself arrives in tact with the additional lanyard that you can tie on one end of the pedometer and a clip that you can slide the pedometer into. And you will also find a little tool kit for it as well! The battery is pre-installed; once you need to change it you can use the little tool kit ie, mini screwdriver. Very easy! 

I actually used both of the attachments at the same time. I used the clip to clip to the front of my bra and the lanyard to clip to one of my straps for even more protection. How many times have you clipped something to you and you lost it. I say, better safe than sorry so I double clipped it. Hope the pic isn't TMI…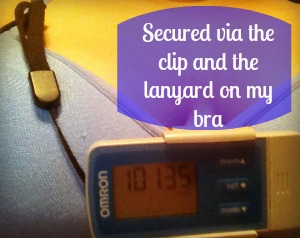 My one year old is good for ripping and it withstands his pulls! Win!!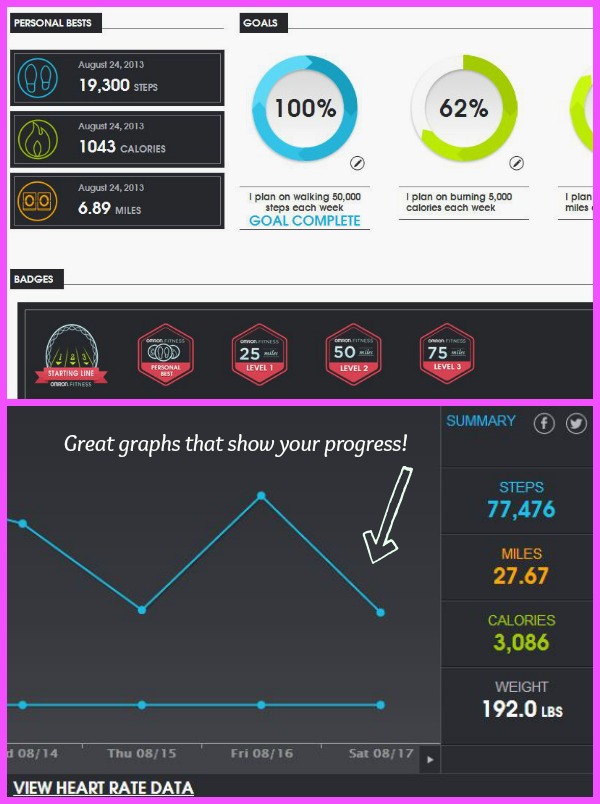 Oh poo, I just noticed I haven't changed my weight.. I'm actually down 4 pounds since starting the 30 day challenge. See moving more does work!! I'll take it!  
Once you take on the challenge of taking 10, 000 steps a day you'll want to log into the OmronFitness website and set up your product. You will have your own personal portal that shows your current information directly uploaded from the pedometer via the USB attached. You can also personalize the goals. How many miles do you want to walk each week? As you plug in the USB end each time the numbers will update and so will your goal progression. It's very cool! You can also share via Facebook or Twitter your progress! Check out my tweet from this past week!

Taking ten thousand steps a day is a great practice if you are looking to changing your health habits. I'm not going to lie, when Day 1 of the challenge was completely daunting to me. Would I be able to really make it happen? I love a challenge so I knew I would need to dig deep and take care of business.   And I totally did! Over the course of the challenge I have taken over 300,000 steps this month! WHAT?! My mind is officially blown! I didn't hit my 10k goal a few days, but on a couple of days I blew it out of the water! Like my 10k on Saturday I got 19,300 steps! Oh Yeah!! 
This campaign has been amazing. The community and support has been wonderful and I truly feel that I'll be keeping the pedometer on and checking my steps daily. I would like to thank OmronFitness and Mamavation.