Disclosure: This is a sponsored post. Item was received to facilitate review, however all opinions are my very own. Giveaway prize distribution will be fulfilled by sponsor.
Have I told you that my boys are HUGE Peanuts fans? Charlie Brown and the gang are familiar faces and friends in our household. Snoopy has been a permanent fixture in our lives for many, many years. I am thinking about it now, and when Big A was a baby we had this awesome warm fleece snow-suit type onesie that was white and had a super cute picture of snoopy embroidered on it. What a cutie! Big A and Snoopy! LOL Very excited to bring you the Peanuts: Emmy® Honored Collection DVD Review & Giveaway! One lucky winner that shares in our love of everything Peanuts will win this DVD set.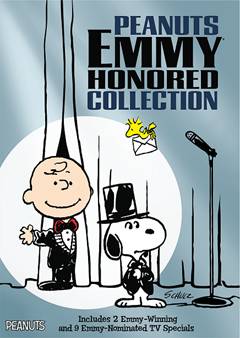 You know it's special when Snoopy is wearing a top hat right?! That beagle is one smart doggy! With each of the eleven specials it's hard to choose a favorite. Big A loved the You're a Good Sport, Charlie Brown episode. Little E loved Life is a Circus, Charlie Brown episode. The hubs and I couldn't make up our mind between It's Magic, Charlie Brown and You're the Greatest, Charlie Brown. It truly makes me very happy that these collections are given a update and put out so that Peanuts can be enjoyed for generations to come.
It's Snoopy and Charlie Brown at their very best with Warner Bros. Home Entertainment's (WBHE) release of Peanuts: Emmy® Honored Collection, available in stores September 15, 2015. This must-own collection brings together 11 beloved Peanuts specials that have been brilliantly remastered in all-new 4K Ultra HD transfers to DVD. Each of the featured specials has earned an Emmy® Award nomination or won an Emmy® Award. Peanuts: Emmy® Honored Collection will retail for $26.99 SRP.
IS AVAILBLE NOW!
FROM WARNER BROS. HOME ENTERTAINMENT
Two-Disc Collection Features Over Four Hours of Peanuts Specials
NOW FOR YOUR CHANCE TO WIN A COPY OF THIS 2 DISC DVD!
The Credits
About Peanuts Worldwide
The PEANUTS characters and related intellectual property are owned by Peanuts Worldwide LLC, a joint venture owned 80% by Iconix Brand Group, Inc. About Iconix Brand Group, Inc. Iconix Brand Group, Inc. owns, licenses and markets a growing portfolio of consumer brands including: CANDIE'S (R), BONGO (R), BADGLEY MISCHKA (R), JOE BOXER (R), RAMPAGE (R), MUDD (R), MOSSIMO (R), LONDON FOG (R), OCEAN PACIFIC (R), DANSKIN (R), ROCAWEAR (R), CANNON (R), ROYAL VELVET (R), FIELDCREST (R), CHARISMA (R), STARTER (R), WAVERLY (R), ZOO YORK (R), SHARPER IMAGE (R), UMBRO (R), LEE COOPER (R), ECKO UNLTD. (R), MARC ECKO (R) and STRAWBERRY SHORTCAKE (R). In addition, Iconix owns interests in the ARTFUL DODGER (R), MATERIAL GIRL (R), PEANUTS (R), ED HARDY (R), TRUTH OR DARE (R), BILLIONAIRE BOYS CLUB (R), ICE CREAM (R), MODERN AMUSEMENT (R), BUFFALO (R), NICK GRAHAM (R) and PONY (R) brands. The Company licenses its brands to a network of leading retailers and manufacturers that touch every major segment of retail distribution from the luxury market to the mass market in both the U.S. and worldwide. Through its in-house business development, merchandising, advertising and public relations departments, Iconix manages its brands to drive greater consumer awareness and equity.
About Warner Bros. Home Entertainment Inc.
Warner Bros. Home Entertainment (WBHE) brings together Warner Bros. Entertainment's home video, digital distribution and interactive entertainment businesses in order to maximize current and next-generation distribution scenarios. An industry leader since its inception, WBHE oversees the global distribution of content through packaged goods (Blu-ray Disc™ and DVD) and digital media in the form of electronic sell-through and video-on-demand via cable, satellite, online and mobile channels, and is a significant developer and publisher for console and online video game titles worldwide. WBHE distributes its product through third party retail partners and licensees.
GOOD LUCK EVERYONE!!
Candy