Thanks to my friend Ashely for this awesome post sharing how she's exploring her military installation with Pokémon Go!
Unless you have been living under a rock for the past week you have probably heard about Pokémon Go, the new mobile augmented reality game that is cause a global wide graze. No matter if you are an original Generation 1 Pokémon fan or a newbie to the game, this app game has a ton of benefits aside from capturing adorable creatures that have taken over your local parks and neighborhoods and it's free. So it's all all around win.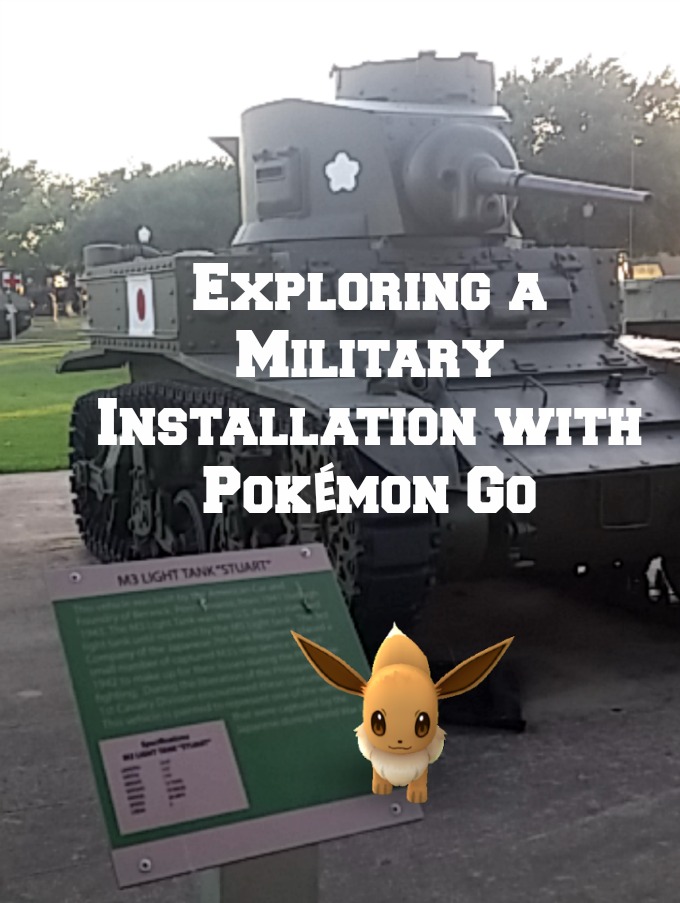 Before we get into some simple game play and how this game can really benefit us as a military community, let us talk safety. Please please please don't Pokémon Go and drive. No sudden stopping or parking like a madman to catch that super high CP Eevee. Most areas on post that will have lures activated are public areas so there should always be safety in numbers, but these places are usually monuments to our fallen Soldiers so please be respectful with your trash and don't lean against statues or go running around the grass. You never know when a wild Sergeant Major will appear when you walk on his freshly cut parade field. And never, never go into a live training area just to play the game. Stay safe people.
Pokémon Go is fairly straightforward to play, set up your account with a unique user name and start hunting. This is where is gets slightly tricky for Military members living and working on post, the adorable Pokémon will not just appear on post like they will in off post areas. Niantic, the games developers, decided amid safety concerns to not spawn Pokémon for us creature seeking base dwellers. So how's a Pokémon Trainer to make a living? It's pretty simple. On your map you will see these odd blue squares called PokéStops, these are hot spots where you can go to get items like Pokeballs to catch creatures, eggs to incubate, or potions to heal after your gym battles. PokéStops are areas like neighborhood parks, the post office, or Military museums. After a player reaches level 8 you will receive a lure module which you can use to activate a PokéStop which means Pokémon will flock to an area around you and it will show up on everyone's map with little hearts floating around the PokéStop for 30 minutes. It is not a perfect system by all means, but it is a way for those of us who live and work on base to play the game without having to leave the base.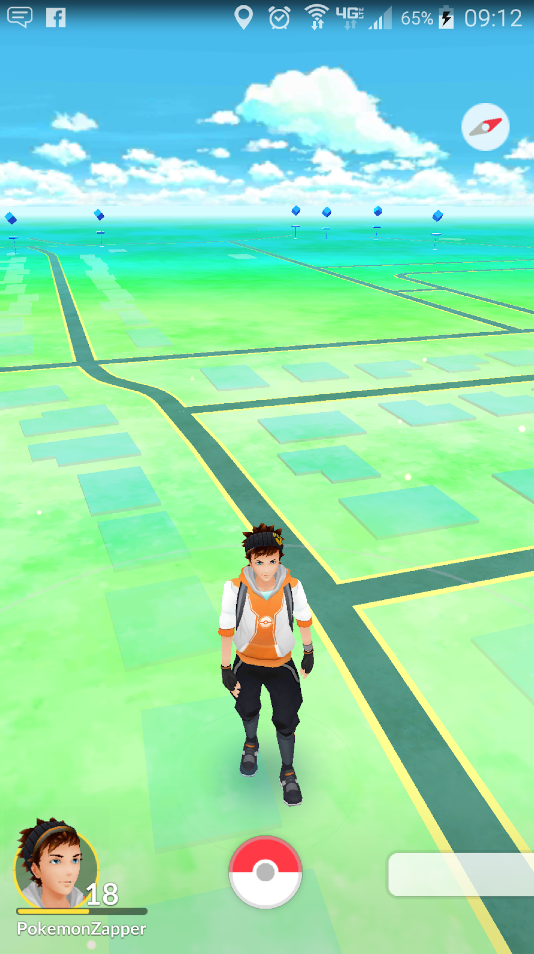 PokéStops in my neighborhood. Click on the blue boxes for information to find info about each stop.
A ton of lured PokéStops at the 1st Cav museum on Ft Hood!
Now for the fun stuff. Have I been playing the game? You bet I have!! I downloaded it the day it came out and have been chugging away everyday since then. There were a few days of sadness when I realized I wouldn't be getting the rare Pokémon my off base friends were getting so I decided to do something about that. I, the couch surfer, decided to put on my walking shoes and leave my house in search of other people playing the game at lured PokéStops on Fort Hood since Niantic has said that the more people in one area makes for better hunting, and I hit the jackpot. Not only have I found some awesome Pokémon but I have also made some more life related realizations and some new friends.
My first day playing outside I was in a group of over 50 Soldiers in front of the USO and Memorial Park who were activating PokeStops with lures for hours on end these Solders were all interacting, joking, sharing tips, and just having an all around great time. A lot of them I talked to said until the game came out they would sit in their barracks room watching TV and not talk to anyone from the time work ended until PT the next day. I also saw families with small children walking around the parks and having fun together, and people who didn't know places like the USO even existed before this game came out to see exactly what Pokemon Go was. I walked around some more and found some cool stuff, like a Patton tank, a PokeGym at the Main Chapel (I totally destroyed it), and many monuments around post I never knew existed.
The middle of this monument is a PokéGym, I'm currently battling with 15 of my newest friends for control of it!
Some PokeStops will give you additional information on an area you are at. It's a great way to learn some cool history facts.
The AR feature of this game is super adorable at times. Who knew fox type creatures liked to drive tanks?
I met a mom of a newborn with colic last night who told me this game was her saving grace to help kill the time while walking around her fussy baby. And the walking. So much walking. In the game you need to visit PokeStops to not only hit up the active lures to get Pokemon on base, but you need them to restock on your Pokeballs so you'll have to walk to a bunch to get as many as you can. You can also hatch Pokemon eggs in your incubator. These eggs come in 2k, 5k, and 10k increments, so you'll have to walk, and walk, and walk some more if you want to crack those eggs. Over the past week I have willingly woken up before 7am just to walk around my block with my app loaded to hatch my eggs. My step count has gone through the roof, my legs are going to look amazing. It's insane!
Any game that encourages people to come together and explore their local area while being physically active is a win in my book. I have been out early in the mornings and up until 930 at night and have seen people young and old of every race and creed all getting along and have a great time. I can not think of any other video game in history that has encouraged our children to actually leave the house to play, while bringing adults together. This is especially important for us in the Military community. We are already such a small group and even with FRGs for families and B.O.S.S. for Single Soldiers there is hardly any voluntary socialization with new people aside from "mandatory fun" events. If a game can bring us closer as a community my old behind will get out there every day and happily talk to every person I see and make new connections and memories for me and my children while taking over gyms for Team Instinct.  
Question
What's your favorite Pokémon? Are you going to join in on the fun? 
Cheers! 
Ashley