Saturday Sightseeing
Where are you headed this weekend? Are you doing any Saturday Sightseeing ? Being away from home makes me want to get out and see more of the areas we move to thanks to the Army. The hubs calls me, "The Official Fun Coordinator," so when he has time off, he asks "What are we doing this weekend?"
Well this weekend our niece in from Florida, so we are hoping to get out a bit and show her some west Texas fun. Follow along on Instagram or Twitter! I'm sure I'll be tweeting it up!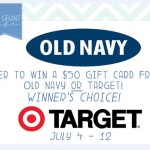 Don't forget to get your entry in to win HERE
Have a fabulous weekend ya'll!