I'm sharing one of my favorite recipes with you today. We eat a lot of salads in our house and when I make one as good as this one I just have to share it with you all! Wanna know something else about this salad? I invited my friend Leanne over and we got to building the amazing taco salad. Our mouths were watering the whole time!
When I mentioned making a taco salad Leanne was on board to come help and spend the afternoon with us.
For quick prep use the following products:
Pre-shredded lettuce
Canned black beans
Taco Seasoning packet
Now on to the delicious recipe!
Save with Kraft Coupons for a Kicking Taco Salad!
Recipe type:
Lunch or Dinner
Prep time:
Cook time:
Total time:
This taco salad is very easy and I've included ways to cut down your prep time!
Ingredients
1 lb browned ground beef or your choice of ground meat - use the taco seasoning when preparing the meat*
2 large avocados chopped
2 cups of Kraft Shredded Cheese
2 Cans of black beans drained and rinsed
1 bag of shredded lettuce
1.5 tomatoes cut into small pieces
1 Packet of taco seasoning
1 cup of Philadelphia cream cheese
1 cup of Taco Bell jalapeno sour cream
¼ cup of black sliced olives
1 bag of tortilla chips
Instructions
After you meat is cooked and all of your veggies are prepped you can being building your taco salad.
Start with a layer of beans in your dish.
*You don't have to use a trifle dish, you can use a casserole dish as well!
To break up the dark ingredients put down your chopped avocados. Try to save for another layer if you like avocado or to sprinkle on the top.
Top the avocado layer with the taco seasoned meat.
Add a cup of cheese as your next layer.
Add another layer of beans.
After you make your sour cream and cream cheese mixture add it as the next layer.
You can use a plastic baggy to pipe it in pretty!
Top with another layer of taco meat.
Add the bag of lettuce and top with tomatoes, olives, and more cheese.
Please note if you precook everything and pre-prepare you can save time on this recipe. Make sure to use the time saving ingredient ideas.
 Layer the taco salad as you like, but this is how we decided to layer it. We actually did two layers of each. Turned out delicious! I think layering is everything. You always want a solid base and the black beans worked great for it.
Using the Kraft Philadelphia Cream cheese and the Taco Bell Jalapeno sour cream dip together was a fabulous idea! It cut down the spicy for those of us who like a little spice but not too much. Let the cream cheese set out a bit to soften so it is easy to blend with the Taco Bell sour cream dip. I was so impressed with the sour cream dip by the way! If you want a little kick, give it a try!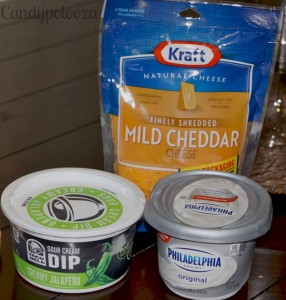 What a great idea right? I was super excited to get a little spice in the taco salad! Because you know I don't really spice things up around here.
By the way I'm so happy I was able to pipe it, we were having such a great time laughing and cutting up. It's a miracle I was able to get it as "straight" as I did! I'm no professional but I love a beautiful dish!
 We also decided this would be a great dish for FRG get together or even a shower, Hail, or Farewell potluck event. Oh, the possibilities and boy was it delicious. And you know what else? It plates pretty darn pretty too! I decided to add some chips since we didn't have the actual salad in a taco shell bowl we'd add the chips on the side. This was Leanne's plate and she wanted more spice so she added the cream cheese/jalapeno sour cream dip on the side as well as a drizzle of Kraft Thousand Island dressing. And yes, that's Kraft Mac and Cheese as a side because remember my boys? Yes, they are picky. I should have taken a picture of Aramis' plate. Taco meat, lettuce, and a side of Kraft Mac n Cheese! Why not right?  His version of mommies taco salad.
I hope you enjoy this recipe or make your own variation of it!
Question:
What's your favorite ingredient in a taco salad?
Candy