I know, it's fall and the beach is far far away from San Angelo, you can't blame me for missing the beach. I wanted to bring the beach to you all today!
Sight Seeing Saturday Siesta Key Florida

Oh yeah it's the Florida edition of Sight Seeing Saturday!
Thanks to the Army we lived in Tampa, Florida for three amazing years. I still miss it on a daily basis and probably will for a long time. My older sister and her family also live in Tampa, so that made the duty station so much sweeter to have them around. We enjoyed a lot a lot of fun families there as well as some quality couple time as well. Thanks for babysitting Jely!!  One of the trips we took together with both of our families was a trip to Siesta Key Beach, in Siesta Key Florida.
Siesta Key is actually only about an hour and some change from Tampa. If you are stationed at MacDill AFB, make a plan to head down south to Siesta Key! You must!!  In 2011 it was named the #1 Beach by Dr. Beach. It's an amazing beach.. the hubs says it's by far his  favorite beach.
We drove down on a Sunday afternoon on a four day weekend. The day was overcast and we stayed til it got dark. I had done some research and was very excited to get out a see a new beach. I also was told by a friend that had also visited of the possibilities of seeing a bull shark! Scary right!! Thankfully we didn't, but I was on high alert.. LOL I love the ocean, but never really get in too deep.. Does that make any sense? Not really, but I like it that way. My husband and the boys on the other hand? They went in pretty deep. The temperature of the water was warm but not too warm during the early summer day.  The sand, a soft powder that of course got stuck on everything.. It's the beach, what do you expect right? 😉 Oooh I just read on Yahoo.com that "the sand is 99% quartz and is the softest in the world." I can definitely attest to that. It was amazing!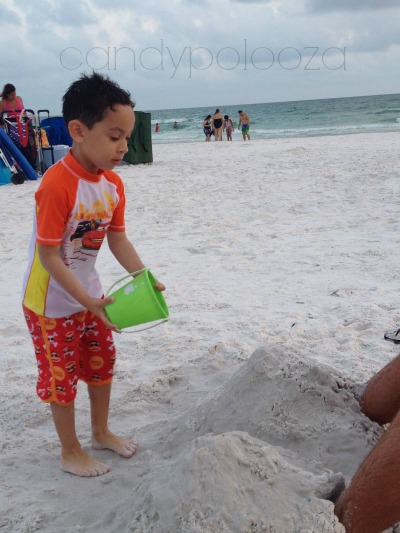 Aramis really enjoys the beach. He tells me often, how he misses the beach and Tampa.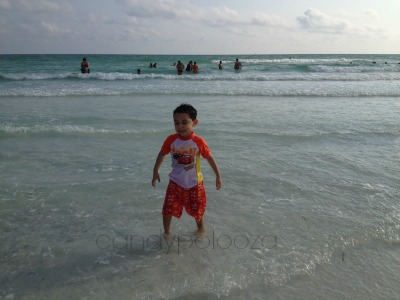 Here's the beach baby! I think Ezra enjoyed it too. The beach always makes nap time an issue.. he didn't sleep out there so he was so-so while we were there.. He did love the water though.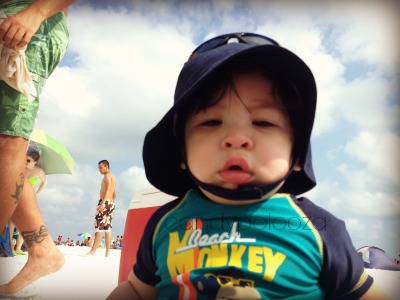 We actually made it a day trip to and from the beach. I love doing day trips. Besides the cost of food and gas there isn't a huge hotel bill. Gotta love that right?! It's definitely a one-tank trip.
The day we were there as soon as the sun began to set people were coming in to see the Drum circle. A huge circle with drummers, people were dancing around giving out flowers, it' very cool. We left shortly after nightfall, the drumming was really soothing along with the amazing breeze from the ocean. I understand it's an event to catch if you are in the area.  I'm glad we were able to experience it.
Here's a site I used as research when we were planning our trip. 4Sarasota.com/SiestaKey/Beach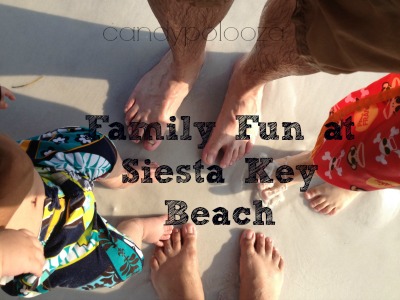 I love taking the feet pictures at the beach.
I hope you can make it to Siesta Key Beach in Florida one day!
Question:
What's your favorite beach?