Disclosure: I am a member of the Collective Bias®  Social Fabric® Community.  This shop has been compensated as part of a social shopper insights study for Collective Bias and their client.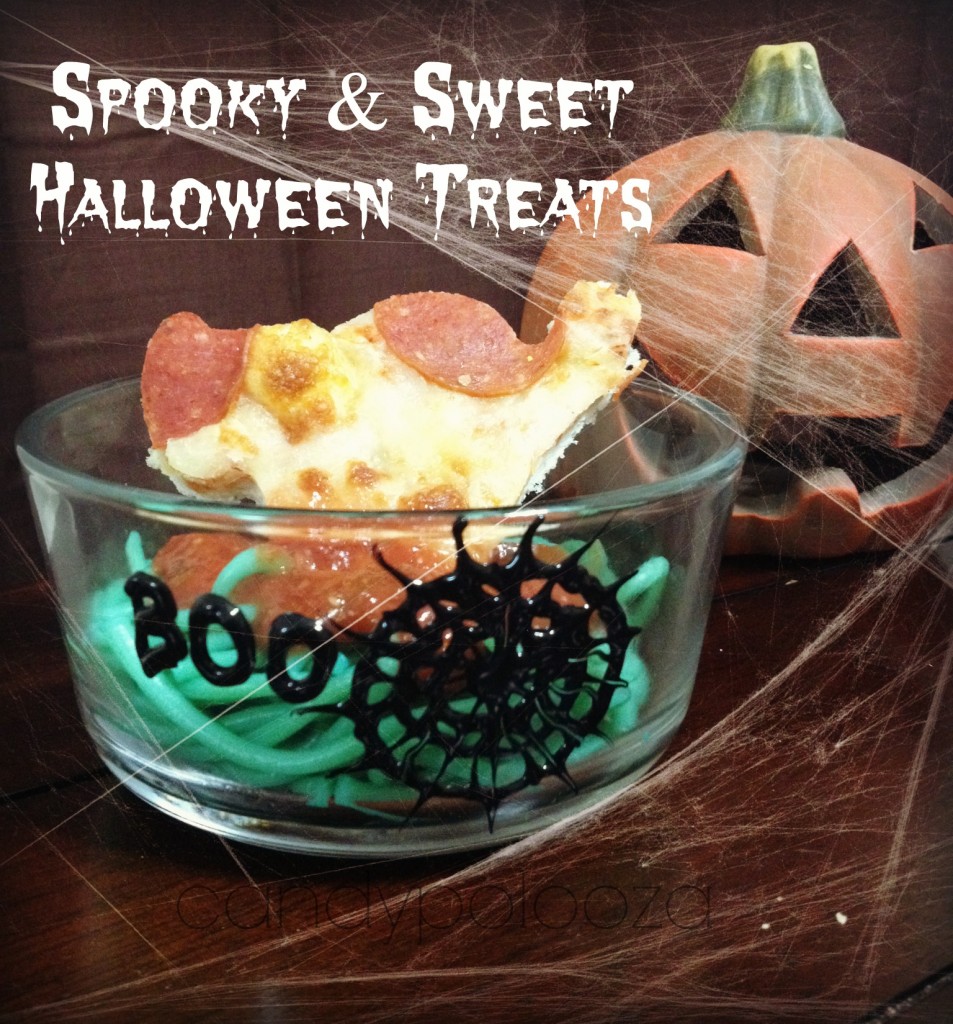 Spooky and Sweet Halloween Eats
The countdown is on! Halloween is Thursday and we are all so very excited! So excited we are enjoying some spooky and sweet Halloween treats early!  I wanted to make dinner fun before we looked thru our calendar of activities planned; dinner was a little extra spooky and sweet!
What was on the menu: Tombstone pizza, a little spaghetti and a delicious dessert of  Nestle chocolate and ice cream! Pizza is one of our favorite meals to enjoy as a family.  We are looking forward to hitting a few pumpkin patches, a Halloween fair, and a couple trunk of treats as well as hitting the trails for some serious trick or treating on the night!
I wanted to make sure the bowls we used for our spaghetti and ice cream were super cute so I got a little creative using a glass serving bowl and acrylic puff paint with a pointed spout. I wrote out "Boo" and put a drop and then drew circles around the dot to make the spider web. I used a toothpick to draw lines from the center drop of paint thru the outer circles.
Soo Cute!
The spaghetti was a last minute addition to the dish I made just a little to accent the pizza. I went a little crazy and added 4 drops of red and 6 drops of green food coloring to the water to make the noodles a ghoulish green color.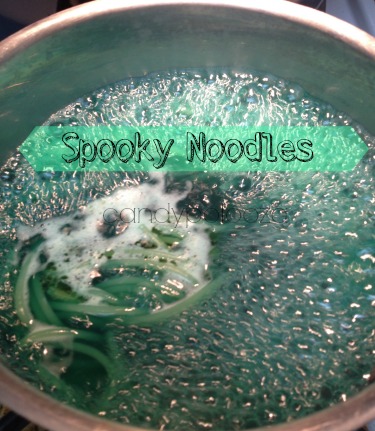 After cooking the pizza we let it cool before we cut it with the cookie cutter. It worked a lot better this way for presentation and it was perfect for the little one to eat and not get burned!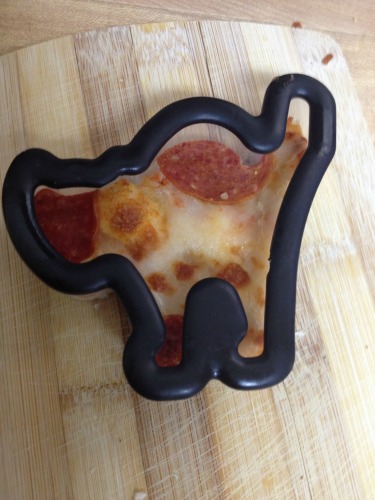 This Serving size was a perfect portion size for the kids 
too! 

Now it's time for the chocolatey fun! 
Spooky and Sweet Halloween Eats #TrickUrTreat #cbias #shop
Using the Nestle Crunch, Butterfingers and Nerds candies you can make awesome molds to make a plain dessert just a little spooky but a whole lot sweeter!
Ingredients
Nestle Crunch snack size candies
Butterfinger snack sized candies
Nerds candies a few of the same color for accents
Dab of butter
Candy Molds
Instructions
First wash each mold and dry completely.
Add dabs of butter to areas where you'll want to add the Nerds candies. This will help keep them in their place.
Add the Nerds candies.
I used one color per mouth and eyes.
Cut up the snack sized candy bars and carefully place them inside of the molds on top of the Nerds candies.
If using a small mold, place in microwave for 1 to 2 minutes.
Stop and shake mold every 15 seconds to make sure chocolate is moving into each crevice of mold.
After chocolate is completely melted, pull out mold and gently shake one last time to help chocolate settle.
Place molds into freezer for extra cool.
Chocolates will be frozen hard after 20 minutes in freezer.
You'll be able to pop the chocolates out of the molds after the chocolate cools completely.
Add as garnish to pizza and ice cream dessert.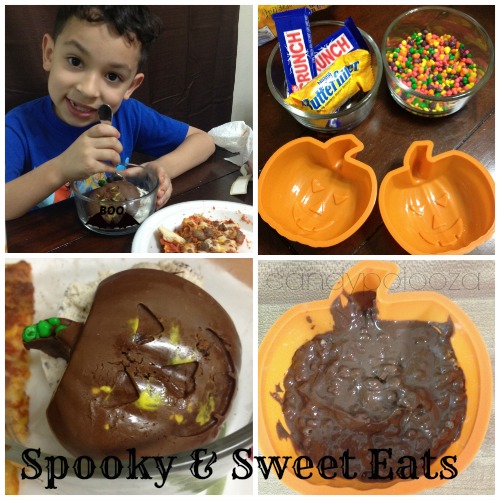 Well we are off to our first event of the Halloween week! Hope you all enjoy and have a wonderful and safe Halloween!
Question:
What event are your kids looking forward to most this week?

SaveSave