I'm in a house of gamers! We've been owners of an Xbox One for a bit and the boys really enjoy it. Being that there's a five year age difference between both boys, we keep the game rating so that it's appropriate for both to play. This is a sponsored campaign with MomSelect, we are being compensated for our honest review, all opinions are my own. Starlink: Battle for Atlas is a game that's a good fit for the child gamer who is at an age between kiddy video games and older, teen video games.  Sharing our Starlink: Battle for Atlas an Xbox One Game Console Review.

Online Safety
I mentioned an age difference between my boys, while the little one tries to "be big" like the older one maturity levels are still different so it's important to the hubs and I that what one can, play the can as well. Don't get me wrong, we allow Aramis to play other games as well, but it's important that they play together and when it's a fun game like Starlink they just play. "The game is a contained environment that's safer for kids with the variety of challenge and adventure that kids and gamers are looking for, without the unsafe interactions that are common in other open world games." Safety is everything to us, so being that the game is contained there is no opportunity for worry when it comes to letting the kids play.
Creative Minds
Our boys love to build and play. One of the most interesting things about the Starlink game is the building of the jets. "Each Starlink: Battle for Atlas Starter Pack includes a controller mount, which allows you to connect your starship and pilot your controller. Mix and match weapons, pilots, and starships and watch the seamless transition happen in-game." You literally are piloting your jet from your controller! It's the coolest thing!
Craft your own Starship loadout from your arsenal of wings, hulls, weapons, and pilots. Connect your modular toys to your controller mount and see them come to life in game instantly. You can purchase additional physical Starlink: Battle for Atlas starship, weapon, and pilot packs at participating retailers. Packs range in price from $7.99-$24.99.
Game Information
In Starlink: Battle for Atlas, lead a heroic team of interstellar pilots to free the Atlas star system from the Forgotten Legion. Innovative modular toys allow players to build unique starships which can be customized on the fly for a new way to play as players adapt to overcome any challenge they encounter in this epic open world adventure. Starlink: Battle for Atlas is for ages 7 and up. Available for purchase for $74.99 for Starlink: Battle for Atlas Starter Pack, available on Nintendo Switch, PlayStation 4, and Xbox One game consoles.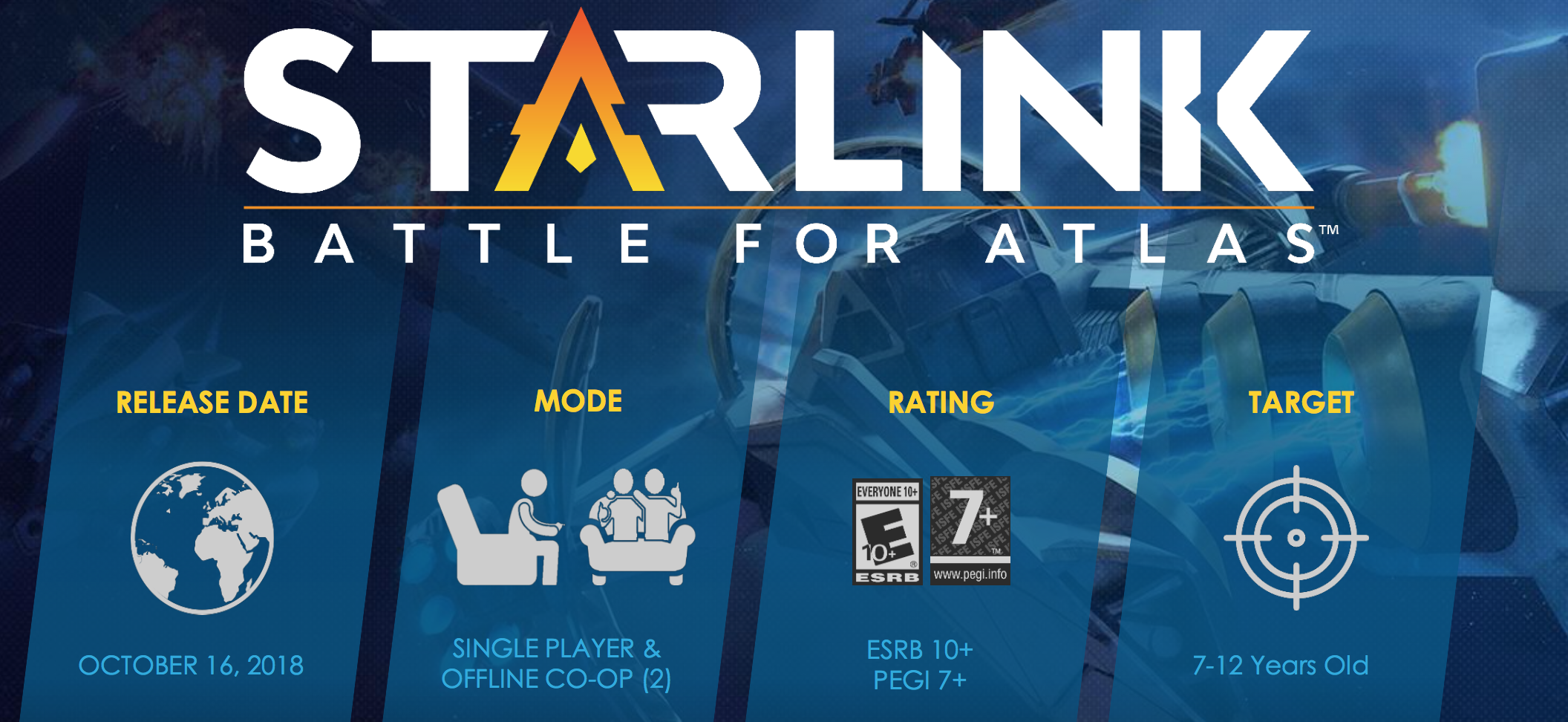 Get social with Ubisoft! Make sure to follow them online: Facebook,  Twitter & Instagram
Pick up Starlink: Battle for Atlas as your nearest Target or Walmart retailer!