Disclosure: This is a sponsored post in partnership with Vive Major and DiMe Media. All opinions expressed are my own.
We are officially in the summer season. I should add the very hot summer season. I've seen the temperatures rising over 100 here and other places and all I can think is why can't we just stay inside? Of course that's not always an option so when we are outside it's very important to stay hydrated. I'm excited to share some new options for summer hydration Fruttare style.


One of the things I realize each summer that while I know my water consumption goes down during the winter months, I have no problem getting my 8 glasses of water daily during the summer. Fruttare has made it even easier! If you follow me on Vine you know I have loved Fruttare fruit bars since I had them last year, I actually tried them at Hispanicize.

These fruit bars are so delicious. I've recently taken to the pineapple and mango flavored fruit bars and I've gotten quite inventive with how I enjoy them. I'm sharing how you can keep your hydration game on point with Fruttare!
Grab your favorite fruit and slice it up.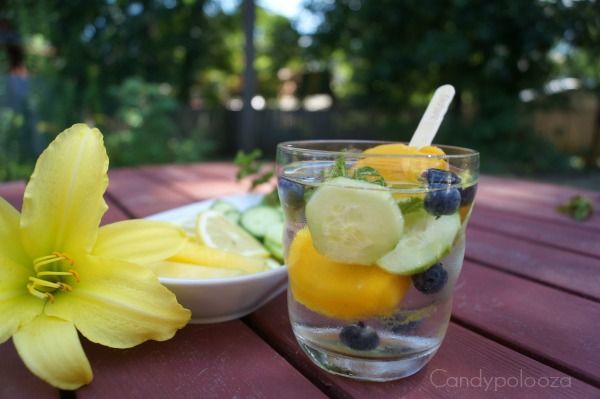 Who doesn't love an agua de fruta right? One of my favorites growing up was agua de limon aka lemonade, but it just tasted so much better coming out of those huge glass jugs that looked like honey jars! Do you remember those?! I'm enjoying adding fruit to my water these days and a Fruttare fruit bar! I'm adding my own twist to just plain ol' water! Speaking of my twist have you head that the second installment of ViveMejor's #TuTwist web series featuring Spanish language personality Gissel Blondet is now streaming?! The webseries stars Giselle Blondet, the author of I'm 50, So What? and is written by comedian and star of Comedy's Central's Alternatino, Arturo Castro. Giselle and Arturo each bring their own flavor to the webseries as they expertly channel their Latino family experiences for Tu Twist.
 The ladies share great recipe options while adding a little storyline to the series too. In the first video that premiered at Hispanicize the ladies prepared a fish dish and in the second video they tackle dessert. The drinks I made can be dessert or an evening drink or something to enjoy while the kids play outside.
As you can see by simply adding fruit to water it changes the flavor of the water and when you add the Fruttare fruit bars the flavor is enhanced. By adding a few other ingredients you can totally make a detox drink too! Add #tutwist and to give your water or favorite fruit juice a boost!
Question:
What fruits would you add to your water to give it #tutwist?
Cheers, 
Candy