This shop has been compensated by Collective Bias, Inc. and its advertiser. However all opinions are my own.
We love snacking! One of my boys favorite types of candy is sour candy! This summer I'm all about making at home snacks that we can enjoy any time. I recently attended a demo at Walmart for Mike and Ike's Zours candy. I was hooked and knew the boys would love sweet and sour popcorn snacks using the Mike and Ike's Zours candy. I mean, what a delicious candy idea that's also a great snack that they boys can enjoy while we watch movies or have friends over. Honestly I think it's a great treat when we want to make the recipe as a family. The boys had too much fun making their own popcorn snacks.
Make sure to pick up the stars of the recipe and the rest of your ingredients at Walmart! And here's an interesting tid bit, if you don't find your Mike and Ike Zours in the candy aisle you can also look for them in the movie candy bin located at most store fronts. My mouth just waters for those sour fruitz candies!
 I was able to get away for the awesome demo held at my local Walmart and got to try out the delicious Mike and Ike Zours. As you can see I had a total #ZoursFace! Just when you think you're ok, the sour gets you in the back of your mouth! I love it!!
Now let's get to the Sweet and Sour popcorn Snack Recipe!
Here's what you'll need: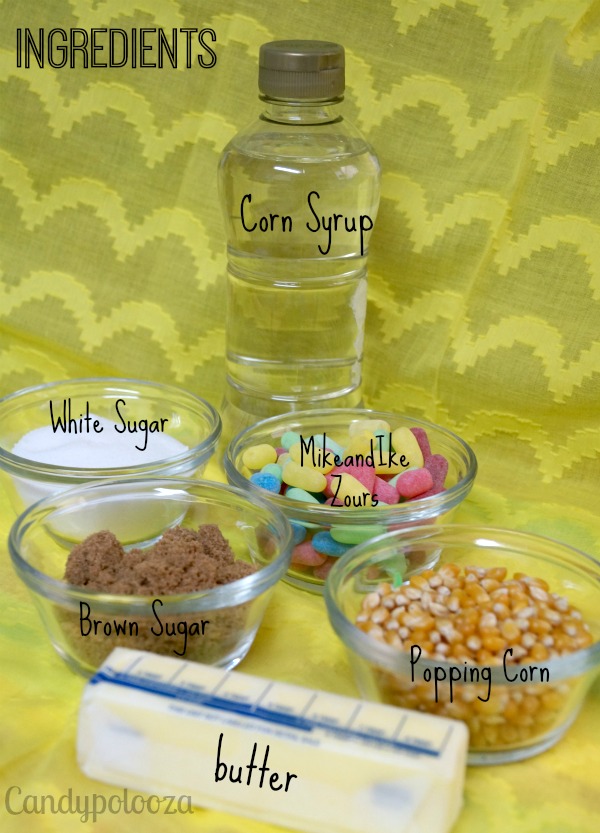 Sweet & Sour Popcorn Snacks with #ZoursFace Mike & Ike Candy #shop
Prep time:
Cook time:
Total time:
Sweet and Sour Popcorn Snacks with Mike and Ike Zours candy
Ingredients
1¼ cup of Sugar
1¼ cup of Brown Sugar
½ cup of Light Corn Syrup
⅔ cup of water
1 tbsp Butter
Candy Thermometer
Wooden Spoon
Bowl
Heavy bottom pan
Non-stick spray
cookie sheet
Instructions
First off pop your popcorn and then begin to warm up your syrup.
Put in the pan the following items:
Light Corn Syrup
Water
Both sugars, white & brown and stir until well blended.
Once all of the sugars are dissolved add the butter.
Continue to stir and add the candy thermometer to check the temperature.
When the mixture temperature reaches 240 you can take off of stove top and turn off stove.
Grab your bowl of popped popcorn and slowly pour in the syrup.
Using your wooden spoon fold the popcorn into the syrup and cover each popped corn completely.
As soon as the syrup cools and the popcorn is completely coated throw in your candies.
You can wait to add the candy until the end, but I wanted to let it melt some so the sour would also be in the syrup.
After you fold the candy into the syrup completely, spray your hands with the non-stick spray and begin shaping into balls.
I used a ladle to help shape them so they would all be around the same size.
Squeeze the ball in your hand until it's tight so it stays together.
Place on cookie sheet that has been sprayed with nonstick spray.
Last thing you want is for the balls to stick to the sheet.
Here' s a few shots of what'll you be seeing when you make your sweet & sour popcorn snacks!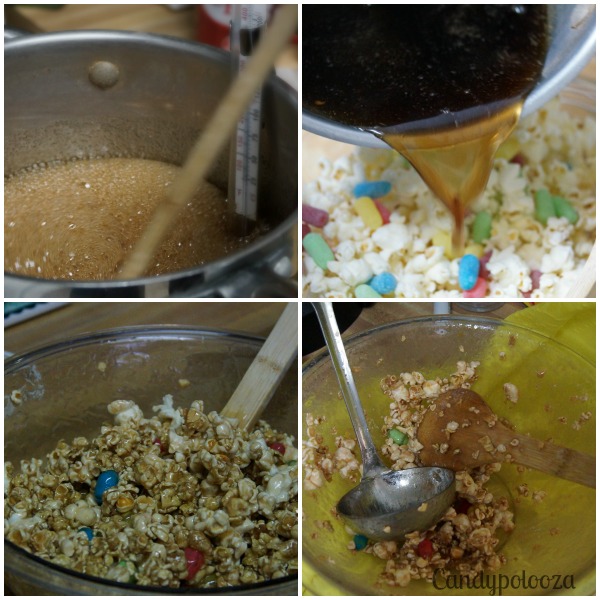 I recommend a ladle in helping shape your popcorn snacks along with spraying your hands with the non-stick spray so they don't stick to your hands. This was our first time to make popcorn snacks and it was so much fun! The boys couldn't keep their hands out of the mix while and after making them. Literally as you can see! Stinker snuck his hand in! LOL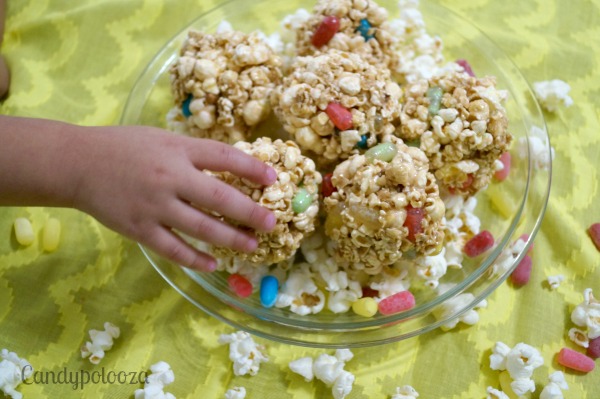 The sweet and sour popcorn snacks using Mike and Ike's Zours candy will be in our favorite snack rotation for a very long time. I can foresee these being a delicious treat for parties and special occasions as well!
Question:
Have you tried the new Mike and Ike's Zours candy?
Candy