Disclosure: This is a sponsored post. I received product for review, however all opinions are my own.
When it comes to frozen desserts, most people would say ice cream or yogurt. What if you could make your own frozen treat without the guilt of added calories from preservatives or other mystery ingredients? You totally can with Big Boss Kitchen Swirlio! A tasty frozen treat with Swirlio is only frozen fresh fruit away from being enjoyed by you and your family. If you choose to share!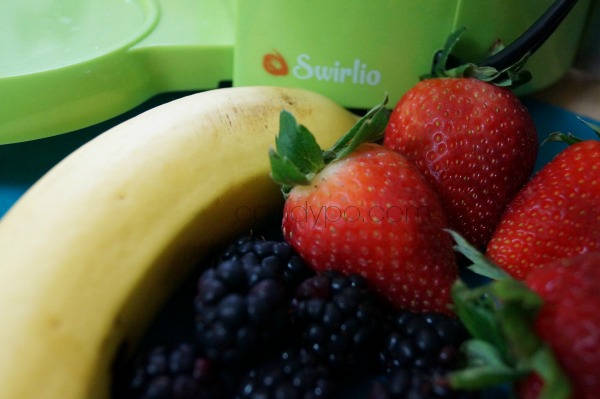 Fresh fruits and vegetables turn into a delicious soft serve dessert fit for royalty! I know, I've got pictures of fruit but I'm hoping to try vegetables very soon! I'm thinking of boiling carrots and sweet potatoes.. delicious and nutritious!  Yes, I will be posting that recipe when I make it. Today I'm sharing with you the in's and outs of the Big Boss Kitchen Products Swirlio and the recipe for the deliciousness you see below.
I chose the beautiful green colored Swirlio. I absolutely love the color.
There are five color choices to choose from:
White
Red
Black
Purple
Green
What are my favorite things about using the Swirlio?
Easy clean up! It pulls apart into the easy pieces that clean up in no time. And I have to add that there are no metal pieces, so I won't cut myself!
Easy to use! Set up is very easy. The main body is in tact add the bowl and the pestle to push down the fruit. 
Quiet machine I am happy for the little noise, so I can make myself a treat while Ezra naps! Win-Win!!
I decide what goes into the Swirlio so I know it's going to healthy!
Swirlio is under a 1 year warranty. I can be pretty rough and knowing Big Boss Kitchen Products won't let me down is awesome!!
Time for the recipe! I decided to call it:
Passion Berry Blast
Ingredients:
4 Strawberries
5 Blackberries
1 Banana
3 Slices of Pineapple
1/4 cup of Passion fruit Juice
1 tblspoon of honey
Cut up all of the fruit and place all of the above in a bowl or bag and freeze. I find it's easier to pre-blend the fruit so that it freezes together and the fruit juices have more time to really infuse each other.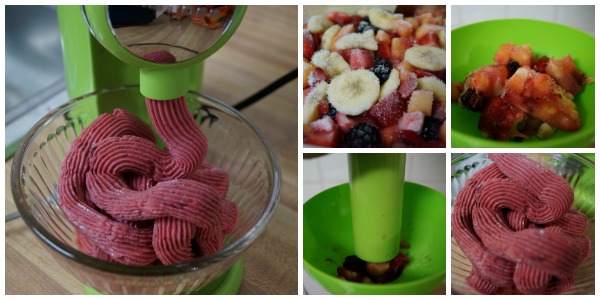 The Swirlio comes with a 50 page recipe book that has amazing recipes that I cannot wait to try! Looking thru the booklet at the delicious possibilities leaves my mouth watering!
Check out the Swirlio website, there's currently a two for one deal! Get your hands on your very own Swirlio and we can enjoy a tasty frozen treat too!
 Make sure and follow Big Boss Kitchen on Pinterest too! You'll see some great recipes for the Swirlio and the other amazing Big Boss Kitchen products! And LIKE on Facebook too!