Last night Angela and I arrived at the Grand Hyatt in Atlanta we got to the hotel and headed upstairs to relax. We are in town for Type A Parent conference and we were excited about coming in. About 11:35 pm we decided to go downstairs for a night cap. After we sit down we see Kelby Carr the founder of TypeA and have a pleasant conversation with her. She shares with us that Ice Cube is sitting over on the other side of the bar.
Ice Cube.. hmm.. I'm a fan.. the hubs and I are fans. Should I go over there and say hi? Lucky for me Kelby was totally like "Yeah! Just go over there!" With a bit of shaking.. (I'm a real fan ya'll). He saw me coming and I sort of waved (what a goober right?! lol). He didn't look at me crazy so I kept going. I walk over to him and say, "Hi I just wanted to come over and say Hi and that I'm a huge fan" I might have blacked out after that and told him I loved him and again that I was a huge fan but he was super gracious. He asked me my name and shook my hand. I made sure to make eye contact with his friend/(maybe body guard) sitting with him. The last thing I wanted to do was alienate the other gentleman (that has to be the worst thing about being with a celebrity, you aren't even noticed) so I said hello. He asked me if I was a part of the conference as well and asked where I was from. Of course I said Texas but explained my husband was stationed in GA so we live here now..
I then focused back on Cube and asked if he'd take a picture with me and he says, "Ok but you better make it fast" he said it nicely. I didn't feeling any animosity from him. I have always thought that if I see a celebrity I'd totally leave them alone and let them be. That has to be the worst getting interrupted all the time for photo opps or autographs.. but for some reason I didn't even think about that last night. It flew out the window for Ice Cube.
I got my pic and I was super happy. He made my day, night and possibly week and/or month. I would have to say that I felt like I did when I shot my first buck. Meeting Ice Cube was like buck fever.. weird and hilarious at the same time. It was a super fan girl moment but I'd do it again. I mean when can you say "I met gangsta rapper mother-freaking Ice Cube!" Might be a little much but I got nothing but love for him and his craft. And he's into so much more now but that's how he started. If you haven't seen Straight Outta Compton go see it! His son O'Shea Jackson Jr. actually plays him and I mean hell it's his son so there is an amazing  resemblance. Anyhoo.. to cut my fan-girling to a minimum.. that's what I got ya'll.
Thanks Cube!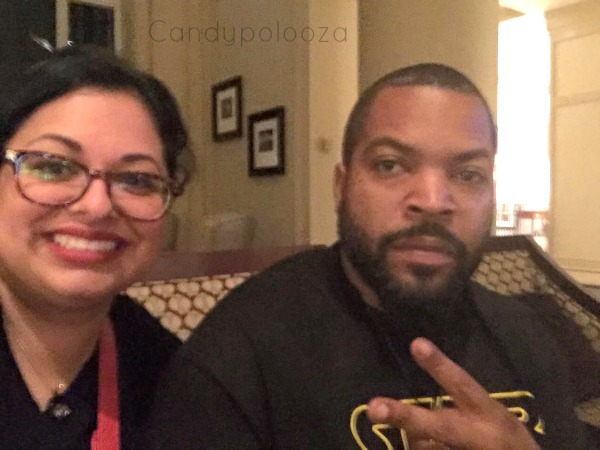 Question:
Have you ever gotten a pic or autograph from your favorite celebrity?
Cheers!
Candy