Those tiny hands that needed me so much in the beginning I find are needing me a little less these days. I love watching him grow and become even more independent. Motor skills are so important and helping our kids become able and independent is the name of the game as parents. Game play and toys can be very useful in these areas. We absolutely love Rusty Rivets toys for this reason! Bricks are great, but let's put together a friend for you to play with! Add a little more, take some away, Rusty Rivets are the best for problem solving and creativity!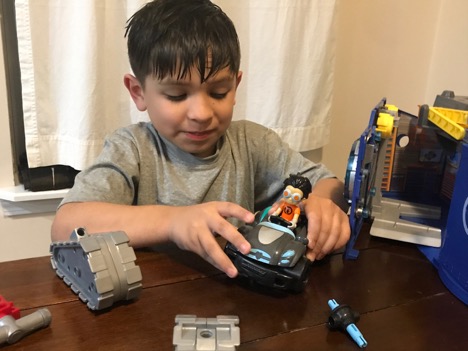 When it comes to building, this is what my boy loves to do. He's a very active six-year-old and it's super important to keep him busy and I love when learning and fun can be combined. Lucky for us even the 11-year-old gets in on the building fun. Aramis loves his little brother and they do so well together when they are getting along. LOL, kids, right?! Rusty Rivets toys allow children to expand skills sets by encouraging creativity and problem solving by using the interchangeable peg system to create new and unique builds to help Rusty save the day, just like in the show!
Problem Solving
A child's mind must be molded each and every day. While they work out their brains at school, it's great for them to continue working their brains during play. Problem solving comes to play when you have several of the toys pulled apart. The awesome thing about this line is that they all fit together. You can keep your build as simple or make it as awesome as you can.
Working Together
Although my boys are five years apart I love seeing them get along and play together. When they aren't getting on each other's nerves it's wonderful for one to reach out to the other for help. Of course, Ezra asks for help more times than Aramis but that would be the norm as Aramis is older. I want them to always be able to rely on each other. Seeing them play together putting the Rusty Rivets pieces together brings me so much joy.
Development
Early age educators recommend many different exercises for small children to get those little hands and minds going. One of the things we loved about the Rusty Rivets toys were that, not only were they completely interchangeable, you can also make awesome friends using parts from the other toys in the line.  Ezra would look at Botasaur and say, "Momma I'm going to add this piece to make him even bigger!" and then would press the button on the back of his head and make the growl noise.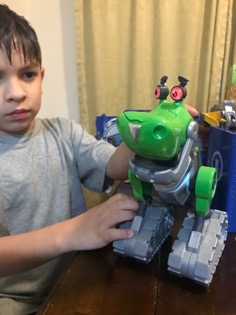 If you are looking for a toy line that will keep your family entertained and also make them think outside the box to build more characters, head to your closest Target and look for the Rusty Rivets figures. Rusty Rivets offers children the ability to expand their thinking in innovative ways and as a parent, I like their thinking.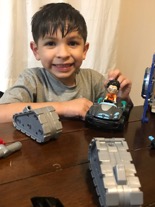 Question:
How do you sneak in learning activities that are fun?
Cheers!
Candy