You can only imagine how hard it was to limit myself to three things about Coco. I haven't even seen the whole film and I'm in love with it. Muchos thank yous to Disney for inviting me to San Francisco to visit Pixar Animation Studios and to witness how the magic of this film was born. This will be one of those films that has you looking at the entire screen to enjoy all of the beautiful things coming to you, don't worry I'm going to tell you the three things to prepare you for Disney Pixar Coco.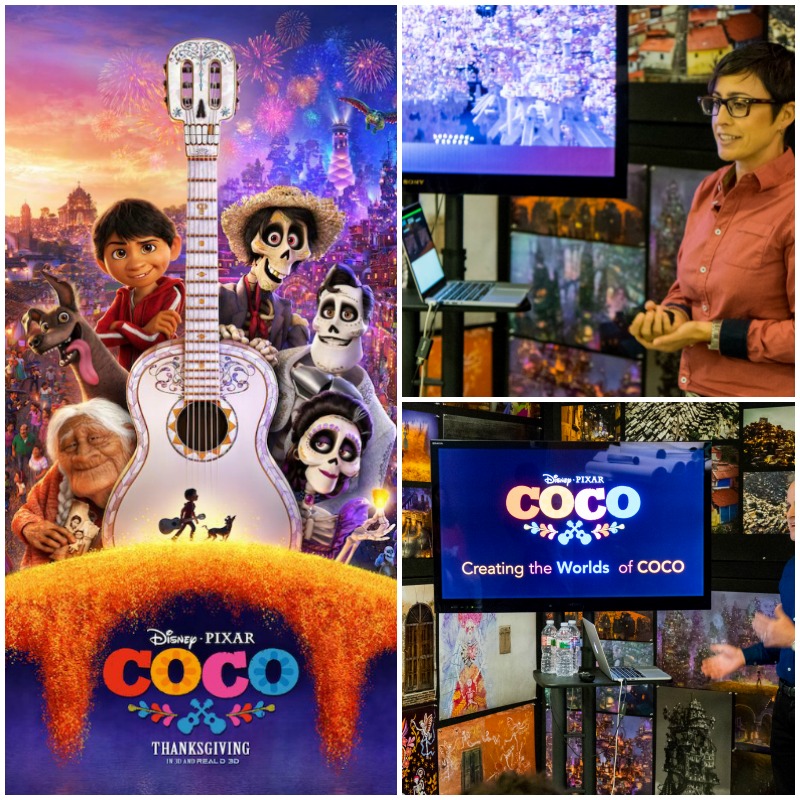 The Story of Family
Each family has a story. My family story is different than yours and so on. The story of the Rivera family, a family of cobblers has a long lineage of strong women. Including Miguel's great-grandmother Coco, for whom the film is named. Little does Miguel know that the forbidden passion he has for music has been passed down to him from his great-great-grandfather Ernesto De La Cruz.
I understand how the family removed any and all notions of De la Cruz when he left his family to pursue his dreams of being a musician, this used to be common in latino families being banished. I can't wait to hear the story from De La Cruz of how it happened when Miguel finds him in the Land of the Dead. I'm assuming he does.. that's not a spoiler techinically because I'm seen them together in the trailers. 😉
Anyways, back to family. Being together, living in close proximity and working together is what most families hope for. To keep the family together and keep tradition alive. My father in law is constantly trying to come up with a business idea for the hubs and his brother to do together. It's never going to happen, but it's a beautiful idea. In my opinion that's the story of Coco. Familia. Disney Pixar has done a beautiful job of showing the generations within a Mexican family. The love and the respect, while sometimes overbearing and imposing that's family. I'm sure a lot of people, not just Latinos will relate to this about the film.
The Lights in "The Land of the Living and the Land of the Dead"
When I watch the trailers, (yes the trailers, plural because I've watched a lot of them) I can't help but enjoy how the colors and everything is so vibrant. You won't believe it when I tell you but those are lights! Lights like how we think of them yes, in the development of the film there are Lighting Directors. We had the opportunity to listen to a presentation from Danielle Feinberg, Harley Jessup and Chris Bernardi during the Coco Press Day and we learned a lot! The insight they provided really and literally "turned on the lights" for us as they explained.
While listening to the presentation, I kept thinking of the Land of the Dead and how it looked so familiar too.. Easter Egg spoiler! Think Inside Out! These folks have such imaginations! I love it! I loved when they showed us how in particular, the Land of the Dead looked with different light. I'm going to have to watch the film a few times while I search for all of the things they pointed out.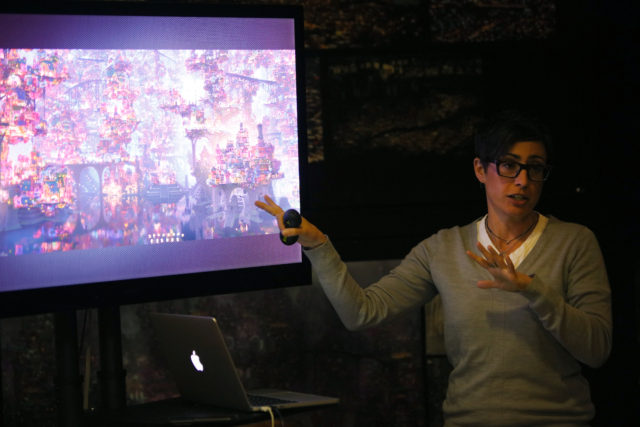 Director of Photography for Lighting Danielle Feinberg at "Coco" Long Lead Press Day, which included a filmmaker roundtable, presentations about the music, story, characters and set designs of the film, on August 3, 2017 at Pixar Animation Studios in Emeryville, Calif. (Photo by Deborah Coleman / Pixar)
It's truly amazing how they bring the story to life with just a little light! The different teams from the Coco team made several trips to Mexico to reasearch the areas and the actual celebration during Día de Muertos. I've never been to the areas of Oaxaca or Guanajuato, but I have friends that have been and their pictures are so beautiful and vibrant. From the first few minutes of the film that we saw, I can tell you that they most definitely captured the beauty of Mexico.
Day of The Dead 
Día de Muertos, which is also known as Día de los Muertos in some places, is the Day of the Dead, and it's a Mexican celebration that takes place over the first two days of November and people honor their departed family and friends by building ofrendas or altars where they display photos and food and beverages that their loved ones enjoyed in life.
Dean Kelly and Adrian Molina present at "Coco" Long Lead Press Day, which included a filmmaker roundtable, presentations about the music, story, characters and set designs of the film, on August 4, 2017 at Pixar Animation Studios in Emeryville, Calif. (Photo by Marc Flores / Pixar)
I've mentioned it before, but before my papa (my mom's father) died we didn't really celebrate Día de los Muertos at all. My mom's family immigrated from Piedras Negras, Coahuila so we didn't visit the cemetary because we didn't have anyone there. Day of the Dead is celebrated all over Mexico but in part of south and central Mexico it is more prevalent.
See how beautiful the candle light looks? You'll think of it when you watch the film and see the beautiful lighting.
I leave you the newest trailer to hit the interwebs and the newest beautiful poster as well. I'll be sharing more about the film next week! I simply cannot wait to see the rest of the film and for you to see it too!
What do you think of Disney Pixar Coco so far? Will you be taking your family to watch?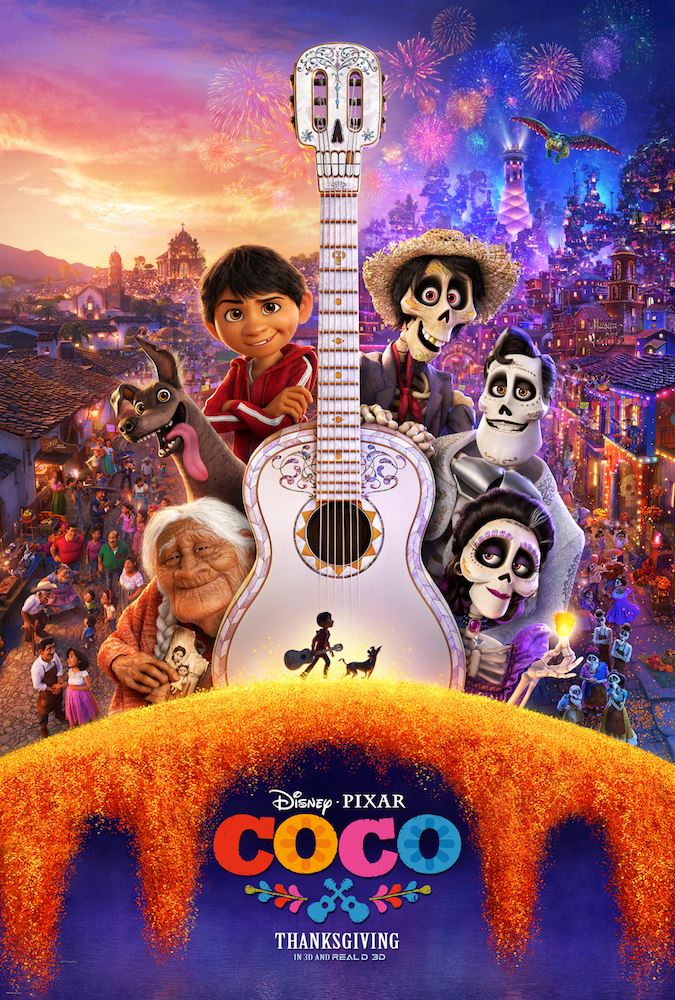 Make sure to follow Coco on social media! There's always really cute things being shared on social.
Like COCO on Facebook: https://www.facebook.com/PixarCoco
Follow COCO on Twitter: https://twitter.com/pixarcoco
Follow COCO on Instagram: https://www.instagram.com/pixarcoco/
Visit the official COCO website here: http://movies.disney.com/coco
HEAD TO THEATERS TO SEE COCO ON NOVEMBER 22ND! 
SaveSave
SaveSave
SaveSave
SaveSave