Oh my word.. it's that time again. It's time for my Thursday Thoughts.. are you ready?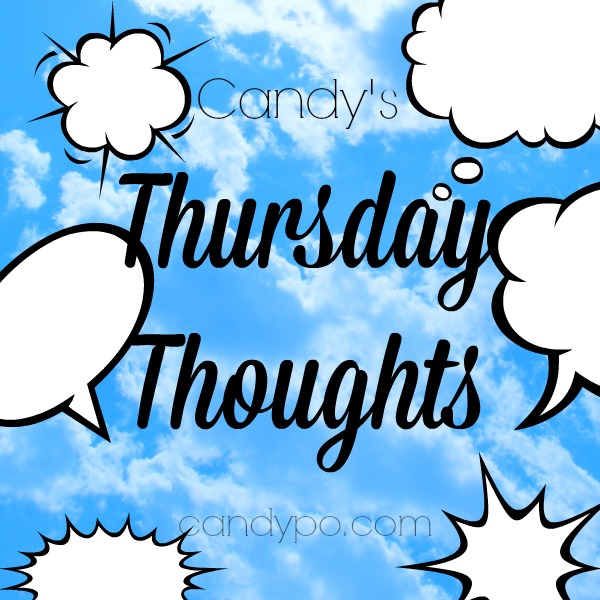 -This week has been super busy.. I've taken on a more active role in our Cub Scout pack and this is the busy season for me. One of the things I feel guilty about is that I call it a "Troop" sometimes. Yes, if you are familiar with Scouting you know that for the Cub Scouts and Boy Scouts that group is in fact called a Pack. Get it together Candy, you were a Brownie over 20 years ago. Sorry Scouts! I'll mind my p's and q's from now on when it comes to the pack.
-I don't normally blog about my daily ins and outs, I prefer to inform you of something pertinent when I do post. Ok maybe it's more pertinent to me, but surely there are some serious television watcher like me right?  Back to my thought, so I was talking to my sister the other day and told her, "Oh man I haven't posted anything anywhere today.. I need to post something.. I don't want my readers/followers to think I don't care about them!" And then I told my sister, "Maybe they don't even realize I'm not around.."  What do you think? Do you wonder what that girl is up to? What's happening in San Angelo?
-Pets, I've been thinking about pets lately. My neighbors have two beautiful chocolate labs and I'd so love to have a doggie for the boys. BUT.. and that a HUGE BUT.. the idea of getting a dog is exhausting to me. Ezra refuses to potty train and I cannot for the life of me potty train my child and an animal. One at a time.. that's just the way I see it. I could just be crazy.
-My poor car is a mess.. She seriously needs a good scrub down. Yes, I think my car is female. She doesn't have a name per say, but she's one tough mother and I feel terrible that she's not been properly detailed in quite some time. How often do you wash your vehicle?
-Halloween! I know Hobby Lobby and all the other stores already have Christmas decorations but I'm overly excited about Halloween. I've still not decided how I'll do trick or treating with the boys just yet.. Ezra will do a little bit of trick or treating. I'm excited to get more decorations up in the house.
-It's official, fall tv is upon us. I thoroughly enjoyed my Wednesday night of reality tv with Survivor and then then Big Brother season finale last night. I'm very excited about Survivor, the twists so far are gonna really make the game harder. While I'm sad that Big Brother is done, it was a good season and I was happy with the winners. I can't wait til next summer. Along with the Amazing Race starting tomorrow I'm super stoked for the dramas coming back!! And the new shows too! I watched Gotham yesterday and yes, I believe I've hooked. Will have my thoughts on it up next week.
So in a nut shell.. this is what I've been thinking about. I'm like three weeks behind on my Blogiversary giveaway.. I've got the card ya'll I just need to make time to post it. For now make sure you enter the two GIVEAWAYS I've got on the blog right now.
Cheers,
Candy