Disclosure: Warner Bros. provided the items for review for the #legomoviechallenge, however all opinions are my own.
Aramis loves LEGO®! He has been a fan since the age of 3, where we started him with a LEGO Duplo set. Since then he has been building ever since. In the past few years since turning 5 he's continued playing with LEGO and growing a collection all while becoming a very good builder.. if I do say so myself. He calls himself "a building master."
Back in December I took him out to a movie, just the two of us and we saw the trailer for The LEGO Movie. Excited is too "meh" of a term used for the joy we felt about the LEGO movie premiering February 7th. I believe we even high fived each other inside of the theater. What can we say, we were over the moon!
When I was asked if we would be up for a #LEGOmoviechallenge, I'm not going to lie.. I replied..
A thousand times YES! 
 Ok maybe a little over dramatic, but I knew Aramis would be STOKED!!
We received The LEGO Movie Bad Cop's Pursuit set.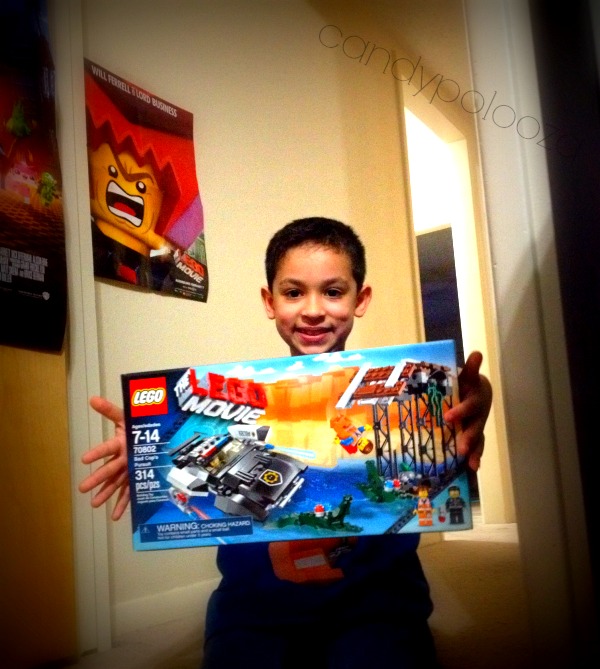 Let the building begin!
If you follow me on Twitter, Facebook and Instagram you couldn't have missed our pictures.
LEGO building is a daddy and son activity at our house. I love that they bond over LEGO.  So naturally daddy helped him get set up and off he went. They start by separating the bags and then go bag by bag. Building each bag individually following along the directions. Very meticulous I might add too. We always make sure to build while littler brother is asleep.. He doesn't eat them, but we'd be in trouble if he did! I sat and watched them build this whole set up. Watching my boys build any LEGO set is truly a sight. I can't wait til Ezra is old enough to contain himself and join big brother and daddy at the LEGO building table.
The set up did not take long. He made sure to wear his new The LEGO Movie t shirt we also received while he built. I'd say we passed the challenge with flying colors! We had so much fun participating in #TheLEGOmoviechallenge!
To get you pepped up and ready for the LEGO movie, check out the trailer!

 A little bit about the movie and who made it happen! 
"The LEGO® Movie," the first-ever, full-length theatrical LEGO® adventure, from Warner Bros. Pictures and Village Roadshow Pictures, opens in theaters February 7, 2014.
Directed by Phil Lord & Christopher Miller ("21 Jump Street," "Cloudy with a Chance of Meatballs"), it stars Chris Pratt, Will Ferrell, Elizabeth Banks, Will Arnett, Nick Offerman, Alison Brie and Charlie Day, with Liam Neeson andMorgan Freeman.
The original 3D computer animated story follows Emmet, an ordinary, rules-following, perfectly average LEGO minifigure who is mistakenly identified as the most extraordinary person and the key to saving the world. He is drafted into a fellowship of strangers on an epic quest to stop an evil tyrant, a journey for which Emmet is hopelessly and hilariously underprepared.
Question:
Are you going to watch The LEGO Movie?