Disclosure: This is a Fashionista Event Opportunity, and is hosted by Still Blonde after all these YEARS and Modly Chic.  
 If you've been following me a while now, you know I'm a basic black when it comes to clothes. I love the idea of adding more color to my wardrobe but always end up going back to my safe place, dark colors and grey. Did you just happen to look at my picture to the right? I'm the girl in black, what can I say! I chose this beautiful Wine colored Placket tunic top from Monroe and Main and couldn't be happier. I'm all about these beautiful rich jewel tones for fall! Obviously I'm going to recommend you too add a rich merlot to your closet this fall. If you are a wine drinker, you totally got that! I'm not, but I like the way it sounded.  
Pretty right? I love a good tunic top. When wearing a tunic top, you get complete coverage on possible problem areas. They are very comfortable and my favorite reason. There's multiple ways to wear it; skirts long or short, shorts, capris and the leggings. They cross seasons too! Winter, Fall, Spring and Summer it can be a great addition to your wardrobe.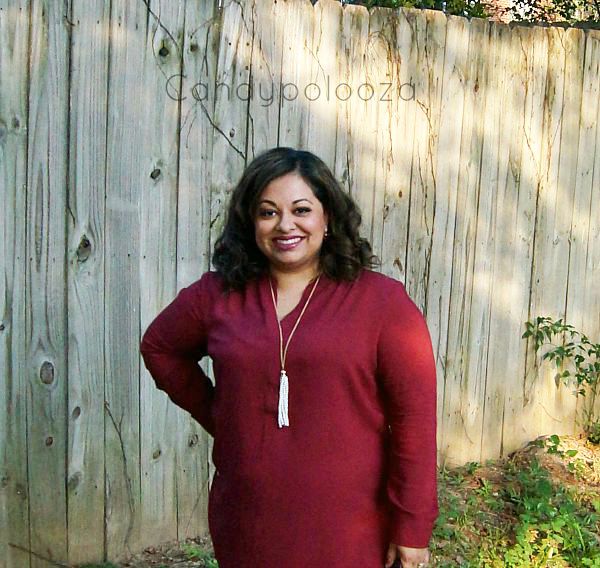 Monroe and Main is spotlighting some great new colors for the Fall! If you have ever thought about changing up your wardrobe now is the time to prep your closet for fall!
Here's Tips on How to Add More Color to Your Closet:
Choose one color that you like but have never worn

Go thru your closet and remove items that are dark and drab (the less options you have the more you grab the new options!)

Purchase a new top, accessory or bottom in that color

Just put it on. You will feel happiness and excitement! Change in your wardrobe is good!
I'm very excited for the cooler temperatures and I'm even more excited to add some beautiful tones to my closet! I'm getting bolder with my fashion choices and adding more beautiful tones and pops of color. Here's an interesting tidbit on my fashion explorations.. I didn't start wearing boots over my pants until maybe two years ago. Truth! I was worried that I was too short for it and that I looked awkward. I got it under control and rocking the boots! I now have a pair of black and the brown seen in the pictures. I've also been trying out new beauty products too! How do you like my lashes?! They are fake, but oh so fun!
Do you want to know what I'm looking down at? Keep scrolling down so you can enter to win!! LOL I got jokes! 
It's Time!!
Now remember you can click thru and visit the other bloggers and enter via their rafflecopters too!! Up your chances to win by entering everywhere! Yay!!! 
Good Luck!! 
Candy