This past weekend Disney mega fans had the ultimate Disney experience at the 4th bi-annual event called D23 Expo 2015. I was not in attendance, but the folks that were shared awesome tidbits from the event all over social media using the #D23Expo hash tag. Go ahead and go check it out! I'll wait for you! ….. Back? Did you see all of the new movies we can expect from Disney all the way into 2016?! Are you as excited as I am?! I'm very excited to share Disney & Pixar Animated Movie News from #D23Expo!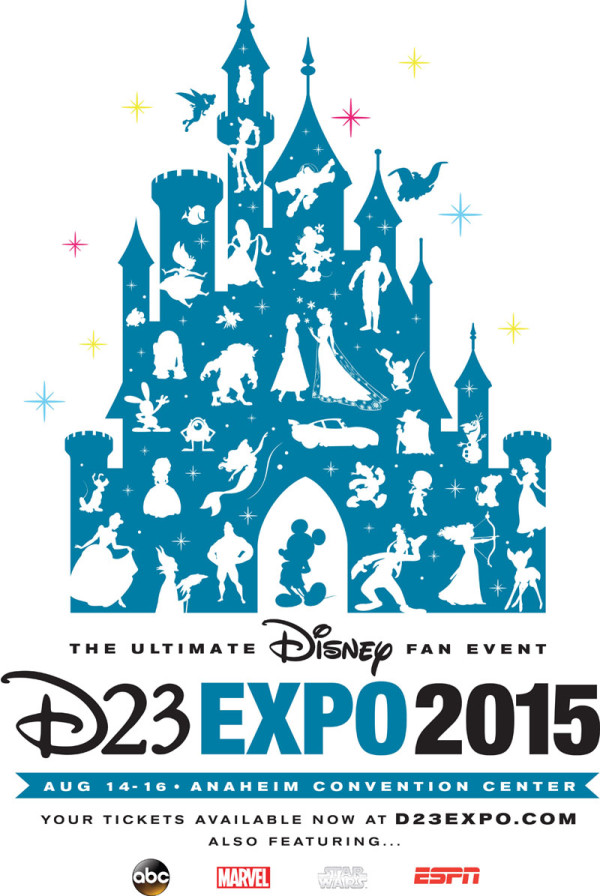 I was very excited as friends began posting images of everyone that was dressed up as their favorite characters. The cosplay was insane!! People went all out and I think that I totally would have partook in the fun! Ok so are you ready for the movie news?!
Here we go!!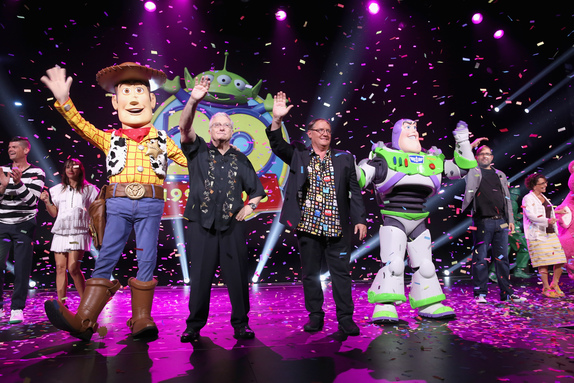 Let's start with Woody and the gang first! We heard back in November 2014 that Toy Story 4 was in fact happening! Now we get to share some of the plot information. Here's what John Lasseter, chief creative officer of Walt Disney and Pixar Animation Studios had to say "Pixar Animation Studios marks the 20th Anniversary of TOY STORY this year. Said Lasseter, "All the characters from 'Toy Story'—especially Woody and Buzz—are so close to us. They seem more like family members than just creations. Not only do we dearly love the characters, but we also love the world of 'Toy Story'—the world where toys come to life when people are not in the room has always been rich with many story possibilities. For TOY STORY 4, we are doing a type of story we have not done before: a love story. It's a story about a relationship between Woody and Bo Peep."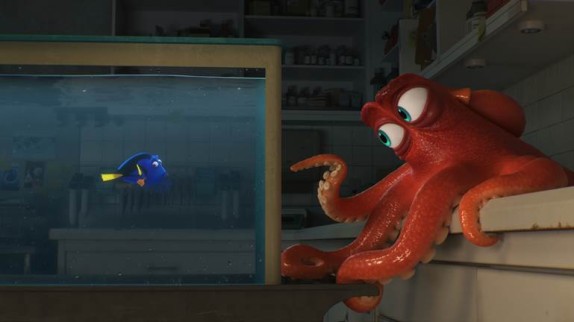 Do you recall who that cute little blue fish? It's Dory! One of my favorite characters from Finding Nemo and I'm super excited that she is getting her own film! "In Disney•Pixar's "Finding Dory," everyone's favorite forgetful blue tang, Dory (voice of Ellen DeGeneres), encounters an array of new—and old—acquaintances, including a cantankerous octopus named Hank (voice of Ed O'Neill). Directed by Andrew Stanton ("Finding Nemo," "WALL•E"), co-directed by Angus MacLane and produced by Lindsey Collins (co-producer "WALL•E"), "Finding Dory" swims into theaters June 17, 2016." Here's what the movie will be about, "we can expect to address the one emotionally open-ended issue that remained from the first movie: Where is Dory's family, and will this overly-optimistic fish with short-term memory loss ever be able to find them again? Her issue has also given us the opportunity to travel to very different locations, on land and sea, and meet a variety of new sea creatures that expand the world of Nemo, Marlin and Dory." By the way my inner self is squealing with delight knowing Ellen DeGeneres will reprise her role as the voice of Dory. This makes me so happy!
One of the things about Disney is that their movies are so versatile and multicultural. For Moana Disney heads to the South Pacific. Dwayne Johnson, lends his voice to the mighty demi-god Maui in Walt Disney Animation Studios' MOANA. "Moana" introduces a spirited teenager who sails out on a daring mission to fulfill her ancestors' unfinished quest. She meets the once-mighty demi-god Maui (voice of Dwayne Johnson), and together, they traverse the open ocean on an action-packed voyage." MOANA sails into U.S. theaters on November 23, 2016. You can expect to get a feel for the South Pacific culture and traditions in this movie. It's going to be amazing!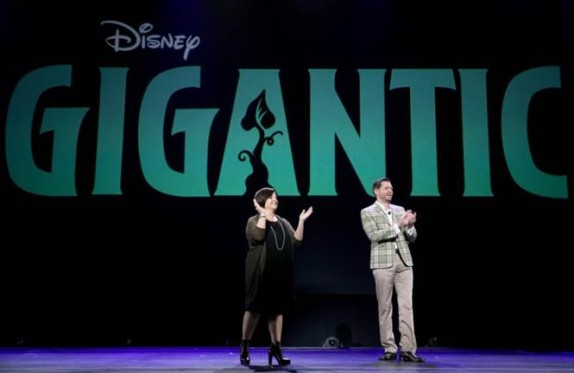 I remember watching Mickey Mouse in the story of Jack and the Beanstalk and now Disney Animation Studios is bringing GIGANTIC, to theaters. Gigantic is Disney's unique take on "Jack and the Beanstalk. You can expect the beautiful nostalgic Disney of Snow White and Cinderella in Gigantic. Makes my heart go pitter patter!
"Set in Spain during the Age of Exploration, Disney's GIGANTIC follows adventure-seeker Jack as he discovers a world of giants hidden within the clouds. He hatches a grand plan with Inma, a 60-foot-tall, 11-year-old girl, and agrees to help her find her way home. But he doesn't account for her super-sized personality—and who knew giants were so down to earth? GIGANTIC hits theaters in 2018."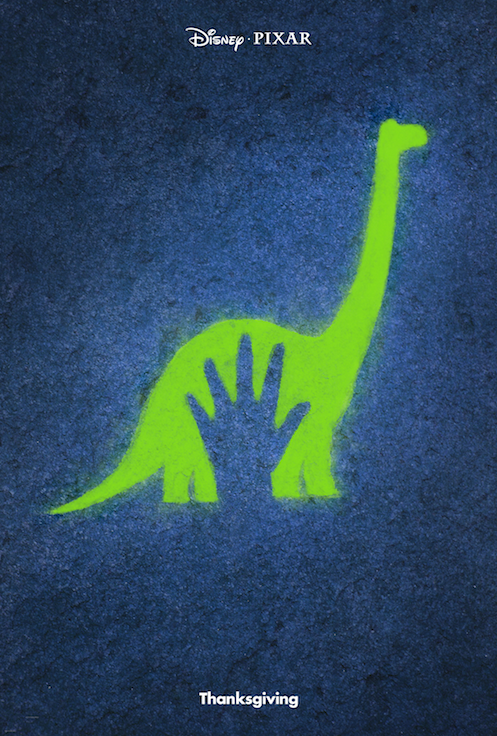 Back in June I shared the first exclusives on The Good Dinosaur.  The Good Dino was further discussed at D23, "Anticipation for Disney·Pixar's THE GOOD DINOSAUR was amplified when Director Peter Sohn and Producer Denise Ream shared breathtaking sequences with fans, including never-before-seen footage of a trio of T-Rexes in action." One of the things that I have heard over and over is how realistic the animation is on screen. Tara from Trippin with Tara said, "We kept waiting for the sequences and when they said that was it we couldn't believe it because it looked so real!" As a boy mom and having dinosaurs all over the house.. I CANNOT WAIT!
"The film introduces audiences to Arlo, a sheltered Apatosaurus who finds himself far from home, and Spot, Arlo's unlikely human friend. "Arlo and Spot journey through a world that has been greatly inspired by the American Northwest," said Sohn. "It is epic in scope, soul-enriching and simultaneously beautiful and treacherous. In this world, we meet up with a very special family of T-Rexes, who help Arlo find a way through his personal fears and ultimately teach Arlo what he's truly made of."
The Good Dinosaur storms into theaters on November 25, 2015! Make plans for Thanksgiving weekend viewing!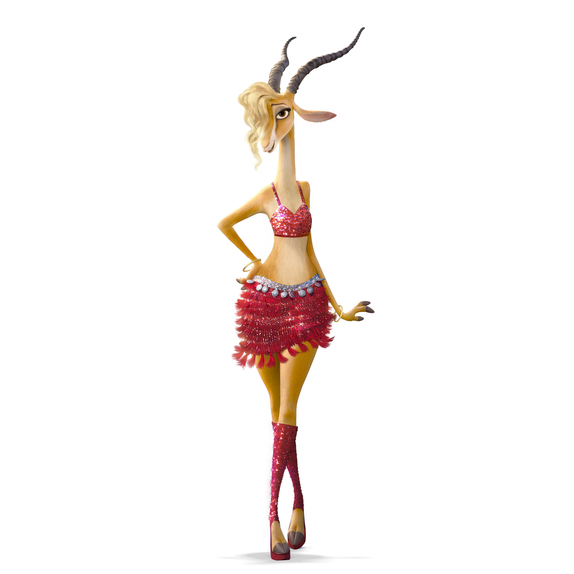 "HAVE YOU HERD? — Zootopia's biggest pop star Gazelle will be voiced by Grammy®-winning international superstar Shakira in Walt Disney Animation Studios' "Zootopia." Not only will Shakira voice Gazelle, she is also singing the film's feature song! Hilarious new scenes from the film were unveiled, plus a tease of the all-new original song, "Try Everything," written by singer-songwriter Sia and songwriting duo Stargate, and performed by Shakira. One of my favorites acts Ginnifer Goodwin will also portray a character in this film. It's going to be so caliente!  Walt Disney Animation Studios' ZOOTOPIA opens nationwide March 4, 2016.
Last but certainly not least is Day of the Day Pixar film Coco!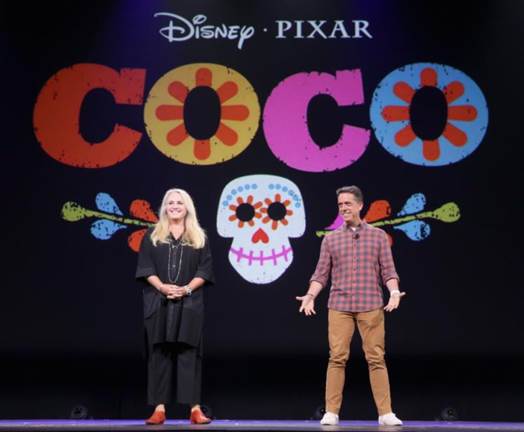 "Disney·Pixar's COCO is the celebration of a lifetime, where the discovery of a generations-old mystery leads to a most extraordinary and surprising family reunion. As artists and filmmakers, we couldn't help but be drawn to the striking visuals of Dia de los Muertos," said Unkrich and Anderson. "But it was the celebration's core themes of family, remembrance and connection across generations that resonated within and truly inspired us. Dia de los Muertos is as singular as the Mexican culture, while at the same time completely universal in its message." Being Mexican-American this film will be very special to me. We don't celebrate Day of the Dead as they do in Mexico, and because we are away from our dead but we celebrate our way.
"In our story," they continued, "the celebration of Dia de los Muertos serves as the perfect backdrop for our main character to ask where he comes from, what his place is within his family, and how families stay woven together across time through the simple act of remembrance."
Can you believe it?! Are you as excited as I am? On Friday I'll be sharing the live action film information that was shared at the D23 Expo! So keep an eye out!!
Want to know more about this amazing expo that was open to media and the public?

About D23 EXPO 2015
D23 EXPO—The Ultimate Disney Fan Event—brings together all the worlds of Disney under one roof for three packed days of presentations, pavilions, experiences, concerts, sneak peeks, shopping and more. The event provides fans with unprecedented access to Disney films, television, games, theme parks and celebrities. For the latest D23 EXPO 2015 news, visit D23.com. Presentations, talent and schedule subject to change. To join the D23 EXPO conversation, make sure to follow DisneyD23 on Twitter, Facebook, Pinterest, Instagram and YouTube, and use the hashtag #D23EXPO.
About D23
The name "D23" pays homage to the exciting journey that began in 1923 when Walt Disney opened his first studio in Hollywood. D23 is the first official club for fans in Disney's 90-plus-year history. It gives its members a greater connection to the entire world of Disney by placing them in the middle of the magic through its quarterly publication, Disney twenty-three; a rich website at D23.com with members-only content; member-exclusive discounts; and special events for D23 Members throughout the year.
Fans can join D23 at Gold and General Membership levels at D23.com and at DisneyStore.com/D23. To keep up with all the latest D23 news and events, follow DisneyD23 on Twitter, Facebook, Pinterest and YouTube.
What film are you most excited about?
Cheers!
Candy