I love to bake when I have time and have taken to baking with healthier ingredients. I ordered Nutiva Coconut Flour recently and I was so excited to give it a try. A healthy alternative to regular flour, I was totally in. Who can say no to healthy and delicious Blueberry Chia Muffins? Not this girl! The recipe actually came off the back of the Nutiva Coconut Flour bag but I changed up a couple of things, I don't have any coconut milk or raw honey in the house. If you have gluten or dairy dietary restrictions, these muffins are gluten and dairy free. *depending on the flour & milk product you choose to use.*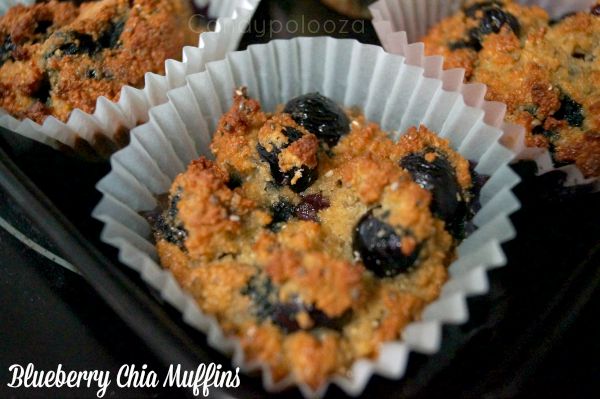 A couple of weeks ago I went grocery shopping and came upon a great deal on blueberries, three pints for $5. I thought it was a good deal so I grabbed three pints of beautiful sweet blueberries. I kept thinking, "I'm going to make those blueberry muffins from the bag." As I mentioned I ended up having to change a couple of the ingredients because I didn't have certain items.
Here's the recipe:
Blueberry Chia Muffins a Recipe
Prep time:
Cook time:
Total time:
Great recipe inspired by Nutiva.
Ingredients
1 cup flour (use any I used coconut)
½ tsp salt
1tsp baking soda
½ cup honey
1 cup almond milk (or any milk)
6 eggs
¼ cup coconut oil melted
¼ cup of chia seeds (optional but it adds to the muffin)
4tsp vanilla extract
1 pint of blueberries
Instructions
Preheat oven to 350 degrees
Keep wet & dry ingredients separate
Sift flour, baking soda and salt in a bowl
Whisk honey, almond milk, eggs, coconut oil and vanilla
Mix in dry ingredients with wet
Once combined add in chia seeds and fold in blueberries
Prepare the muffin tins and fill up ½ way up with mixture
Bake for 22 minutes
Check to make sure muffins baked all the way with a toothpick
Let cool
The recipe is super easy to follow and you're going to be so impressed with the muffins.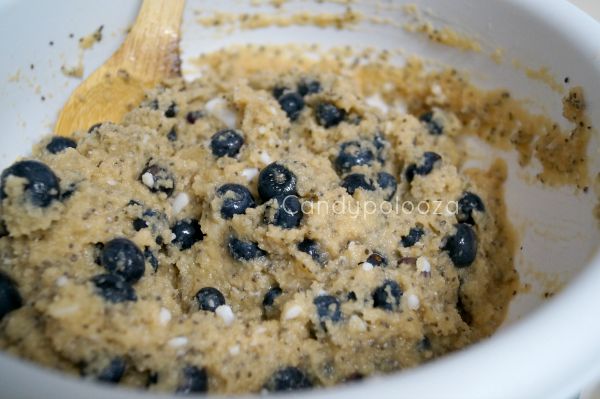 I was worried about the white pieces until I realized it was the coconut oil. I wasn't too worried about it, the oil melts during the baking process and the muffins turned out super moist and delicious! By the way the original recipe only called for one cup of blueberries. Maybe I'm overindulging but I like for there to be bits of fruit in every bite. Isn't it the worst when you want to enjoy something and you only get a couple of bites? Not with this recipe folks. I'm taking care of ya'll.
See how beautiful they look. So moist, delicious and so good for you.
Question:
What's your favorite way to enjoy fruit? Muffins, pies, cookies, cakes?
Cheers!
Candy