I'm not sure if I was excited about today's post or just Thursday.. I spent all day yesterday thinking it was Thursday. Who does that? Not just me sounds like per Facebook. LOL Thank goodness. So here's Candy's Thursday Thoughts for this week.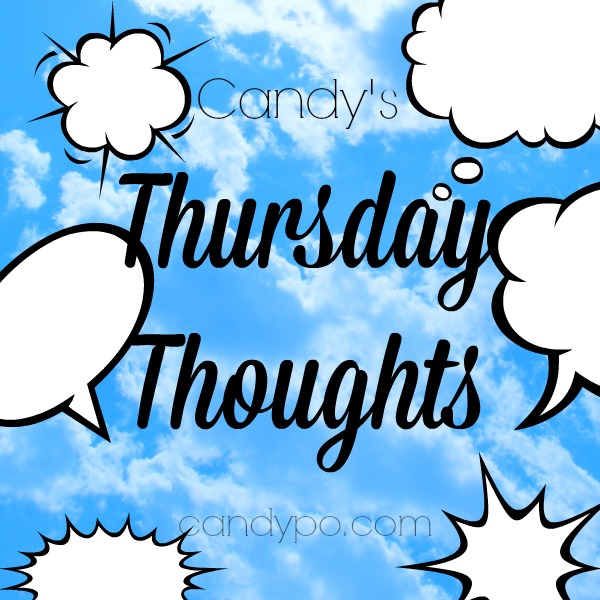 -Lately I feel like I've been failing at life.. Here's a few reasons why:
I haven't participated in the Teachers luncheon for the second straight month..In September I was supposed to send in $10 and I forgot 🙁  I was so embarrassed. This month I didn't even look at the Sign Up Genius.
My poor little Wolf scout has only sold two bags of popcorn for his pack. Oh my word.. I was going to add his link here and I can't remember my username & password.. see what I'm talking about?!
Soccer.. oh poor guy. He misses at least one practice a week. Stuff comes up 🙁
My sitters keep bailing on me..
I know these are total first world, selfish problems too.. Ok enough of a pity party for Candy.. She needs to get it together.. It won't always be like this.
-On to a more positive note.. this morning I was thinking that I am too hard on myself. And that I need to focus on the good in my life. My boys are healthy and so are myself and the hubs. It doesn't matter what anyone thinks, I am doing the best that I can & the best is all I can do. Honestly as long as I'm happy with myself no one can make me feel shitty about whatever. I'm a work in progress with this self affirmation.
-I need to take time for myself, even if it's just five minutes. The other day after we got home from school, I went and laid down in my bed. For about 8 minutes I enjoyed the comfort of my bed and quiet. You should try it. If you stay longer than 8 minutes you may fall asleep.
-Essential oils.. do they really work?  I'm putting some to the test with Ezra. He's my rambunctious one remember.. Yesterday was his full day on the Settle Down mix that I got from Sweet Cream Suds. I paid $20 for this nifty little roller ball pen. So far, so good. His teacher noticed a difference in him yesterday. Let's see how he continues. I'll keep you posted on it. I just love Carli from Sweet Cream Suds and I'm so thankful for this product. We met back in 2012 at Ocktoberfest in Fredricksburg, TX.
-Chia seeds.. I've been on a chia binge lately. Remember my whole fatty liver thing. I'm doing all I can to make positive changes in my life and adding chia seeds to just about everything along with flax seeds I think it good. Don't worry I'm not like throwing them on fried chicken or stuff like that.. I even have a bag of boiled eggs in my fridge! Protein anyone??
-PERSEC aka Personal Security for the non military friends here. What are your thoughts on the stuff happening lately. It really freaks me out. I've taken Army Wife off of a lot of things lately and I'll probably be changing my tag line very soon. Not because I'm not proud, goodness no I'm overly proud of my husband's career of choice. But with the crazies getting crazier, I have to take precautions to keep myself and my family safe. It's been weighing heavily on my mind a lot lately. I will still write military related posts but probably not as often. I'll def share with you all places we go to visit though! I can't stop sharing that!
-Zeal.. I've joined and am now a Zeal Dealer! Check out the website: Zeal For Life (*that link is my page where I will make money if you purchase the product.)I'm super excited about sharing this product. It gives me energy and focus like you wouldn't believe. If you'd like to try a sample send me an email! info and candypo dot com  If you like drinking energy drinks,  this will change your life. I used to take those energy shots for my drive home.. 6+ hours depending on how crabby the boys would get and it would get me home alright. I decided to put Zeal to the test during the Summer.. (Yeah I've been taking it awhile now) and when I started feeling tired, I drank the Zeal and I felt wonderful! Not tired, not sleepy nor did I have the jitters .. It's pretty awesome! Btw I'm totally the worst sales person ever.. I just feel this product is so amazing, I want everyone to know about it. Funny thing is that I've been talking to people about it before I even considered becoming a consultant. I think that has to say a lot about how I truly feel about the product. Have you heard of the Zeal for Life Challenge??
As you can tell by reading my thoughts this week, I'm having a lot of self conflict within myself. I think it's just a phase and I'll be able to shake it off here soon. I'm looking forward to taking the boys to the Fall and Halloween festivities next week so I'll be sharing those next week. I hope you are doing well and are staying positive as well.
Question:
What do you do to stay positive?
Candy