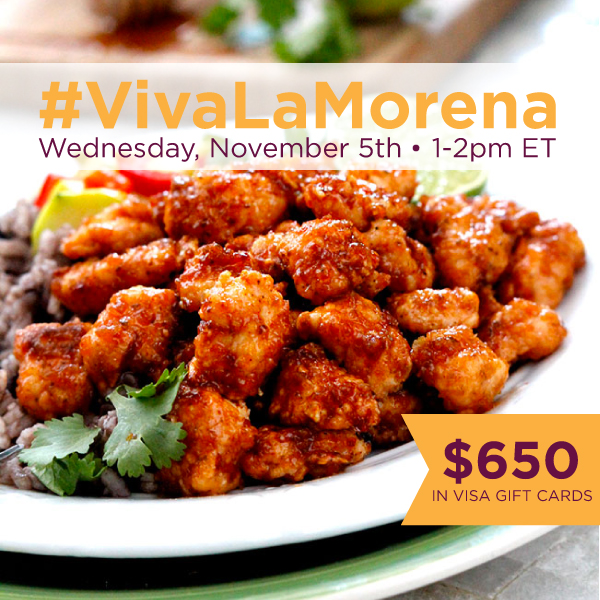 Photo Credit: CarlsbadCravings.com
 Do you love a good Twitter Party? You know we do and we're excited to host a party about cooking with La Morena! La Morena is an authentic Mexican food brand that brings a true taste of Mexico into your home cooking. Join us on Wednesday, November 5th at 1:00 pm ET, for the #VivaLaMorena Twitter Party! We'll be discussing some of our favorite Mexican recipes, our cultures, how we share our foods with friends and family and giving you a chance to win prizes! 
I am so excited to chat about La Morena with you all! I am of Mexican heritage and I grew up smelling and tasting different sauces and peppers. I love preparing Mexican dishes for my family.  For me it's about keeping the traditional flavors in our lives and never forgetting where we came from or the delicious food from our native country either! So make sure to have a snack because you are going to be hungry during the #VivaLaMorena Twitter Party! Make sure to RSVP for chances to win!
 RSVP for the #VivaLaMorena Twitter Party!
DATE:  Wednesday, November 5, 2014
TIME:  1:00 to 2:00 pm ET
PRIZE #1:  1 –  $100 Visa Gift Card
PRIZE #2:  1 –  $100 Visa Gift Card
PRIZE #3:  1 –  $100 Visa Gift Card
PRIZE #4:  1 –  $100 Visa Gift Card
PRIZE #5:  1 –  $100 Visa Gift Card
PRIZE #6    1 –   $100 Visa Gift Card
EARLY BIRD PRIZE:  1 – $50 Visa Gift Card
HOSTS:  @Candypo, @coolchillmom, , @MamaXXI ,@carogonza, @_Karen
RULES:  #VivaLaMorena Twitter Party Rules
RSVP & PARTY GRID: #VivaLaMorena Twitter Party Page  & #VivaLaMorena Party Grid 
Join #VivaLaMorena Twitter Party 11/5 1pm ET. Family meal ideas! Prizes $650! Rules http://t.co/YzUIGHaY9s #shop #cbias

— Candy Olivares (@Candypo) October 27, 2014
How To Participate In A Twitter Party on SoFabChats!
TIP:  How to join a Twitter Party – sign in! Before party starts, click on the green "Sign In On Twitter" bar at the top of the page!
TIP: Who to follow at a Twitter Party? Follow the Party Team by clicking on the Twitter handle links on the RSVP page!
TIP: Want to win Twitter Party prizes? RSVP by clicking on RSVP button before you join the party, follow everyone on the Party Team, and tweet with the party hashtag during the party to be eligible!
TIP: How to win the Early Bird prize? Watch for chance to share a tweet when you RSVP for chance to win!
TIP: Special deals and brand coupons? Keep that options checked when you RSVP for the party!
TIP: New to Twitter parties? Watch your column and Party Team tweet columns – they are slower paced and easier to follow!
TIP: Where to find Twitter Parties? Check out the SoFabChats Twitter Party Calendar to find more fun parties to attend!
Find more helpful Twitter Party Tips on SoFabChats!