This year we are celebrating el Día de Los Muertos. I'm a first generation Mexican-American and I want to share Mexican traditions with my boys. Beautiful traditions like these will get lost if we don't teach our children about them. And who am I kidding, I want my kids to celebrate me after I'm dead on this day. It's a beautiful way to take a moment and remember wonderful moments spent with family members who are no longer with us.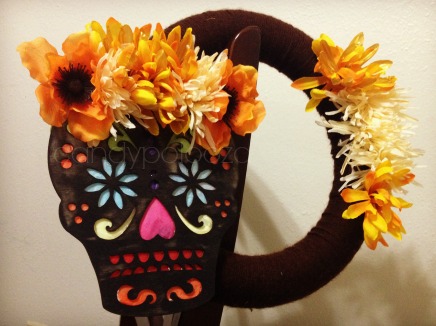 I don't recall ever celebrating el Dia de Los Muertos as a child, I think it's because we were never in Mexico on the day. One of the things done is as a family, you take flowers to your dead relatives at the cemetery.  The Marigold is the flower used for this holiday.     Now that I think about it, I think the reason we have never celebrated was because no one was dead to celebrate.. Sounds bad, but it's a good thing. LOL My maternal grandfather, my Papa died a few years ago. We should have been celebrating since he passed, but the boys were too little to understand so we didn't. I think about papa a lot. I miss him very much. This year I feel that Aramis being seven years old he will understand. A picture that I took of him and papa has been floating around the room so we've been talking about him a lot lately. I wish Ezra would have had the chance meet him, his middle name is Ignacio like papa's name.
We will also be celebrating my husband's older brother Rudy. He passed a few years ago too. He was definitely taken too soon. Being in west Texas, we often see things and say stuff like, "Oh Rudy would have gotten a kick out of this or that," and I know he would have definitely visited us here.  We didn't see him often, but he is missed very much at family get togethers. It doesn't seem right to not see him coming thru the door and hugging my mother-in-law on holidays, when we are home. Our loved ones are in a better place, we just have to remember that right.
Ok so back to the celebration!
Here's the start of our alter for our offrenda or offering, I picked up some Pan de Muertos, Bread of the Dead yesterday at Marquez bakery, a local bakery here in San Angelo. We'll also be adding special items that remind us of my papa and of Rudy. If you'd like to learn how to make this wreath you can check out the tutorial on MyMilitarySavings.com. 
 We will be having a remembrance dinner of chicken flautas, rice and beans. That's a meal that I shared many a times with my grandfather. I also purchased some empanadas at the bakery, papa loved empanadas. I dont' really know what my brother in law liked food wise, but I'll be placing a tall glass of iced tea at the alter. I know he liked tea. One of the funny things I've heard is that if you don't leave food on the altar the spirits will haunt you. LOL I'd love for papa to "haunt" me.. We always had great laughs, so I'd be laughing to myself LOL -just a little crazy!! anyways..
The celebration of el Dia de los Muertos begins on November 1st which is also All Saints Day. The celebration begins on November 1st and ends on the 2nd. The first day is said to celebrate the babies and children that have passed and on the second the adults are celebrated.
Here's another shot of the pan. I'll be enjoying some with a cup of coffee. Cheers papa!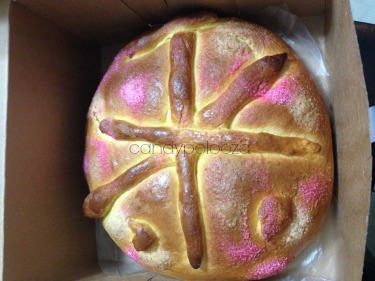 Question:
Have you ever celebrated el Dia de Los Muertos?