Disclosure: This is a Fashionista Event and a promotional item was provided to me. Hosts for this event are Still Blonde after all these Years and ModlyChic
One of the top gifts on everyone's list are electronics! Whether it's for home, school or just play they are hot ticket items! I for one do a lot of research when it comes to electronics such as tablets and laptops. One of the ones I'm looking at this Christmas is the Microsoft Surface Pro! I'm sharing a great deal with you and of course thanks to the ladies above a fantastic giveaway too!! Oh it's the best time of the year ya'll!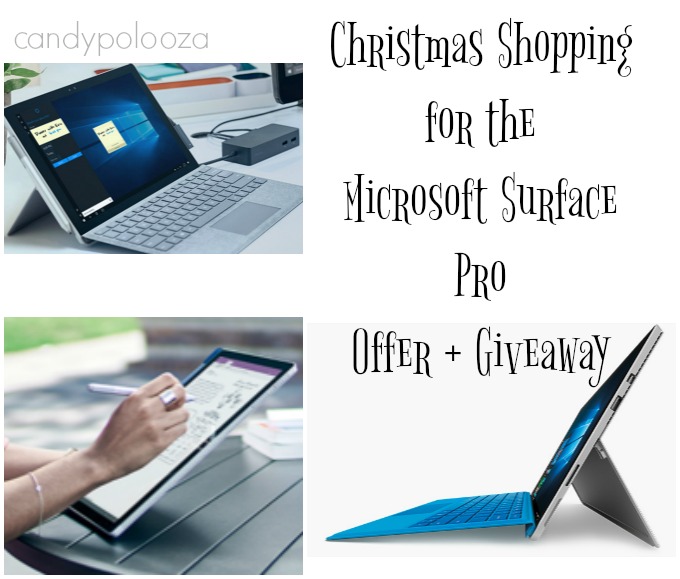 Are you almost done Christmas shopping? Maybe saving the best for last? Check out the Microsoft Store for your last minute items. You'll be so glad you looked! I mentioned a great deal and boy is it! The Microsoft Store is offering a $150 discount  on the Microsoft Surface Pro 4 i5 – with 128 GB of space . Fantastic for the college bound student in your life! Grab this offer soon because it ends on December 24th.
This is one a great multipurpose use electronic. There are so many things you can do with it that you can't do with other brands. Fantastic option for the art major in your life because of all of the cool things it can do. Hello Sketch directly onto the tablet?! YES! 
But dont' worry, it's not only for drawing! This tablet runs Windows, Office, and professional-grade software and has lightning-fast, built with 6th Gen Intel Core processors! Yes, it's all that and a bag of chips! The awesome thing about it for myself is the lightweight because I can do a lot of traveling sometimes. It's an excellent choice for a busy person always on the go that needs multiple functions. Head over to the Microsoft Office store and check it out in person or go browse their online selection. Remember the offer expires on Christmas Eve!
Now for your chance to WIN!!!
Enter to win a $500 gift card to the Microsoft Store! 
Leave a comment below letting me know what feature would you use on the Microsoft Surface Pro 4 and why! 
This is a group giveaway hosted by myself and other bloggers. The giveaway is open to U.S. residents, age 18+, and will end on January 6, 2017, at 11:59pm EST. a Rafflecopter giveaway