I can't even believe I am typing this. Yes, friends I feel like Wendy Darling lately with all of this amazing Disney pixie dust that has come my way. Thanks to Disney I'm heading to San Francisco to visit the Pixar Animation Studios in connection with the Pixar film Coco. That's right! A Disney Pixar Adventure to San Franciso for the PixarCocoEvent is happening for me this Wednesday thru Friday (August 2-4). I'm literally bursting with excitement. I know I say that about all of the amazing Disney trips but this is on a whole new level. The content I'll be covering will be very close to my heart in so many ways.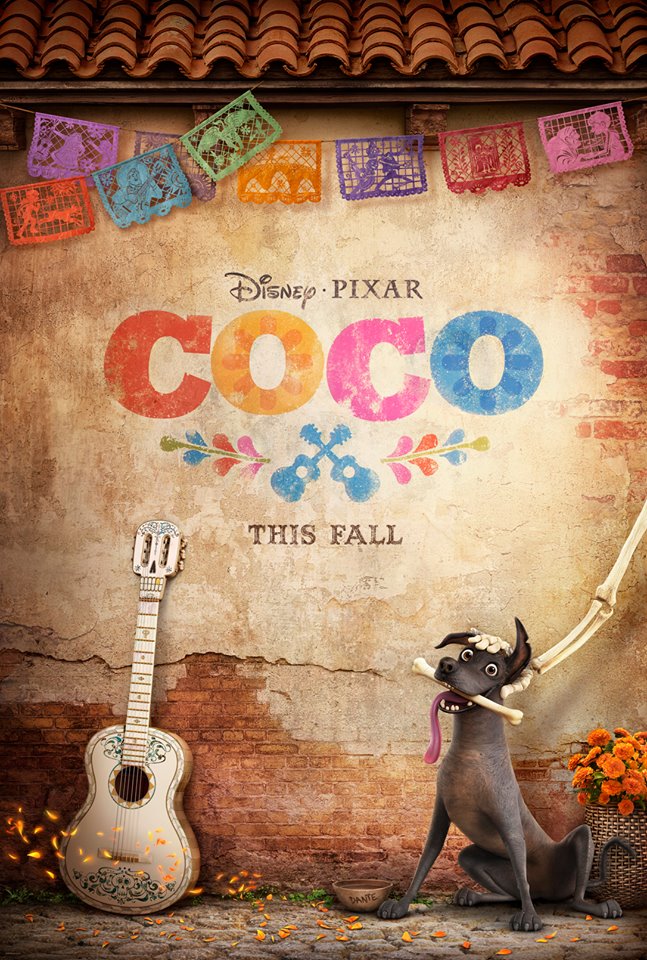 We learned about Coco a couple years ago when I first shared Disney D23Expo with you. Check out that post here if you'd like. And I had the opportunity to attend Disney D23Expo and we learned even more about the film and got to see a beautiful performance by the two voices of Anthony Gonzalez, Miguel in the film, and Benjamin Bratt voice of Ernesto de la Cruz.
Disney·Pixar's COCO is the celebration of a lifetime, where the discovery of a generations-old mystery leads to a most extraordinary and surprising family reunion. As artists and filmmakers, we couldn't help but be drawn to the striking visuals of Dia de los Muertos," said Unkrich and Anderson. "But it was the celebration's core themes of family, remembrance and connection across generations that resonated within and truly inspired us. Dia de los Muertos is as singular as the Mexican culture, while at the same time completely universal in its message." Being Mexican-American this film will be very special to me. We don't celebrate Day of the Dead as they do in Mexico, and because we are away from our dead but we celebrate our way.
We'll be meeting the creative end of the film and I'm so excited. It's always amazing to meet the brains behind the films as well as the actors of course. It's a super treat to meet fellow Latino Write and Co-Director Adrian Molina.We gotta lift up nuesta raza ya'll!  Excited to ask the producer Darla K. Anderson questions about how she goes into each project and if the final product is how she envisioned it in the beginning of production. Girl power!!
We'll also get to meet the Director of COCO Lee Unkrich. If you are a Toy Story fan you'll recognize his name as he is the Director of TOY STORY 3 which won the Oscar for Best Animated Film. Yes, we'll be amoung Oscar royalty!
COCO Composer  Michael Giacchino (who has created the music for all of your favorite movies and TV shows over the past 13+ years) won the Best Original Score Oscar for UP, will also be on hand to speak to us. I've been a fan of a show on another station for a couple of years now and I realize when I watch it how much I miss playing my flute. Call me a music nerd, but I love the sounds. It'll be such a pleasure speaking with Giacchino, I hope he shares some of his secrets to composing and development. I can't even think of another word for excited at this point ya'll. I simply cannot wait.
It's going to be an incredible event. To learn more about Coco please follow the social handles and follow along the #PixarCocoEvent hashtag!
Twitter.com/pixarcoco (#PixarCoco)
It's going to be a super quick trip but we'll also be visiting The Walt Disney Family Museum. You know I'm a huge Walt Disney fan so this is a dream to visit the family museum. It's truly a trip that I'm very much excited for and know it'll be emotional for me.
We've experienced the passing of two very special people on both sides of my families that I hope Coco will help my children deal with their passing and learn to make Day of the Dead a bigger celebration in my family.
I'm stoked to share this experience with you all. I'm a huge Disney fan and hope that my readers that are also fans enjoy this coverage. I've set up a Google form so you can easily add any questions that I can ask during the trip. Add any questions you'd like asked! So go back up to the Send Me Your Questions click on the link and ask away! That is something new to see if anyone has any questions. I'm very excited to connect with you in this way.
Make sure to follow along please! #PixarCocoEvent August 2-4.

Disney•Pixar's original feature film COCO on Nov. 22nd
SaveSave
SaveSave
SaveSave
SaveSave
SaveSave