Happy October everyone! It's time to get scary and almost time to be merry! After Halloween it's all downhill from there and into the new year you guys!! I'm happy to share a review on the recent DVD we received by Disney I'm so excited to share Disney's Mickey Mouse: Merry and Scary Available NOW with you! Allopinions are my own. This DVD is going to be one you'll want for your Disney collection friends. I love love love the animation of the stories on this DVD. It's nostalgic to the old cartoons with a fresh update.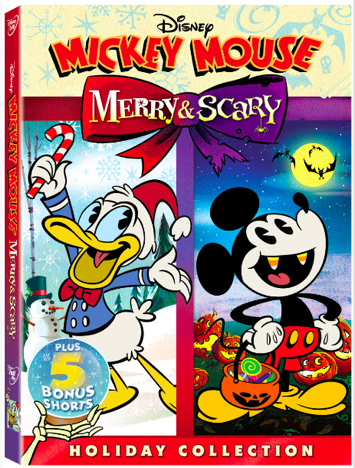 They boys are Disney lovers like their mama and they were very excited to watch the newest holiday inspired DVD! I know you will love it too! This Disney DVD will help get you and yours into the Halloween spirit as Mickey, Donald, and Goofy swap hair-raising Halloween stories. Christmas anyone? Our friend Donald, shares his first Christmas festivities with friends!
Watch the trailer below for a sneak peak! 

The Scariest Story Ever: A Mickey Mouse Halloween Spooktacular!
For Halloween, Mickey has tricked out his house like a "tomb, sweet, tomb" and along with his pals Donald and Goofy, plans to tell hair-raising Halloween stories! However, his attempt at being scary falls flatter than a pancake. Can Mickey conjure up a truly terrifying tale before the stroke of midnight? 
Duck The Halls: A Mickey Mouse Christmas Special
It's the most wonderful time of the year…to migrate south for the winter! But Donald wants to stay put and celebrate his first Christmas with his friends. Mickey creates the ultimate list of everything to make Donald's first Christmas great, but before you can catch a snowflake on your tongue, Donald has turned into a shivering, sneezing duck-cicle!
Voice Cast: Chris Diamantopoulus as Mickey Mouse/Vampire; Russi Taylor as Minnie/Huey/Dewey/Louie/The Witch; Bill Farmer as Goofy; Tony Anselmo as Donald Duck; Tress MacNeille as Daisy Duck; and Corey Burton as Professor Von Drake.
Executive Producer: Paul Rudish
Episodes: Includes two 22-minute holiday themed episodes (Halloween & Christmas)
The Scariest Story Ever: A Mickey Mouse Halloween Spooktacular
Duck The Halls: A Mickey Mouse Christmas Special
Bonus Shorts: Five 3-minute shorts
Ghoul Friend
The Boiler Room
Black & White
Entombed
Split Decision
Release Date: September 26, 2017
Ratings: TV-G (US); G (CE/CF)
Total Run Time: Approximately 59 minutes (including bonus shorts)
You can split it up for the holidays or watch it straight thru. This Disney DVD is so much fun, you'll watch it year round to keep you in the Disney spirit!
Question:
What's your favorite holiday?
Cheers!
Candy