Oh Bruce! What have you gotten yourself into now?! Books have always been a great way to get our family together and thanks to Disney-Hyperion, we have been enjoying Ryan T. Higgins' latest bear adventure, Bruce's Big Move. Disney Hyperion sent me a copy to check out, and is partnering with me for a giveaway below!
We first met Bruce a couple years ago when he became a mom in Mother Bruce and his adventures have only gotten more fun! Bruce's Big Move also came at a great time for our family because we just found out we are moving again! Yes, so Bruce is helping the kids wrap their heads around our upcoming move to Lousiana.
Bruce's Big Move is a beautifully written and illustrated book that is recommended for ages 3 – 5, but is sure to entertain all ages. I hope you get a chance to read it! I've noticed that we've seen Bruce's adventures at book fairs, so if your child has a book fair this school year make sure to grab it!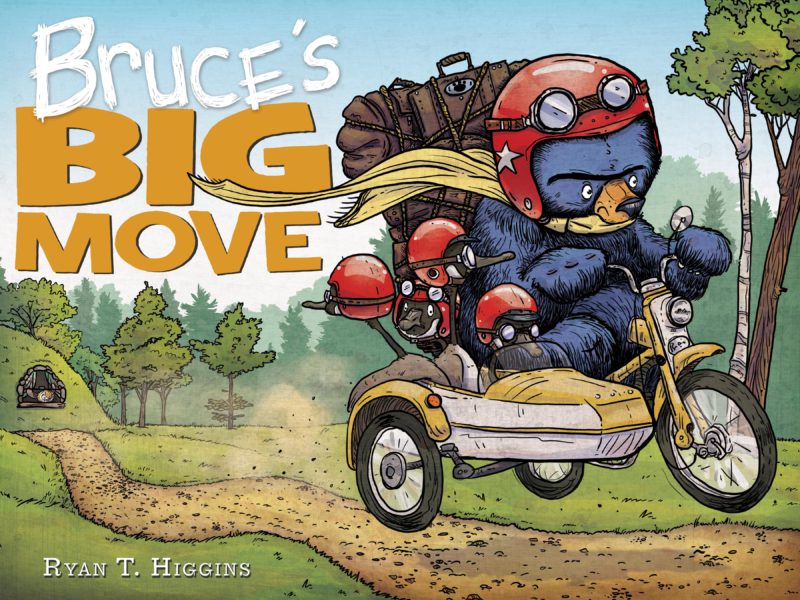 After the events of Hotel Bruce, our favorite curmudgeonly bear shares his home with not only his four geese, but three rowdy mice besides! Fed up with their shenanigans, Bruce sets off to find a rodent-free household. But as usual, nothing goes quite according to plan…
A hilarious sequel for fans of the previous Bruce books, as well as a standalone discovery for new readers, Bruce's next reluctant adventure is sure to keep kids giggling.
About the Author
Ryan T. Higgins (ryanthiggins.com) is an author and illustrator who likes the outdoors and cheese sandwiches. He is NOT a grumpy old black bear, but he DOES like making books about one—starting with the best-selling Mother Bruce, which received the E. B. White Read-Aloud Award and the Ezra Jack Keats New Illustrator Honor. He lives in Maine with his wife and kids… and too many pets.
Now for the giveaway! 
Giveaway is open to 18+ US residents living in the continental United States. Starts Friday, October 13th and ends Wednesday, November 1st at 11:59pm EST. 
Good Luck Everyone!
Cheers!
Candy
SaveSave
SaveSave