I love music!  Thanks to the Augusta Entertainment Complex, I am very excited to offer two of my readers the opportunity to see Newsboys LIVE in Augusta on October 14th! And if you don't want to take your chances on a giveaway, I've got a special code to get you a great discount on tickets! Plan your date night or a girls night with Newsboys here in Augusta!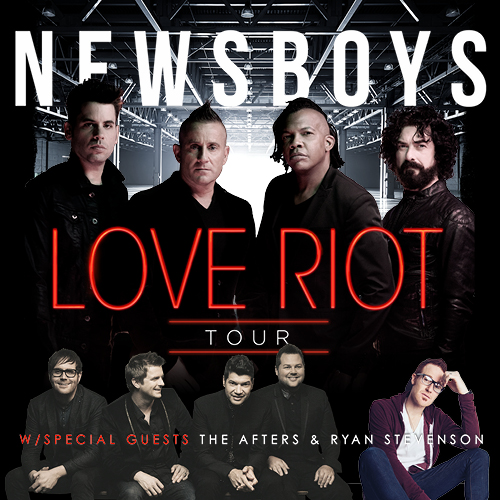 The evening is going to be filled with great music! It's going to be epic!!
Here's the information on the special discount tickets:
Newsboys
Get a group of your besties and take advantage of this great discount on tickets!
Friday, October 14th – 7:00 pm James Brown Arena
Use your code GSLOCAL to save up to $4 per ticket on select seats !
Regular Prices – $27   Discounted Prices – $23
*Other fees may apply
Discount valid until Thursday October 13th @ 3:00 pm – Don't miss this deal!! 
To redeem your code: GSLOCAL
1. Visit www.georgialinatix.com, click venue and enter promo code on left side of screen in text box
2. Call 1-877-428-4849
3. Visit the James Brown Arena Box Office.
For groups of 10+ email ethan_samarel@comcastspectacor.com or mckenzie_horseman@comcastspectacor.com
A Great deal for what I expect to be a fantastic show!!
Now for the giveaway! Good luck everyone!
all rules included in giveaway widget. Winner must be able to pick up tickets at will-call day of event. Void where prohibited.