Disclosure: I received a piece from the eShakti Dress Review  website for my review, however all opinions expressed are my very own.
I love dresses. I don't wear them often, but when I do I love being a total girl. I jumped at the chance to review a eShakti Dress, as part of the Real Fashion for Real People campaign. I had seen other bloggers review dresses from eShakti and I hoped that one day I'd get to. My day totally came! Here's 'my eShakti Dress Review! I chose the Shawl Collar Mod Shift dress for my review!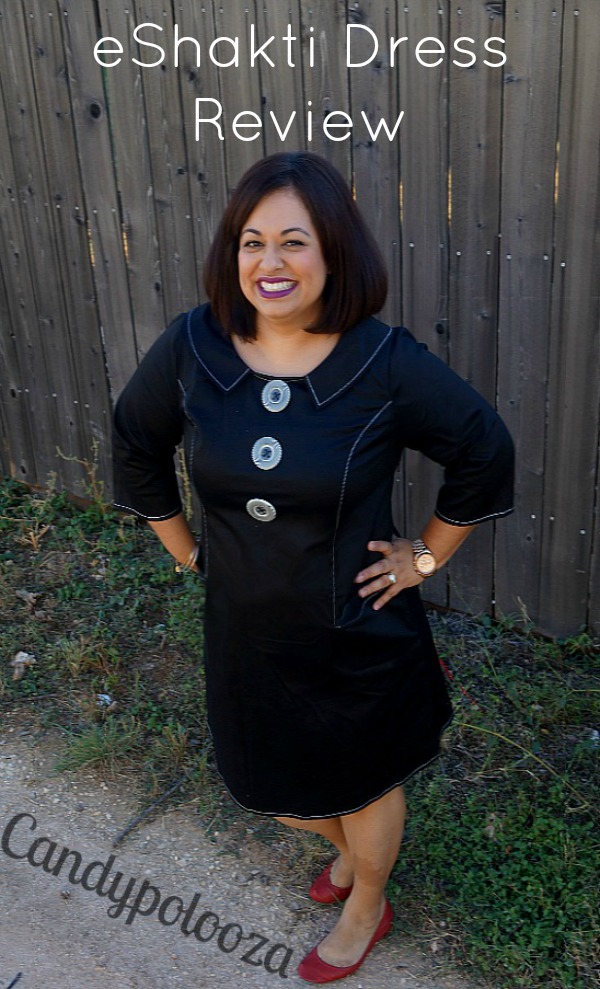 I love retro items and when I saw this dress I knew it would be so much fun. I'm not a heel girl per say but I knew that it being black it would go perfect with my red Tieks. If I wanted to I could totally dress it up and wear heels. I was thinking a beautiful black or dark burgundy heeled T-Strap Mary Janes. I told you I liked retro! With or without tights, I think a classic black would look good as well as an awesome patterned tight as well! Seriously the world is your oyster with this dress. I even considered wearing my new Missoni Converse with it! Dress it down, yet still chic and fashionable. I even considered using this dress for Halloween as well! I am so excited about my new dress. I think that cheesy grin in this picture tells it too.
Let me tell you about the dress and how easy it was to customize it!  This is original dress and how it looks online. Click on it to see it on the website.
The original dress did not have sleeves. I love sleeves on my dresses so I decided to add 3/4 length sleeves on the mod dress.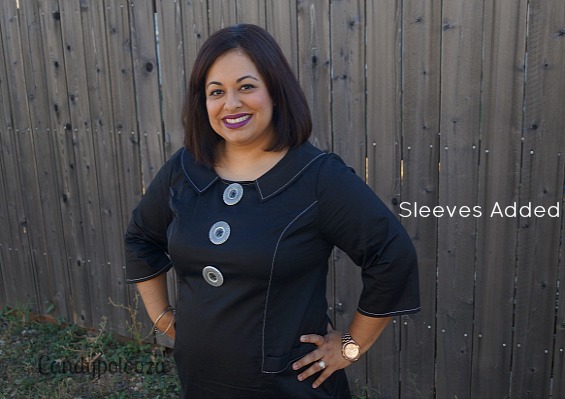 One of the things that truly impressed me with the ordering is that along with your size, your height is asked for. Yeah, an item of clothing that looks good and fits properly on a 5'6 person isn't going to look as good on a shorty like me coming in at 5'0. As I mentioned above I added a 3/4 sleeve. I think that is my perfect sleeve length. If I could have everything 3/4 length, I think I would! The last option you have is the dress length. Yes! Another very good option to have. Since the company takes my height into consideration for the garment I can customize the length of the dress. Pretty fabulous right?! I was very excited about my dress, knowing that it would fit me perfectly. Here's another fun option that most of all the dresses have. POCKETS! Yes!! How many times have you worn a dress and thought, "Ugh this would be amazing if I had some dang pockets!!" Well purchasing a dress from eShakti you'll never have that thought again. You have the option of keeping or taking away the pockets. Again.. AWESOME! I can't say enough about this dress. I literally want to wear it everywhere.
Want to create your very own eShakti dress? eShakti has given my readers a coupon code! Use 'candies'-  to get 10% OFF your order at eShakti – valid from 10/15/2014 – 11/15/2014
Please note:
Code has to be entered in the 'promotional code' box.   It is not case-sensitive.
Code can be used any number of times until the validity period.
It can be clubbed with any other promotional offer, gift coupon or gift card in the same order unless explicitly specified otherwise in the offer conditions.
This discount code is not applicable on clearance / sale, gift cards & overstock categories.
Not applicable on previous purchases.
Question:
Have you ever customized a piece of clothing? or ever heard of eShakti?
Candy
Just added my review to the: