If you recall,  I made a two day trip to Enterprise, Alabama to see the hubs graduate back in the summer. We were able to spend some time together and we decided to go out and have a nice dinner. In the Facebook group I was in, someone asked where would be a good place to go out to dinner. The admin mentioned the Rawls being a nice place to share a beautiful meal with your spouse. I did a little research and told the hubs about it. We decided we'd go out to Rawls for dinner. Why not splurge, the kids were not with us.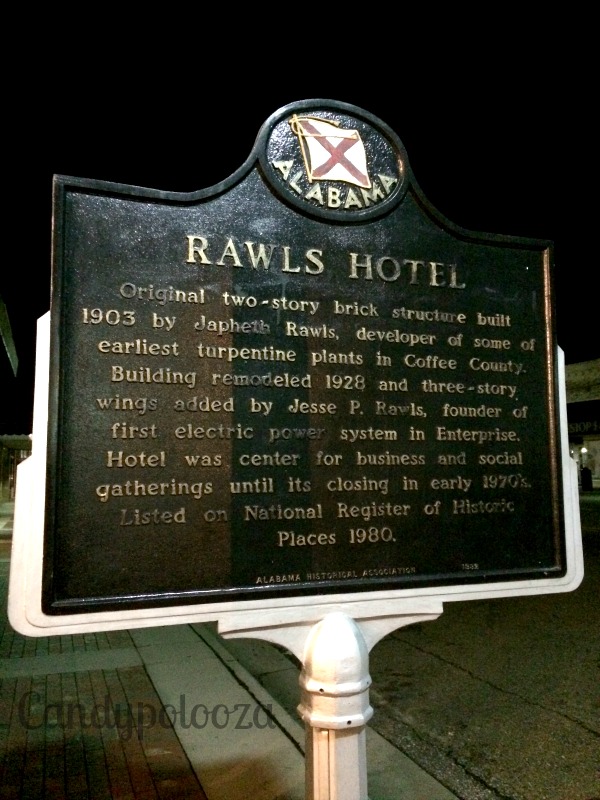 Like a good blogger, I took pictures of almost everything. It was very dimly lit (I tried to do my best to cut out some of the yellow in the pictures) and it was actually not busy either. We went after the dinner rush and it was a Tuesday night. The hubs class graduated on a Wednesday. Ready to enjoy the Rawls with us?
Check out the menu.
Their menu changes daily so that each dish is fresh. You can also get an idea of the prices. We knew we would most likely be dropping around $100 bucks here. After being a part for six weeks it wasn't even an issue. We would be having a beautiful dinner together.
To start out with we enjoyed the Okra & Field Pea Hush puppies, Bacon, Aioli, Habenero Gold. Definitely a different taste in the hush puppies, but they were out of this world yummy.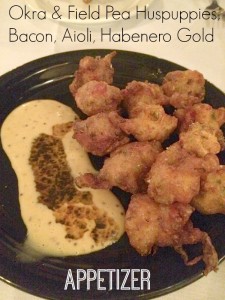 For the entrees I ordered Hand-cut Fettuccini, Braised Local Rabbit, Mushrooms, Baby Carrots, Parmesan and the hubs had the Certified Angus 8 oz. Filet, Blue Cheese Coleslaw, Roasted Potatoes, Sauteed Mushrooms. We were so excited to eat our entree. When I ordered my meal, the hubs was like, "You've never had rabbit.. I hope you like it.." I was like, "I've totally had rabbit before and it tastes like chicken." Boy did I enjoy it. The meat was def a little fattier than chicken, but the meat was shredded into the pasta. It was divine. The veggies in the pasta were absolutely phenomenal. You could taste the freshness in the veggies. The hubs is not really a fan of coleslaw so I was very surprised when he ordered the Blue Cheese filet. I'm so lucky that he is so willing to try new things, he actually gets me to try new things and I appreciate him for that. No telling what I would have ordered. Ooh back to his dish. AMAZING. The meat was perfectly cooked, he inhaled the coleslaw and vegetables. Seriously this was the perfect meal for both of us.
I have to add also that the portion sizes were fantastic. Not too small and not too big either, so we could enjoy each of the parts of the meal and still have room for dessert.
Ah yes.. there was room for dessert. We each picked out a dessert and waited in anticipation. We were not disappointed either. I ordered the Carver Cup: Semisweet Dark Chocolate, Peanut Butter Mousse, Sessions Peanuts. Again the perfect portion and so rich and delicious. 
The hubs ordered Chocolate & Salted Caramel Lava Cake. Beautiful cake that requires a bit more in time for the preparation. It's worth the wait too! 
 What an amazing dinner right? If you ever happen to be in Enterprise, Alabama make sure to go have lunch or dinner at The Rawls. There is also a bed and breakfast spot. I didn't get to do much sight seeing in Enterprise, but it definitely looked like a quaint town.
Question:
What would you order from the menu?
Candy