On Thursday afternoon I received an exciting email. The subject on the email was Disney Invites You to Los Angeles! 5/6-5/8, um excuse me? WHAT?  Yes.. I felt like my heart stopped and I couldn't breath after I read the email twice in complete disbelief. I had been invited to Los Angeles to see .. let me take a breath. Tomorrowland. I have been a Disney fan since childhood. I didn't get to visit Disney World until I was an adult but that didn't hinder the magic I felt being there. As a mom, I love sharing the magic that Disney brought into my life with my kids. So you can imagine the feeling I got when I saw the email and the exciting news to share with you: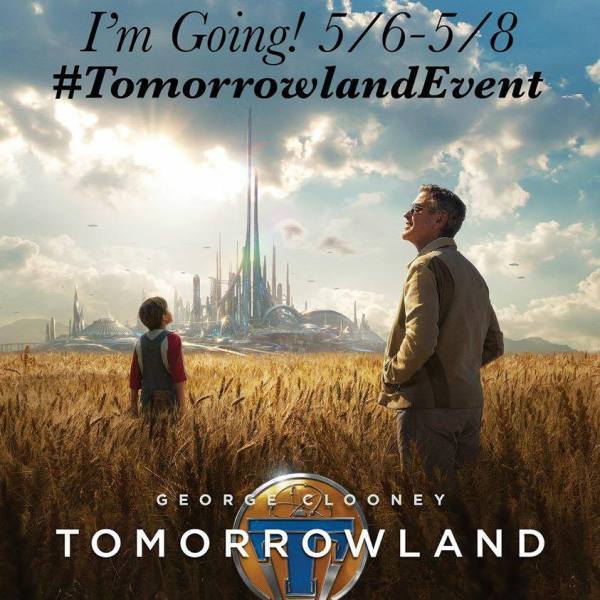 My stomach is in knots as I share this with you! TOMORROWLAND was Walt Disney's vision and that just takes me one step closer to the man that created the magic I love so much. I'm beyond excited ya'll. I will most likely cry when I'm there at least once. LOL But you all know that is just me. I'm a crier and a sap. As part of the trip myself and 24 other amazing bloggers will get to see the movie Tomorrowland, visit the Disney Archives (I will probably need a paper bag to keep myself from hyperventilating at this point) and then we will get to visit Disneyland!! At Disneyland we will get to visit the #FrozenFun area!! Yes it's still at Disneyland and I plan on getting my sing on with Anna, Elsa & Kristoff once I'm there! and a warm hug from OLAF!! I CANNOT WAIT!!
The Tomorrowland section of the park and visiting the Disney Archives will be so amazing. As I mentioned before I have been a huge Disney fan and I remember clips of Mr. Walt Disney sitting on his desk talking about the parks or about Disney. I am looking forward to seeing his dream in person. I am just beyond words excited and I am humbled by this opportunity.
You've been warned, there will be lots of sharing before, during and after the visit for the #TomorrowlandEvent 🙂  Follow along during the trip happening on May 6th – May 8th via the #TomorrowlandEvent hash tag.
For now I leave you with the trailer for Tomorrowland! btw I get chills just hearing the music and George Clooney's voice! LOL
"IMAGINE A PLACE WHERE NOTHING IS IMPOSSIBLE" 
Follow Disney's Tomorrowland on Facebook & Twitter
TOMORROWLAND
 OPENS IN THEATERS EVERYWHERE ON MAY 22ND!