It's been a couple weeks and since it's a new month I wanted to get some thoughts out. It's my Thursday Thoughts. Be forewarned it's kinda gloomy today.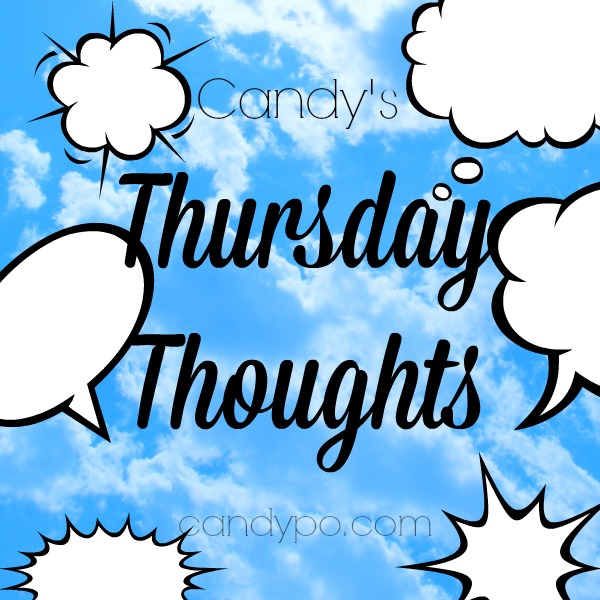 I don't want to call it a trend but it's something that has been more prevalent, mmmm maybe I don't even want to say that term either. Because let's face it, it's happening everyday and we just don't hear about it. I'm talking suicide.
Ok well here goes. So I'm on Facebook yesterday and a colleague is asking if someone has heard from another person. Turns out she posted a good bye/suicide letter on her website and it was being shared and no one was sure if it was real. Being that it was April first, some thought it could have just been an April Fool's joke. Not a nice joke, but turns out the person was serious. I read her post and it broke my heart. How could someone feel so alone and so crushed by life? She mentioned a long list of events and reasons as to why she didn't matter anymore or to anyone and that she would be ending her life.  As I went back to check on the FB post to see if anyone had made contact one poster says, "If she was really suicidal she would have done it already. Clearly this was just a cry for help." I think that was kind of harsh to say that, but in anyway I think she has a point. But then I think maybe her writing the note was a good thing so she could get her feelings out and maybe now she's ready to move forward. I can only hope. Last update posted was that she was in fact alive and that she was getting the help she needs. I send her positive vibes and hopes that she will realize she is worth life.
Gosh I'm sorry if it's sadness and doom today. I'm normally pretty upbeat and happy. I am really. There's more to life than being sad and feeling sorry for yourself.  It's up to you to turn yourself around. If you need help look for it, hell email me. I'm not a clinical physician but sometimes it's nice to get your feelings out. Death is not the answer. I don't have answers or a cure, just a listening ear.
So last week if you read the blog you saw I reviewed the movie A Girl Like Her it dealt with similar situation. The young girl was getting bullied and saw the only answer was to end her life. I won't tell you so I don't ruin the movie but it too broke my heart. We need to watch our children and listen to them. Their hearts are so innocent, how could a child see death as an answer?
Last night I was learning about a program and one of the people that was featured spoke about her suicide attempt. Honestly it was late and I thought to myself, "Girl why?!" Luckily she didn't switch off the safety and she took it as a sign and now she is thriving. God was looking out for her that day, or at least that's the way I see it.
I have had my fill of suicide this past week. It makes me angry and it makes me sad. I wish people wouldn't see it as an answer or a way out, because it's not a way out of a bad situation. I wish I could help everyone, but I know that the person has to do the work. It's a hard road, but it's so worth it. Live.
Here's the information to the Suicide Hotline.
National Suicide Prevention Lifeline

1 (800) 273-8255

Hours: 

24 hours, 7 days a week

Languages: 

English, Spanish

Just live! 

Candy