The Starling premieres on Netflix, Friday, September 24th. The cast of Melissa McCarthy, Chris O'Dowd and Kevin Kline, will evoke feelings and give you hope in a time when it's been really hard to have it. Thanks to Boutique Publicity and Netflix for providing access to pre-screen the film, The Starling. You can expect all the feels and then some as you watch The Starling on Netflix.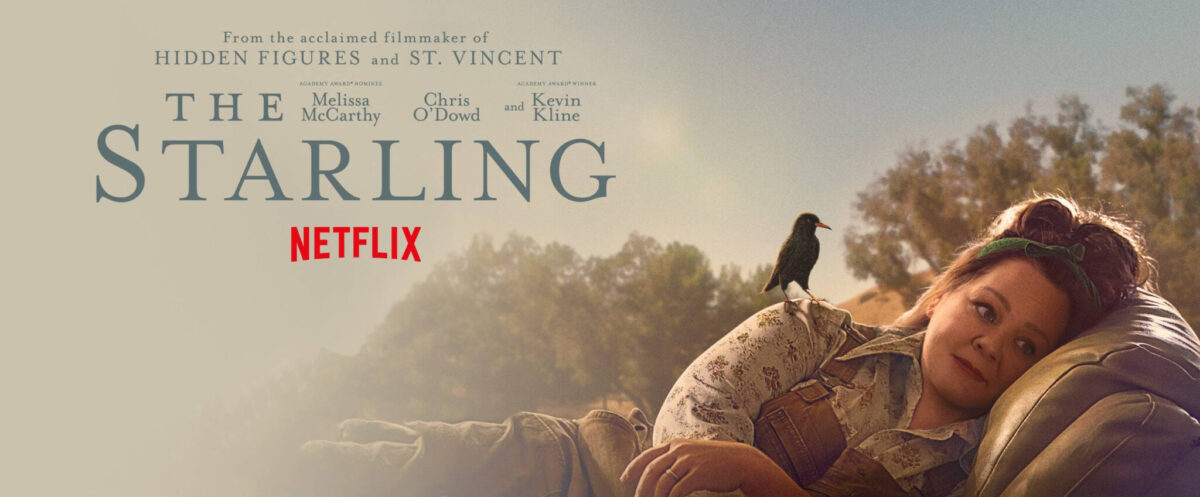 The Review
The film itself is full of heart and the actors are absolutely fantastic. Lilly (McCarthy) is the grieving mother, is also grieving her husband, Jack (O'Dowd). Jack has been in a mental hospital for a year and she's been home alone dealing with all of the after effects of loosing a child. In the midst of dealing with working and visiting her husband once a week, an hour away Lily begins to tend to their overgrown garden. She also gets referred to a counselor, Dr. Fine (Klein) who is no longer practicing therapy but the veterinarian in town. It's quite comical, and Klein does as amazing job. He's one of my favorite actors, so it was a treat to see him in this film.
Lily and Jack have a lot of work to do a part and together. O'Dowd does an amazing job in this role as a grieving father that later shares his experience with life-long depression. There are some scenes that are absolutely heart wrenching to watch, but it's the inside look of the feelings that people with depression, anxiety, and grief go through. Real life played out on screen for a beautiful story of sad people.
There's a scene in the film where Lily is upset and she tells Dr. Fine, "Am I supposed to just quit? Am I supposed to quit like Jack did, and like you did?" Referencing why he quit being a counselor. Throughout the film, you'll see the Lily is still working, albeit sometimes she is consumed by her thoughts and her coworkers give her a lot of grace, but she's still living. I was angry at one point and as the film progressed, that same anger is displayed on the screen by the characters. She's the strong one and it was refreshing that the film shared that and Jack acknowledges it too.
I enjoyed the film. It's one of those films that brings you along to go through the feelings of the characters and not in a bad way. You want them to make it work, but you also wonder if maybe Dr. Fine can be a better husband because he's noticeably single. He's got a ton of pets! It could have gone any way, but you'll have to watch the film to see it for yourself.
Sensitivity Warnings
While it's listed as a Comedy, you can expect to cry more than laugh while watching, The Starling. The film shares an inside look of a family grieving the loss of a child. If you have experienced the loss of a child or family member, if you've had suicidal ideations, this film could be triggering for you and your loved ones. I feel it's important to share that with you up front because the grief is so strong in the film.
The Bird 
In the beginning of the film, a black bird called a Starling is flying through the air collecting things to build its nest. Low and behold that nest is in Lilly's huge tree in her yard. The bird becomes hostile toward Lily as he's protecting his nest. You'll learn some really interesting things about the starling birds.
The Film
The supporting cast is fantastic too. The film itself was great, I don't know if it'll win any awards, but Melissa McCarthy was fantastic in the role of Lily. There were those beautiful moments when you feel her hurt and moments where a bit of funny Melissa came through too. This role was for her. I will also say, that I missed seeing her husband, Ed Falcone. Known for always making a small cameo in her films, he was noticeably absent. I wonder if anyone noticed or asked about him.
Tell me your thoughts on the film in the comments below! 
DIRECTOR: Theodore Melfi
RUNTIME: 102 minutes
RATING: PG-13
CAST: Melissa McCarthy, Chris O'Dowd, Kevin Kline, Timothy Olyphant, Daveed Diggs, Loretta Devine
If you are anyone you know need help, call the National Suicide Prevention Lifeline at 1-800-273-8255