Disclosure:
This is part of a compensated campaign with Latina Mom Bloggers and Pull Ups.  However, all opinions expressed are my own.
It has been so much fun working with Ezra on getting him familiar with Potty Training. Don't get me wrong there have been some tears but there have also been some celebrations as well! Being a part of the Madrinas del Baño has been such an amazing experience and I'm so excited to bring you the Huggies Pull Ups Prize Pack Giveaway in this post. If you recall, I was able to be a part of  a great informative teleconference with Dr. Cotton & Latina social Media Maven extraordinaire Jeannette Kaplun and get more insight on potty training our children. As Latinas it's great to get to learn what our fellow Latinas from other backgrounds also go thru during potty training. It's a universal pain LOL!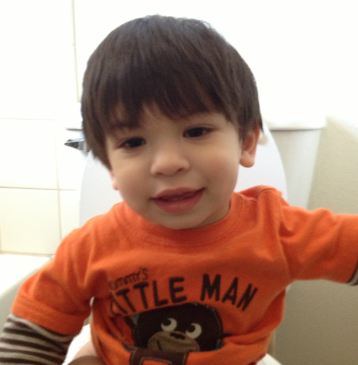 As part of the Madrina del Bano campaign we received a fabulous pack of following Huggies Pull Ups products:
Pull-Ups training pants
Huggies Pull-Ups Flushable wipes
Disney softee toilet seat
As you can see in the picture below Ezra was very excited to see Mickey on a potty seat!
The Pull-Ups were very exciting for Ezra. I think he really prefers stepping into "McQueen" (that's what he calls them!)  underwear verses diapers now.  He knows where I keep them and he goes and gets me one when he goes in them and misses the potty. Using the Huggies Pull-Ups Flushable wipes was a very easy transition for him since he's used to getting wiped with wet wipes. A huge plus is that they are flushable! Oh Yeah! Must I even gush about the Disney themed potty seat? He loves watching Mickey Mouse so when I tell him "Lets go potty with Mickey!" He gets all excited and sometimes he goes and sometimes he doesn't. But the fabulous part is that he's being exposed to the idea of potty training and I'm very happy with his progress.
When we first started the campaign he couldn't see "pee-pee" or "poo-poo".  Now I'm proud to say that he can say it a little bit. Still hasn't grasped the idea that is what we are calling the "act" but he'll get it soon enough. He's a smart little toot and I am definitely being patient.
Here are a few key messages that really have stayed with me as we continue trying to potty train:
Pull-Ups is motivating Moms to stick with Potty Training. –Don't give up, if you do your child will too! – So true! Don't quit Mamas!
Every try deserves a little celebration. –As you can see in the pic below, he truly enjoys the celebration part! 
Use Resources: Download helpful tools and resources such as the Pull-Ups Big Kid App which helps parents with potty training *My 6 year old told me tonight, "Mom can I check out the Pull-Ups app on your phone to show brother!" –Yay! Love it when everyone is on board!
 Speaking of the app have you downloaded it on your smart phone? It's available for free in the iTunes store. I am an iPhone user and the download was quick and easy. After download at the inital start you have the option to select the language you prefer- I chose English. You have the choices of English, Spanish or French! Je parle un peu de Francais (I can speak a little French) but not enough to potty train my boy. I'll be looking at it as well. Gotta love being multi-lingual!
The app features so many very cute games, songs and how can I not mention the 3D Celebration! It's completely amazing and Ezra loves it. I love the timer it helps keep us on task for potty training. We've had some misses and we have had some successes too. It's a great tool!  There is also an amazing feature called the Get a Disney Call. My oldest son loves having me set up calls! They are too cute.
By far the best part of the Pull-Ups Big Kid app is the Pull-Ups Community tab. You can connect with fellow moms on Facebook, Twitter, YouTube and you can also sign up to receive the latest news and offers from the Pull-Ups website. Pretty awesome. Pull-Ups thought of everything- as a mom of a potty trainer in progress my verdict? LOVE IT!
The celebration continues for you! That's right! Here's your chance to win a Huggies Pull Ups prize pack to get your toddler celebrating Potty Time! What's included in the prize pack?
Pull-Ups training pants
Huggies Pull-Ups Flushable wipes
Disney softee toilet seat
Everything your child will need to get his/her potty training journey started on the right track! 

Enter below in the Rafflecopter to win!
Have you seen the YouTube video? Def gets me hyped about potty training!
Disclosure:
This is part of a compensated campaign with Latina Mom Bloggers and Pull Ups.  However, all opinions expressed are my own.