Finding a film that includes family hardships, love, and some drama with a PG rating is hard these days. I was very excited to see the request for film coverage for The Secret: Dare to Dream film in my inbox. Of course, I said yes! I'll be viewing this week and will provide a full review but for now thanks to Lionsgate and our friends at Ginsberg/ Libbey, we have the opportunity to offer five (5), YES 5 of you digital copies of the 2006 best-selling book The Secret, by Rhonda Byrne. The book became a global phenomenon that empowered millions to lead happier and more fulfilled lives. Keep reading and enter the giveaway at the bottom of the post.
The secret to life will be discovered in homes everywhere when the uplifting and hope-filled film The Secret: Dare to Dream arrives Friday, July 31 on Premium Video on Demand. The feel-good romantic drama starring Katie Holmes, Josh Lucas, and Jerry O'Connell explores hope and gratitude in one's darkest days and reminds us that it's never too late to believe again.
Directed by Andy Tennant
Written by Bekah Brunstetter and Andy Tennant & Rick Parks
Starring Katie Holmes, Josh Lucas, with Celia Weston and Jerry O'Connell
Based on the groundbreaking best-selling book about the law of attraction by Rhonda Byrne, The Secret: Dare to Dream follows Miranda (Katie Holmes), a young widow trying to make ends meet while raising her three children and dating her boyfriend (Jerry O'Connell). A devastating storm brings an enormous challenge and a mysterious man, Bray (Josh Lucas), into Miranda's life. Bray reignites the family's spirit but, unbeknownst to Miranda, also holds an important secret — one that will change everything. With its timeless messages of hope, compassion, and gratitude, The Secret: Dare to Dream is an inspiring and heartwarming film that shows how positive thoughts can transform our lives.
The Secret: Dare to Dream will be available to rent for $19.99 through On Demand platforms such as Apple TV, Amazon Prime Video, VUDU, and cable providers starting Friday, July 31.
107 Minutes | Rated PG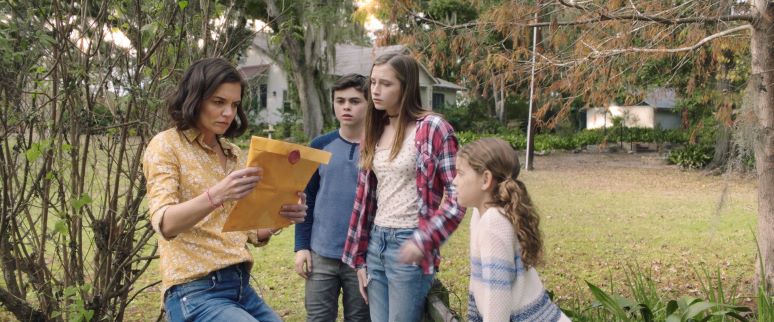 Photo by: Lionsgate
Now for the GIVEAWAY!
Five (5) winners will win a digital file of the book The Secret by Rhonda Byrne.
Here's what you have to do to enter:
Leave a comment telling me what you've been up to during the pandemic.
Follow me on Instagram @Candypolooza – then come back here and leave me a comment telling me you're following me.
Follow me on Twitter – same – come back and let me know by leaving another comment telling me you're following me.
Follow me on Facebook -same- are you seeing a pattern
Share this giveaway with a friend and add the public link telling me you shared the giveaway.
Leave a comment on the Facebook LIVE
This giveaway ends Wednesday, July 22nd (yes, tomorrow) at 11:59pm PST.
Winners will be contacted via email on Thursday morning and will need to confirm name and email for digital download by Thursday, at noon. Super quick turn around guys. Thanks for participating. No purchase necessary to enter or win, void where prohibited and all that legal jargon jazz.
Good Luck!!
Candy