The hubs and I had a chance to get away a few days to Nashville, Tennessee this past spring. We planned the trip with a few stops, one of them was to have lunch in Little Rock, Arkansas. We'd never been to Arkansas so it was beautiful to drive through. As a matter of fact, we'd love to take the boys there soon. Unfortunately, we didn't' have time this summer, so it's a definite must-do next summer. But back to lunchtime in Little Rock. We decided on a noodle and dumpling place and set the navigation to Three Fold Noodles + Dumpling Co., in Downtown Little Rock.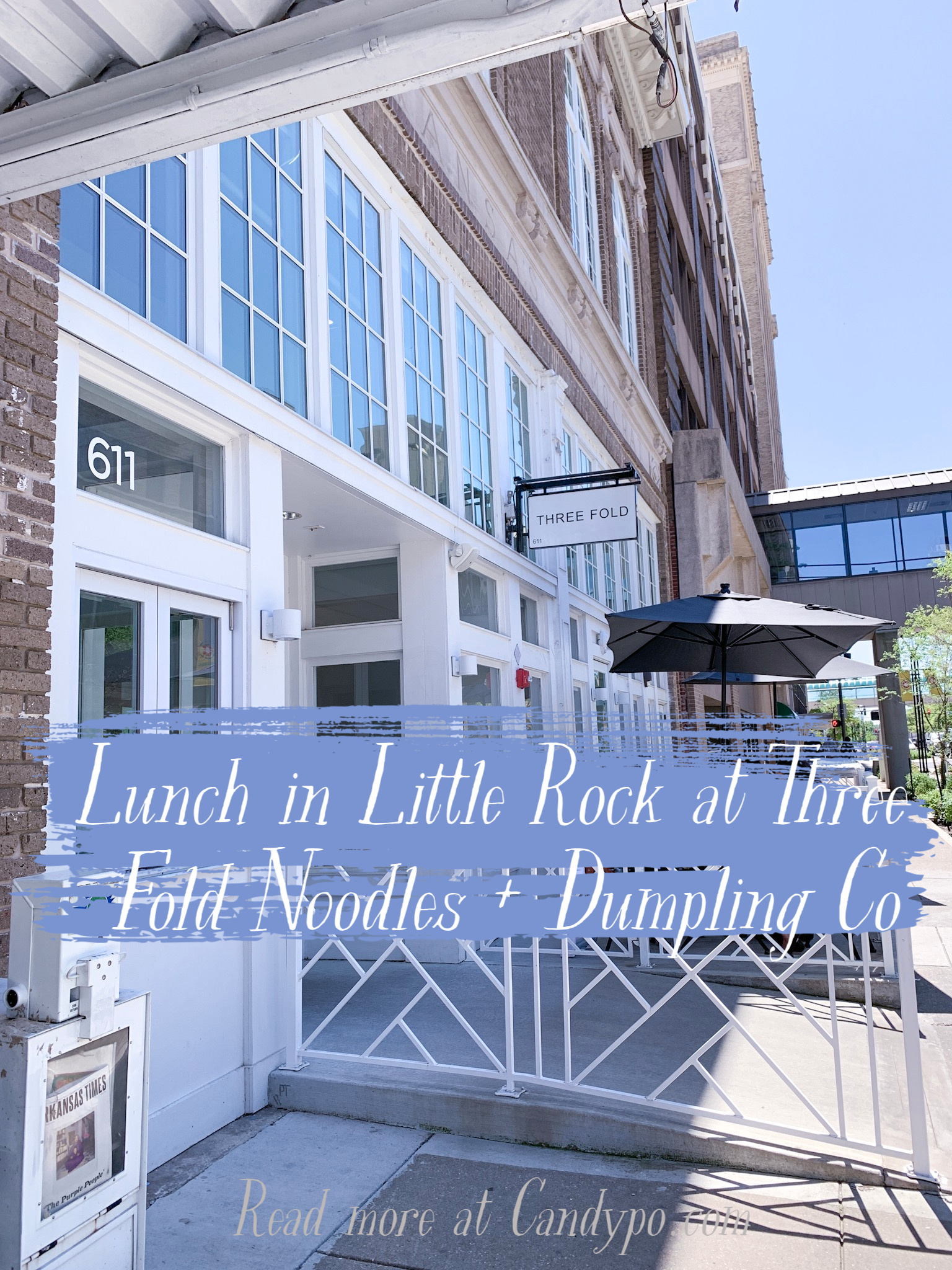 Menu Options
While you do have choices, the main items are dumplings, noodles, and buns with soups and salads as well. We couldn't decide on what to have so they recommended we do the Half + Half so we could try a little bit of everything. The hubs decided on the same thing, but he chose to go spicy with his. If you are like me and can't take the heat, there are options for us mild foodies. Priced at $13.49 it is a little more than we thought we'd pay but it was well worth it and we were stuffed. This meal will definitely carry you into dinner.
The proteins available for your dumplings are:
The proteins available for your noodles are:
shredded pork
tofu
shredded chicken.
We went with pork for our meal.
Price
Items on the menu range from $7.29 for a small noodle bowl to the top of the range for the Half + Half at $13.49. Make sure to check out the menu so you'll be ready to order, it was pretty busy when we arrived. As you can see below- the kitchen is open concept so you see everyone working together cooking in the back. It's pretty neat to see.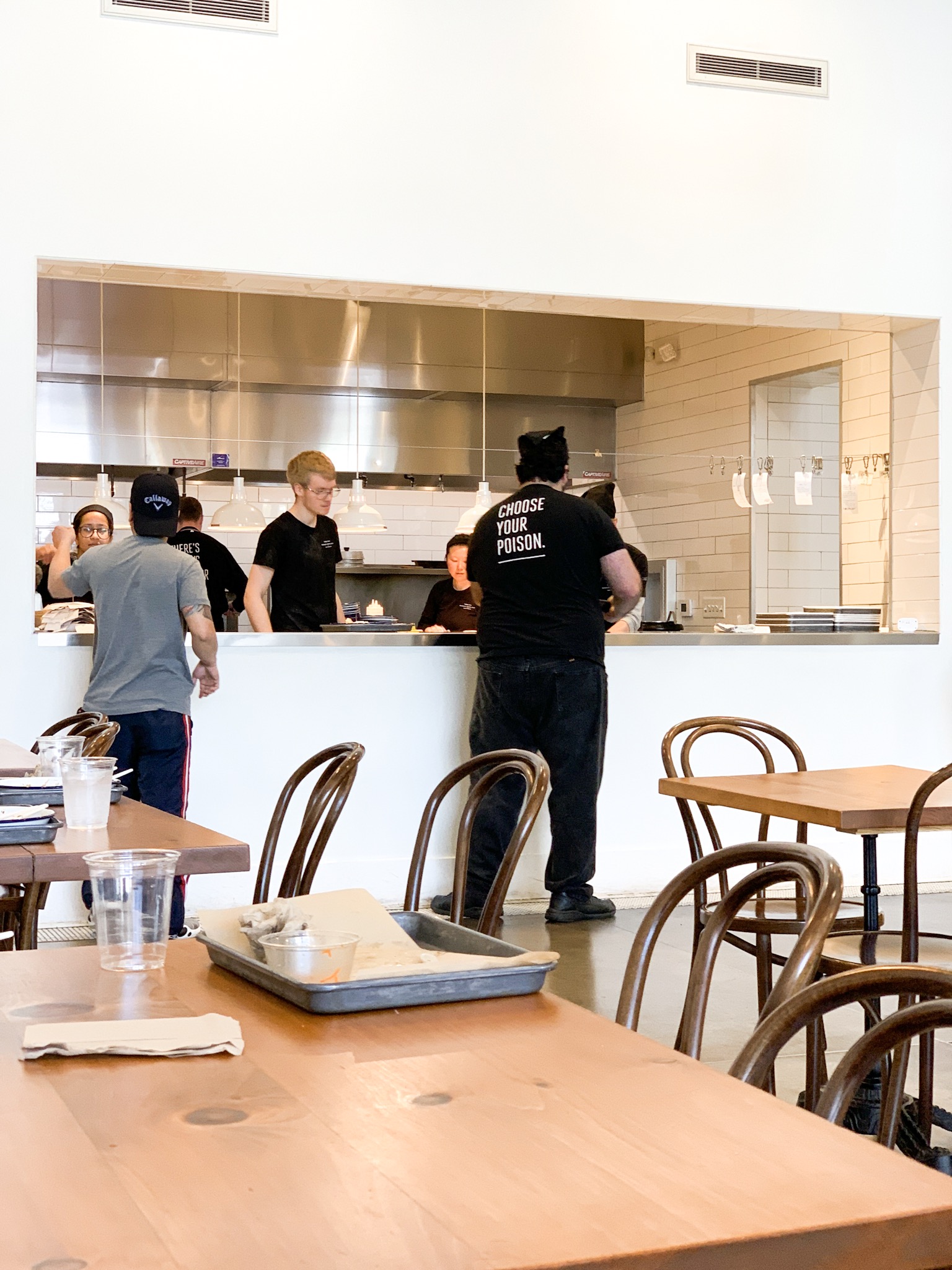 They bring out your food to you once it's ready. Everything is made from scratch everyday and simply delicious.
Parking
First off make sure you have cash to pay for parking. We parked in a corner lot public parking that had a beautiful fish mural on the side of the building. We crossed the street and walked up to the really cute white outdoor space with lots of windows and umbrellaed outdoor patio.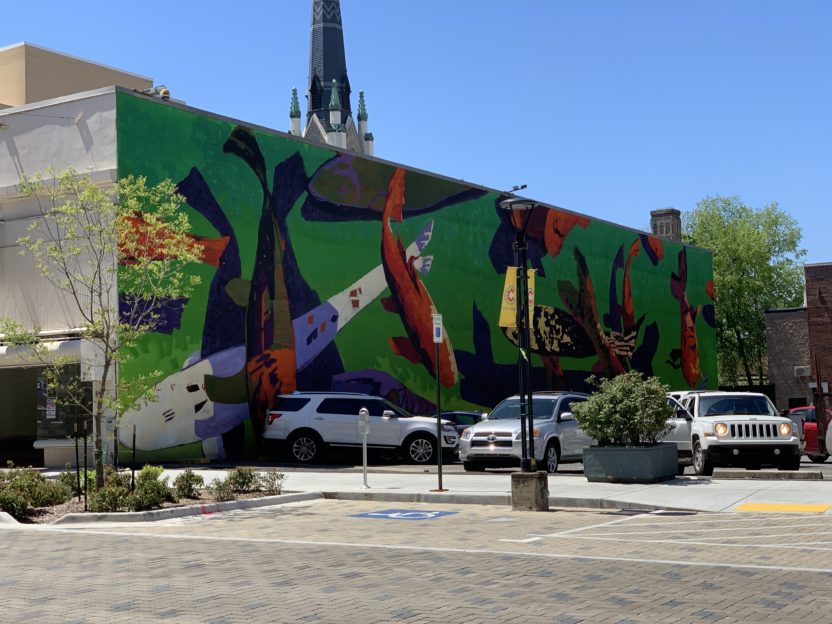 Overall
We were very excited to try it. We hadn't had any noodles and dumplings like this together. This is definitely a place that stays busy so check out the Facebook page for peak hours. We arrived right at lunchtime so it was busy. The wait for the food was nothing crazy, but don't expect it to be like fast food either. Have your order ready so you can get through the line quickly and grab the first available table.
It is hip to the times and you can pay with Apple pay! I was kinda jazzed to give it a whirl, don't get to use it much here. When you're finished with lunch, leave the remains on the table as they go through and pick up for you. Have you ever been to a place and can't figure out if they pick up or if you are supposed to grab your trash? No? Just me.. ok. LOL If we ever get a chance to go back I'll definitely have to try the buns.
Get There
611 Main St
Little Rock, AR 72201
Or call: (501) 372-1739
Hours: 11 am to 9pm
Question:
Do you like to try new foods on your travels? Would you stop by Three Fold Noodles + Dumpling Co?
You know I would!
Cheers!
Candy