Nope it's not a post on Chemistry! I've added Fashion to my categories! I LOVE fashion. As a child I dreamed of being a fashion designer- Do all little girls dream that at one point? I drew some hella designs! Just saying..
Well this girl can't even sew in a straight line; so my dreams were dashed. Oh well- now I spend my days pinning Cute Ensembles to my Pinterest board. LOL That's always fun! and way cheaper!
Do I commit some fashion faux pas sometimes? Absolutely! Everyone is guilty of it at least once or twice in their life. Me probably a few more times. One of my daily fashion faux pas is:
Mixing Metals 
Sometimes I wear gold and silver together. I have friends that only wear either all gold or all silver, depending on their daily style. Me- well I wear it all. I've even thrown in a rose gold watch into the mix! Hey- it's Michael Kors! Hmm maybe then again I might be doing MK a total injustice.. ah well.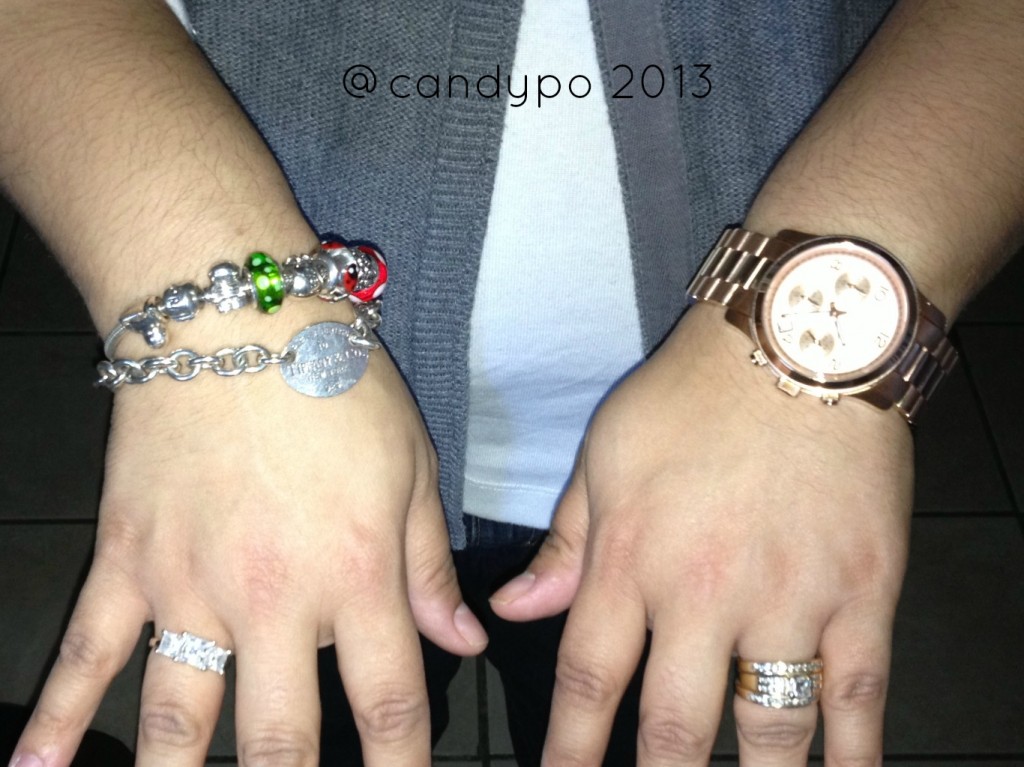 On my right hand I always wear my silver-
My oval tag Tiffany bracelet  and my Pandora bracelet. On occassion I'll wear a right hand ring- either my QVC Diamonique 3-stone (shown) or my love knot from Premier Jewelry that I got years ago.
On my left hand my gold-
My wedding ring. (It's actually 3 rings! I'm spoiled!)  and my beautiful new rose gold Michael Kors watch
Not too much jewelry. I actually just started wearing bracelets a few years ago. If I'm in a rush, I'll always have my wedding ring on and maybe a watch.  I don't get too crazy with it- I think simple is better. For me atleast.
Question:
Do you mix metals? Which do you prefer? Silver or Gold? Are you a slave to Fashion?