It's time for some serious pillow talk my friends. Ok, not that kind of pillow talk, but actual pillows AND we're getting our craft on today too. Thanks to my client and friend Kathy Cano-Murillo of CraftyChica, (yes go check her out!) I met the amazing people of Fairfield World. I am so happy to partner with them on this post and share a no-sew pillow tutorial with you. We're going "no-sew" because I'm not good at sewing but I love a good crafty challenge. There are a few affiliate links in this post, I do make a tiny bit of money on the back end if you purchase, thanks!
When I confirmed the campaign, I knew I wanted to also work with my favorite medium- felt! And most recently I started working with dies and I received my most treasured (and first to be honest) die from the Crafty Chica Buenas Vibras line the papel picado die. When Kathy first showed me the line prior to its premiere on HSN (yes, it's only available on HSN!) even though I didn't have a cutter, I knew I had to have it. It's got so much potential and let's be real, I want all of the papel picado everywhere. Ok, so back to the pillow talk!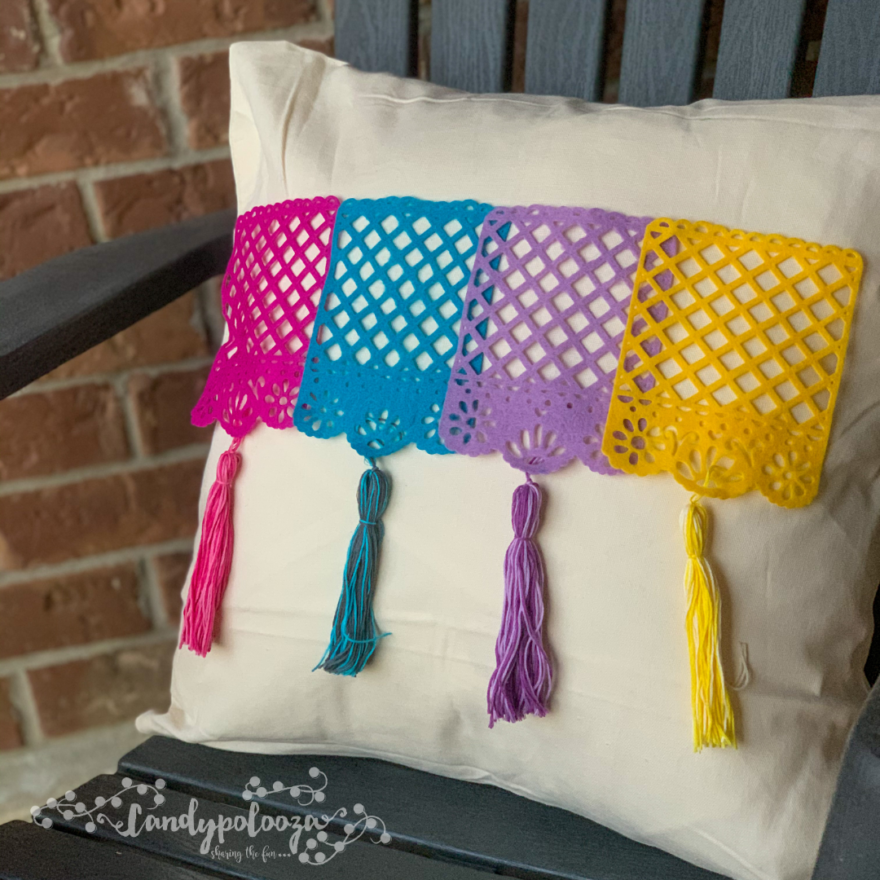 Yes, friends, I'm putting them together for this beautiful papel picado felt applique and tassels because who doesn't love tassels no-sew pillow tutorial. I love it so much. I'm actually thinking of making a few more as gifts. Are those papel picado banners beautiful?! I will say that it works best with felt that is on the thinner side. I had a few banners I was unable to use because they were on the thicker side and the die wasn't able to cut all the way through. It looks easy enough right?! Let's do it!
Supplies:
Embroidery Floss for Tassels
Papel Picado die from the CraftyChica line on HSN *it's exclusive to HSN so it's the only place to grab it.
Scissors
Small piece of cardboard to make your tassels with
Sheets of felt for the papel picado banner pieces
Pom poms can also be added- I changed my mind on them after the picture

Directions:
Start with your cutting your dies. If you don't have this die available just cut out some flags out of some felt. You can always embellish the flags how you like. The papel picado was my dream, create yours with this project. One thing to note is the thickness of your felt can affect how intricate the banner will come out. I had two come out perfect and the others I had to cut out by hand after the imprint of the die.
Once you've made all of your papel picado banners it's trime to glue them down. It's a no-sew remember! Grab your canvas pillowcases, I wanted to do a canvas in case I decided to use it outside. I'm really glad I did too because they turned out really cute. You don't have to use canvas, you can use a different fabric if you'd like. You could make the pillow cover. I opted to go the easier route. Using your No-Sew glue decide where you want to place each banner and begin gluing onto the canvas.
Once each of the banners are done, let's start making the tassels. If you've never made tassels, I recommend using Kathy's tutorial. It's super easy to follow. If you'll notice I used two different colors on each of the tassels to add a little pop. Just me, being a little extra. Carefully glue the tassels to the center of the bottom the banner and voila! You're done!
It's a very easy way to use the felt die cut papel picado banners with plenty of space to add more depending on your decorative style. I might add pom poms and a bow to it. If I do, I'll update the post. Or add some words to it with paint and glitter of course.
Fairfield World Poly-Fil
Now it's time to talk about the Holiday Pillow Party being hosted by Fairfield World Poly-fil! This year FFW is celebrating 80 years. What an amazing milestone and I'm so excited to help celebrate and share this amazing company with you all.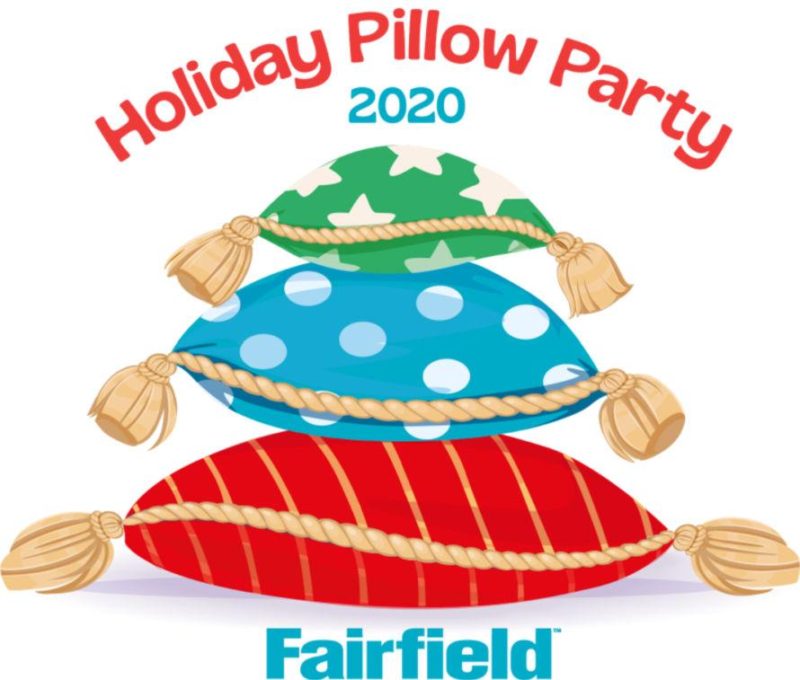 As part a part of the Fairfield World Pillow Party, here are few more sites to hop around to see all of the awesome pillow tutorials by some talented creators!
THANK YOU to Fairfield World for sponsoring the Fairfield World 2020 Pillow Party!
COUPON CODE
I am pumped to be able to offer you a special coupon code for all of your purchases at FairfieldWorld.com! At check out make sure to use pillowpartyCandy for your 20% discount on Poly-fil Premier Pillows through the end of December!
GIVEAWAY TIME
You know how much I LOVE a great giveaway! Fairfield World Poly-Fil is hosting an awesome giveaway. Make sure to click on the  Rafflecopter giveaway
to get your entries in! Let me know if the comments if you are a crafter and if you entered the giveaway. I'm so excited to share this tutorial and make more of them to share with my friends!
Good luck everyone!
Cheers,
Candy
PIN IN NOW